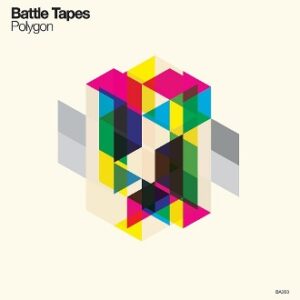 Let's set one thing straight first, any band that has a song in their catalogue called 'Sweatshop Boys' is bound to have some sort of potential and thankfully Los Angeles four piece BATTLE TAPES have come storming out of the blocks with a fine (and long overdue) debut album in 'Polygon'.
Although the said Tennant / Lowe parodying song is not present here (it was the title track on an EP released in 2012), there are ten tracks which do an excellent job at filling an electronic musical void that's existed for quite a while now.
SOULWAX, SPLEEN UNITED, INNERPARTYSYSTEM and LCD SOUNDSYSTEM have all successfully managed the often tricky task of mixing live instruments with synths and sequencers in a seamless fashion, but with the former two in hiatus and the latter artists no longer around, there is a genuine gap in the market for an electronic-based act that isn't overly self-conscious and isn't afraid to rock out with their synths…
'Polygon' starts with a statement of intent in 'Belgrade', a high-octane track with a Motown backbeat and distorted synths which ape the NEW ORDER sampling 'Operation Blade'. With a blistering opening which deploys the track's breakdown section before the vocals kick in, 'Belgrade' gives a pretty implicit idea of the musical content that awaits the listener inside…
Following closely on its heels is the single 'Valkyrie' which has one of those earworm chorus melodies which once embedded in your skull will quite possibly keep you awake at night. Bass sequencers are let loose in the second verse and the oblique nature of the lyrics with reference to "swinging of d***s" and "dancing with the devil sweating gasoline" mean that repeated listens don't diminish the appeal of the song one iota. An uplifting and ascending instrumental EDM-style middle eight helps break away from the Wall of Sound before the chorus returns at the end.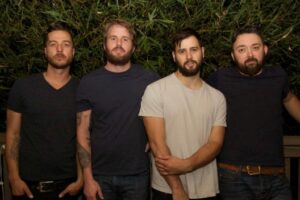 The cowbell-tastic 'Solid Gold' features guest vocals from PARTY NAILS singer Elena Belle Carroll and has more combined swagger than DAVID BOWIE and LOU REED at a seedy 70s Berlin nightclub.
Built around a 'Fame'-style guitar riff, the track grooves along seductively before hitting a wonderful middle eight / outro section giving the song a more contemporary edge and ending with a squealing synced oscillator synth solo.
'Private Dancer' takes some of its cues from French duo JUSTICE and also throws some vocoder into the mix. Once it fully reveals itself, the "You give me all your money, I'll be your private dancer" vocal sounds like one of KRAFTWERK's robots getting jacked up on cheap booze and moonlighting for extra Euros at a lap dance club.
The first of two instrumentals 'Dreamboat' is all rippling arpeggiators, whilst the other, the epic 'Mulholland' has the sort of Synthwave sound which wouldn't have been out of the place on the 'Drive' soundtrack. Low slung Reese bass lines, handclaps and retro synth sounds put both of these tracks in the same sort of (electronic) club as CARPENTER BRUT and PERTURBATOR.
'Graveyard Shift' is probably the most conventionally rock track here, albeit with the sort of swampy guitar figure which Martin Gore would have been more than happy to have written – whilst the chorus and general vocal sound recall Josh Homme from QUEENS OF THE STONE AGE. Closing track 'Again' is a bit of a curveball, starting off low-key fashion and not unlike a long-lost 'Golden Age of Wireless'-era THOMAS DOLBY track, building gradually with half-time drums before hitting the 4/4 button and climaxing with a formant vocal synth part.
BATTLE TAPES are SO needed right now, especially from a live perspective… too many synth-oriented acts have little or no idea how to translate their studio sound into a viable format that can be delivered to a live audience.
Unless you happen to be lucky enough to have the stage presence and songs of, say EAST INDIA YOUTH, a singer accompanied by a synth player looking apologetic whilst prodding buttons behind a laptop does not an entertaining live show make.
Although it's taken a while to emerge (the band were formed in 2010), the wait has been worth it for 'Polygon' with what is one of the most consistently thrilling albums you'll hear this year.
Let battle commence…
---
'Polygon'
 is released by Battle Arts
https://www.facebook.com/Battletapes/
---
Text by Paul Boddy
3rd December 2015