She has become a favourite of YELLO's Boris Blank, she is FIFI RONG…
The Swiss musician said of her musical unique aesthetic: "She opens slowly up in her songs as a miraculous flower that does not grow in any garden, and it's unmistakably beautiful". Following on from 'Next Pursuit', the Beijing-born artist and producer has a new body of work to showcase her ever developing hyrid electronica sound.
The crowdfunded five track EP's title 'Violently Silently' is a more than apt description for her music, which the songstress describes as "subtly vulnerable and introverted, yet extremely emotionally powerful and brutal".
Mixed by Lee Slater, 'Violently Silently' is a cohesive statement where "the same set of sound elements were sampled, crafted and re-sampled to demonstrate a set of songs that people would conventionally consider to cross several genres".
The eerie, abstract 'Intro' is actually a mutant taster of the following song 'Once', highlighting the conceptual theme of the EP. But 'Once' itself takes this breathy template into some exquisite electronic pop. Uptempo but engaging varying rhythm measures, it successfully avoids the repetition that plagues most trip-hop and downtempo dance forms which Miss Rong is often associated with.
Meanwhile, her family heritage in Chinese folk and opera makes its presence felt on the lovely 'Slow Poison'. Playing around with a beautifully traditional topline, there is the bonus of a wonderful piano cascade towards the song's conclusion.
'Since When' could be pretty PORTISHEAD. It is far less claustrophobic than Beth Gibbons and co, plus a whole lot more enjoyable too. With a string quartet, some fabulous stereo imaging on the electronic percussion and an unexpected cacophony of militaristic drums, it is quite a melting pot. The 'Violently Silently' EP concludes with another experimental piece in the glitchy dub trip-hop of 'Outro', effectively a remix of 'Since When'.
Intimate and captivating, 'Violently Silently' continues FIFI RONG's development as one of the more unique artists in modern electronica.
---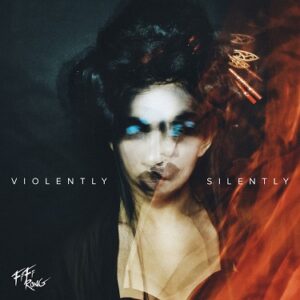 The 'Violently Silently' EP
can be downloaded via the usual digital outlets or purchased as a CD from http://www.fifirong.com/
https://www.facebook.com/fifirongmusic/
https://soundcloud.com/fifirong
https://www.twitter.com/fifirong
https://www.instagram.com/fifirong/
http://www.pledgemusic.com/projects/fifirong
---
Text by Chi Ming Lai
7th December 2015