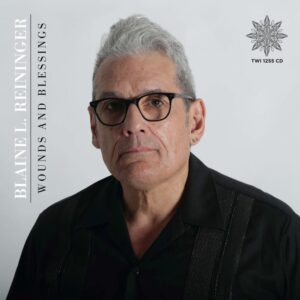 Colorado-born Blaine L Reininger is best known as a member of TUXEDOMOON, a classically trained musician who embraced the European avant-garde and now lives in Greece.
Exponents of "cabaret no-wave", TUXEDOMOON's second album 'Desire' released in 1981 was co-produced by Gareth Jones after the band were impressed by his engineering skills on John Foxx's 'Metamatic'. Blaine L Reininger had a parallel solo career and continuing to work with Gareth Jones, released the acclaimed 1984 album 'Night Air' which featured the TB303 driven cinematic synthpop of 'Mystery & Confusion'.
'Wounds & Blessings' is Reininger's new studio double album featuring 28 new tracks organised into 4 themed suites of Songs, Bricolage, Sourced and Serene. Featuring TUXEDOMOON bandmates Steven Brown, Luc van Lieshout and Paul Zahl as well as Greek guitarist Tile-machos Moussas, Reininger additionally utilises computer plug-ins, samplers and AI-assisted lyrics alongside his trusty violin and guitar. The end result ranges from purely orchestral to entirely electronic compositions with everything in between.
With the world's current state of flux, the subject of mortality heavily colours 'Wounds & Blessings'. With an infectious electronic bass squelch, ringing keyboard signatures and a cacophony of swooping guitars, the Bowie-esque '100 Sad Fingers' sees Reininger adopt baritone alongside an across a striking range of backing vocals. The art rock thrust of 'I Inhabit The Dunes' sounds like it could have come off 'The Next Day' or 'Lodger' for that matter while 'Je Retournerai' is more reminiscent of Iggy Pop.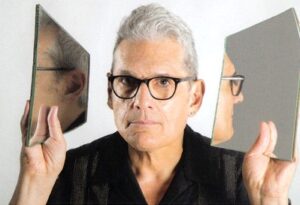 Taking the pace down, 'Chemise Grise' is sung partly in French and recalls Leonard Cohen but 'Trials & Tribulations' springs a surprise at the start with dance beats and vocoder.
'Roll Off The Edge' is a crazy combination of tablas, jazz, funk, post-punk, chants and bursts of organ while 'Occult Simplicities' though could be best described as art school Lalo Schifrin!
The second half displays more of the considered classical and soundtrack styled compositions as featured on the 'Commissions' series with jazz inflections over drum loops as on 'Newbs Descending A Staircase' and the moodier instrumental territory of 'Die Ferne Klang' where Reininger's sombre violin moods come to fore alongside percolating electronic vibes. 'Sun Package' combines rootsy slide guitar with a widescreen synthetic backdrop while the eerie 'Unbirthday' provides some nocturnal reflection. As the album progresses onto its home straight, the more traditional 'Cahiers Noirs' rings with the sadness of real and virtual violins before 'Push' presents sections of discordant ivory passages to close.
Blaine L Reininger is nothing but diverse and stylistically, he has never been able to be placed in a genre box. Fans will again relish the variation on offer with this ambitious work. Requiring more than a passing listen to be appreciated, casual observers may only find a quarter of the 'Wounds & Blessings' immediately appealing but that is already 3 or 4 tracks more than most albums offer on the quality front these days anyway.
---
'Wounds & Blessings' is released by Les Disques du Crépuscule as a 2CD set and download, available now from https://www.lesdisquesducrepuscule.com/wounds_and_blessings_twi1255.html and https://burningshed.com/store/les-disques-du-crepuscule_store/blaine-l-reininger_wounds-and-blessings_2cd
https://www.facebook.com/Blaine-L-Reininger-157948817590987/
https://twitter.com/BlaineReininger
https://open.spotify.com/album/3smUBkXFkK6ZfgEbdVebKe
---
Text by Chi Ming Lai
Photos by George Geranios
2nd January 2021