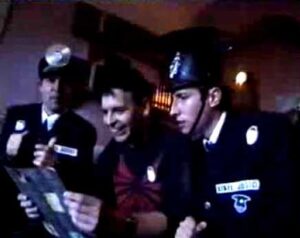 'The Adam and Joe Show' was a Channel 4 comedy programme, written and presented by Adam Buxton and Joe Cornish which ran between 1996 and 2001.
Featuring a variety of school boy minded antics and sketches, most weeks would see Adam and Joe recreating a popular film or TV show using cuddly toys or 'Star Wars' action figures. But another regular feature was 'Vinyl Justice' where Buxton and Cornish would visit various rock stars' homes to search for criminal records in their possession.
The skit involved illicit and embarrassing vinyl or CDs being uncovered, the owner being interrogated and then humiliated by being made to perform the song to the cameras as part of the forfeit. One particular week in 1997, Buxton and Cornish knocked on the door of Gary Numan. Among the records that Mr Numan is questioned about are releases by BELOUIS SOME and SIMPLE MINDS!
Among the rituals Numan is forced to undertake are trying to play 'Cars' on a portable keyboard and passing wind in-synch to the phrase "incontinent" to Thomas Dolby's 'Windpower'! However, on closer scrutiny, his record collection is not actually that shameful when compared with some of the other musicians featured in the series!
Other victims of the 'Vinyl Justice' squad have included Thomas Dolby himself, Cerys Matthews , Mark E Smith  and Neil Hannon
---
'The Adam & Joe DVD'
is released by Video Collection International
---
Text by Chi Ming Lai
5th July 2013