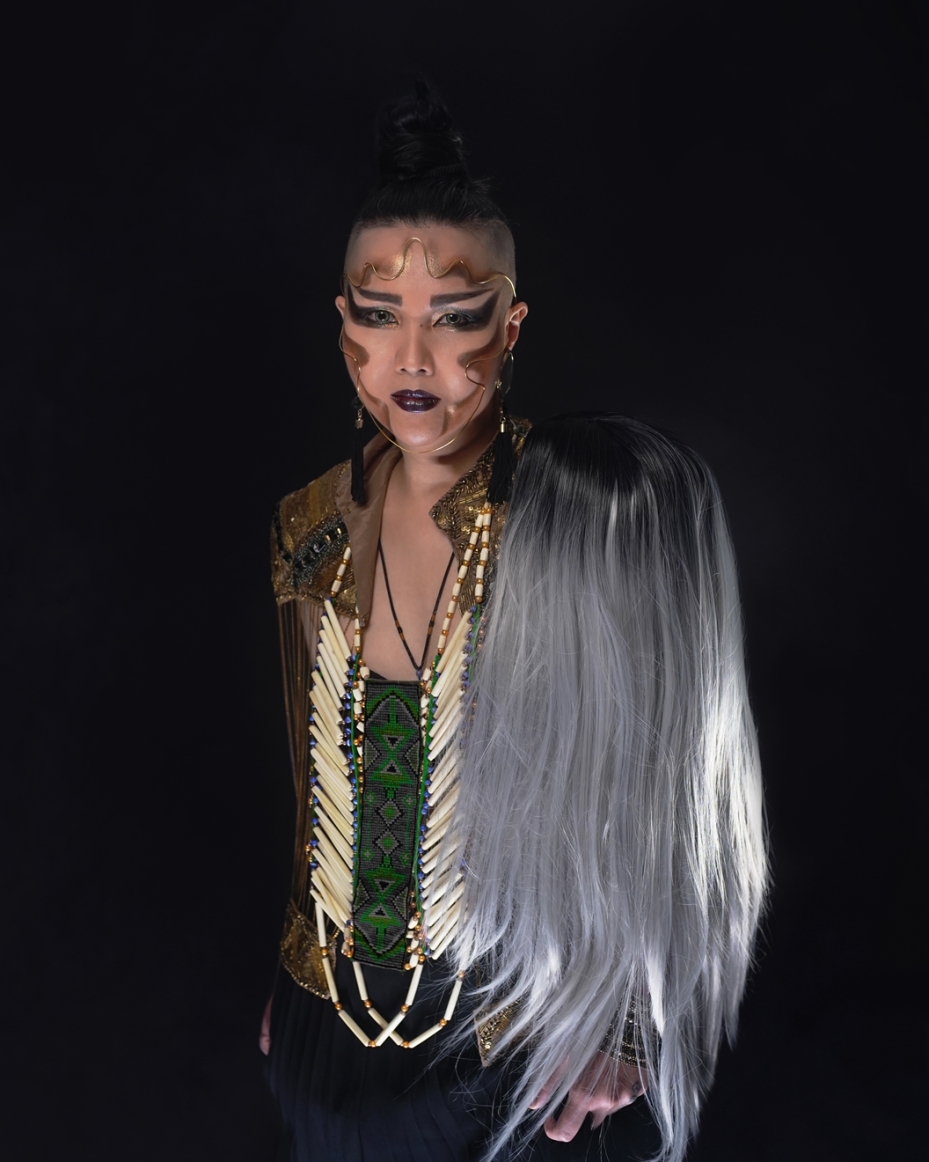 Located in the Iberian Peninsula on the North West of Spain above Portugal, Galicia is the home of dark electro artist CZARINA.
With lush green surroundings as well facing both the Atlantic Ocean and the Cantabrian Sea, Galicia is the perfect dynamic space to inspire the cosmic mystical presence of CZARINA. An eclectic mix of synthpop, orchestral baroque pop, gothic new age and prog rock, 'Arcana' is the title of her sophomore long player. Latin for "mysteries" or "secrets", 'Arcana' celebrates life, love and the laws of the universe. The imperial nom de théâtre of Vero Faye Kitsuné, CZARINA combines transcendentalism, new age mysticism and the future world with a discipline inspired by Budo martial arts.
With the imminent release of the lavish thoughtfully designed 'Arcana' package and its associated artefacts, the New York native kindly spoke to ELECTRICITYCLUB.CO.UK about the making of her second long player and her range of artistic interests.
'Arcana' is a fierce album…
'Arcana' is the record I should have debuted this project with. The huge dynamics really mirror the emotional depths I've been wanting to express for a long time. But I needed more time to develop, learn more hard lessons, and gain more perspective in order to develop the sound and the record's spirit. It took a lot of honesty and diving into who I am, my life history and how I was being shaped. I led a very intense life filled with so many lessons, cycles and completions.
My challenge was to articulate all the various eras and chapters I've had and all that I've learned into an eclectic, yet cohesive sound that would all seamlessly work as a record. I think I have achieved that in 'Arcana'. It's fierce, it's intense, it's cerebral and emotional, but also conscious, loving and battle-worn at the same time. Well, because that's really who I am. I needed to create the art and mythology that are reflective of me and how I now view all that surrounds me.
Was adopting a Warrior Woman persona for this record quite cathartic?
There is that little monk warrior inside that needed to come out, so it's hardly an adoption 🙂
But being able to come out as non-binary just recently, being who I truly am, not being boxed into constructs and letting that resonate in the sound is freeing. Writing the songs and working on the production definitely allowed me to get the kind of catharsis I've been needing for so long. I did let out a good, hard cry when the production was finished.
The influences are very eclectic but ELECTRICITYCLUB.CO.UK can hear Florence, Siouxsie and Karin?
Florence Welch, Siouxie Sioux, and Karin Dreijer are definitely influential in a way that they do have their own sound, and I take a lot of comfort in listening to their uniqueness. In a music world that tries to homogenise artists' sounds these days, I think uniqueness and a very nuanced performance and personality are all very important. However, my biggest influences are actually the prog metal band TOOL and their singer / lyricist Maynard James Keenan's projects – the dark alt rock supergroup A PERFECT CIRCLE, and the art rock band PUSCIFER. I grew up listening to them and I still do to this day. Also Björk, the late Dolores O'Riordan and Enya all share that kind of spirit that influenced and shaped my own development years in music that are all being reflected now.
Many of the tracks are highly percussive, where does this energy come from?
Even though I am predominantly an electronic and synth musician these days, I did start in prog rock over 20 years ago as a songwriter, lead singer and guitarist, and my love for odd meters and polyrhythms remain strong to this day. I love a good, solid and super tight rhythm section, even though I am not fond of dealing with a band or session musicians in the writing and production process. I love writing complex drums parts with depths and layers on my own. My masculine and cerebral side really come through in that element. But also there is something satisfying and therapeutic about it that brings me to a very zen state in the midst of thunderous, controlled percussive chaos. It's like being in the eye of a storm you are in control of.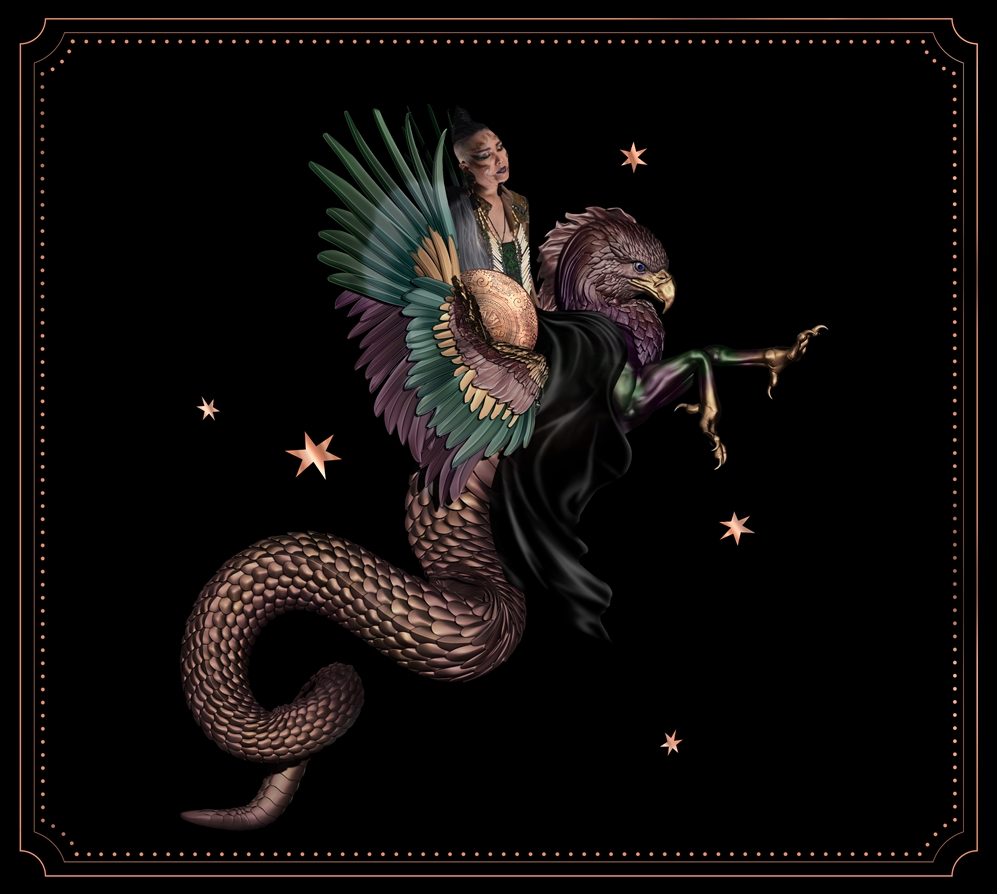 Recording live drums in a home studio is never straightforward so how did you get the rhythmic colours and vibe that you sought, particularly on a frantic electronic rock number like 'Lost Lands'?
CZARINA: I use mostly VSTs these days and I just lay all my drum parts on MIDI, happily slaving over and meticulously piecing the parts one by one, as though creating a multi-colored tapestry. I do perform them on the MIDI to generate that nuanced delivery. I'm also a visual artist, so I tend to also see rhythmic patterns visually, which always helps with creating polyrhythms.
I have a Roland V-Kit, which I use to sample from time to time. My co–producer on the record, Von Hertzog (The Social Club), also gave some clever drum production input on tracks like 'Wonderland' where he added a touch of congas under the hi-hats to get that nice, rippled top-end syncopation, and on 'The Fox's Wedding' where he took my timpanis and added and tweaked additional layers to give it that wide-ranging depth. Production details like that have become so important in sculpting the percussions throughout the record. So on that note, I'm a very excellent drummer on MIDI, just don't make me perform them on real drums. We will need Danny Carey for that or a drummer with 12 limbs. 😀
Is 'Medusa' about anyone or any situation in particular?
'Medusa' is a #MeToo song, and talks about the ancient Greek myth the song was inspired by. According to the myth, Medusa was defiled by Poseidon in Athena's temple, but was the one who got blamed and punished. Hence, the cynical tone in the chorus lines, "Cuz I'm the predator, I'm the predator."
For a long time, Medusa was deemed as a monstrous figure and an outcast – just the way a lot of strong, female entities have always been vilified throughout history. Only until recently, her story has been turned around, and today Medusa has become quite the symbol of feminine rage. I definitely personally could relate as someone who's experienced (and still experience) the occasional misogyny, gross racism and micro-transgressions especially growing up in a tough city and revelling in highly-competitive industries and music communities. It's never easy being a strong person of colour – especially one that has been born female, while trying to make your mark in the world. There is definitely Medusa inside who's always on edge, thirsty for justice, always wanting to set things right and have zero tolerance for unjust behaviour.
Titles like 'Celestial Satellites' and 'Til The Last Star (Cosmos)' indicate that you indeed do look up, what fascinates you about the sky and how does it permeate into your work?
Our house stands right by the water and every night when we walk our pup Hamlet on the beach, our most favorite thing my husband DeadlyKawaii and I do is look up and watch the stars during these walks and be completely immersed in their beauty. (Sometimes we do see weird things that we couldn't explain). As the old wayfarers and seafarers would say (and before GPS systems) – one could never get lost as long as one knows how to read the stars.
I'm deeply in love with nature and the cosmos – all the greater things that are outside of ourselves. It is a reminder that we are really small, and humanity only makes up a tiny fraction of this grand architecture and universal consciousness. It's humbling and I do surrender all of myself to it all. With that said, I am very New Age, and I lean on a lot of esoteric traditions and holistic definitions of the divine.
'Excelsior' has a delightful Pagan eccentricity like NIKI & THE DOVE?
'Excelsior' definitely has Pagan undercurrents. It's actually my favourite song in the record because of its feral and raw complexities, the range it carries, and how it seamlessly shifts from one polyrhythm to another before wailing into giant, exhilarating crescendos like a mad winged creature. It's the most complex composition I have ever written, produced and also performed. It's super fun to perform it live. The music video for it is a wild one as well.
You moved to Europe comparatively recently, is it 'Wonderland'?
Galicia is absolutely my Wonderland. This place is really magical and carries that energy. I feel like I'm in a Ghibli film as I'm constantly surrounded by such epic, utter beauty. As soon as I arrived here, my life and my mentality went through a shift. And I wanted to make changes in myself and in how I do my art. It made me more spiritual, more conscious and more connected with nature. Also, Galicia is the inspiration for 'Arcana'. If it weren't for this move, I would probably have just written another synth or cyberpunk record.
'The Fox's Wedding' is like dark Celine Dion?
LOL – I'm going to share this with my parents as they're obsessed with Celine Dion! Especially my dad. Celine has been a huge part of our household growing up. I used to sing – or rather, coerced by my parents to sing her songs at family gatherings, so I'm pretty sure a lot of that still lives in my psyche. Celine is the queen of love songs. DeadlyKawaii and I were supposed to have a formal wedding celebration with our entire family here in Galicia, but the pandemic has stalled all those plans. 'The Fox's Wedding' is the song that I wrote for it that I'm hoping to walk down the aisle to someday. I kept most of the instrumentations organic to give that otherworldly vibe that Galicia has, as though you're entering a magical forest cast in the moonlight and you're getting greeted by fairy folk every step of the way. Those are the things that typically twirl in my head as I write and compose.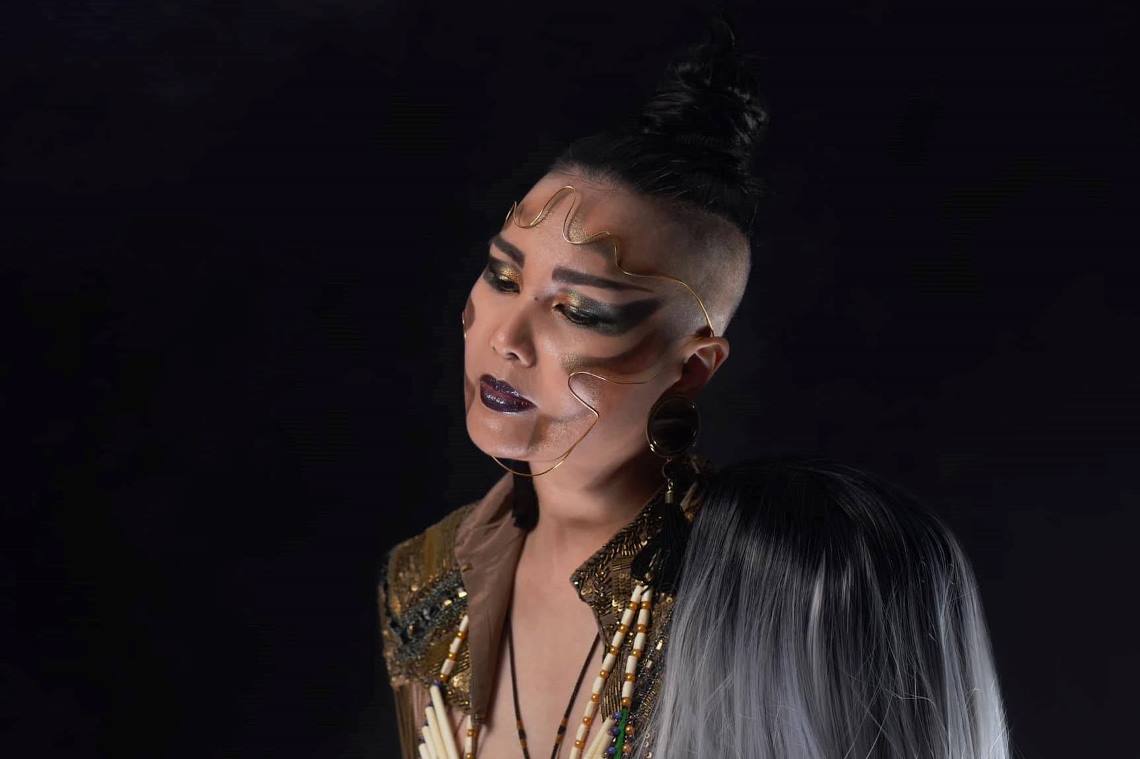 Meanwhile, although it has hints of Lene Lovich, is 'Atomic (Ad Initivm)' perhaps a baroque tribute to Debbie Harry?
I never thought of it that way before, but let's call it that. Debbie is a legend and a true icon. She has touched the lives of many people I work with, including my own. And for sure, she's my favorite atomic blonde. What a blessing she is to have around us.
How did the idea to cover 'Cities in Dust' come about, what inspired your arrangement with the orchestration?
'Cities in Dust' is one of my favourite songs ever and I've always made a habit of covering my favourites. I've always wanted to pay tribute to Siouxie Sioux, but give it my own sonic imprint. What inspired the orchestral arrangements is the actual message of the song itself. The lyrics in 'Cities in Dust' have prophetic qualities to it, and images of empires and cities falling come to mind. I wanted to convey that epicness and at the same time cast a warning true to what the lyrics are trying to say. I also saw the opportunity to flex some cinematic orchestral chops and create the music as I hear it in my head.
'Arcana' is essentially a technology driven production but are you happy with a DAW, software and samples or do you like to bring in analog hardware from time to time?
I do have some analog synths that were used in the development of this record – namely, Jupiter-6, JP-8000 and Korg Minilogue. Von Hertzog also did analog mastering for this entire record. So yes, there is a soft spot for analog in this project even though majority of it was produced on Logic Pro. Also, do guitars count? 😀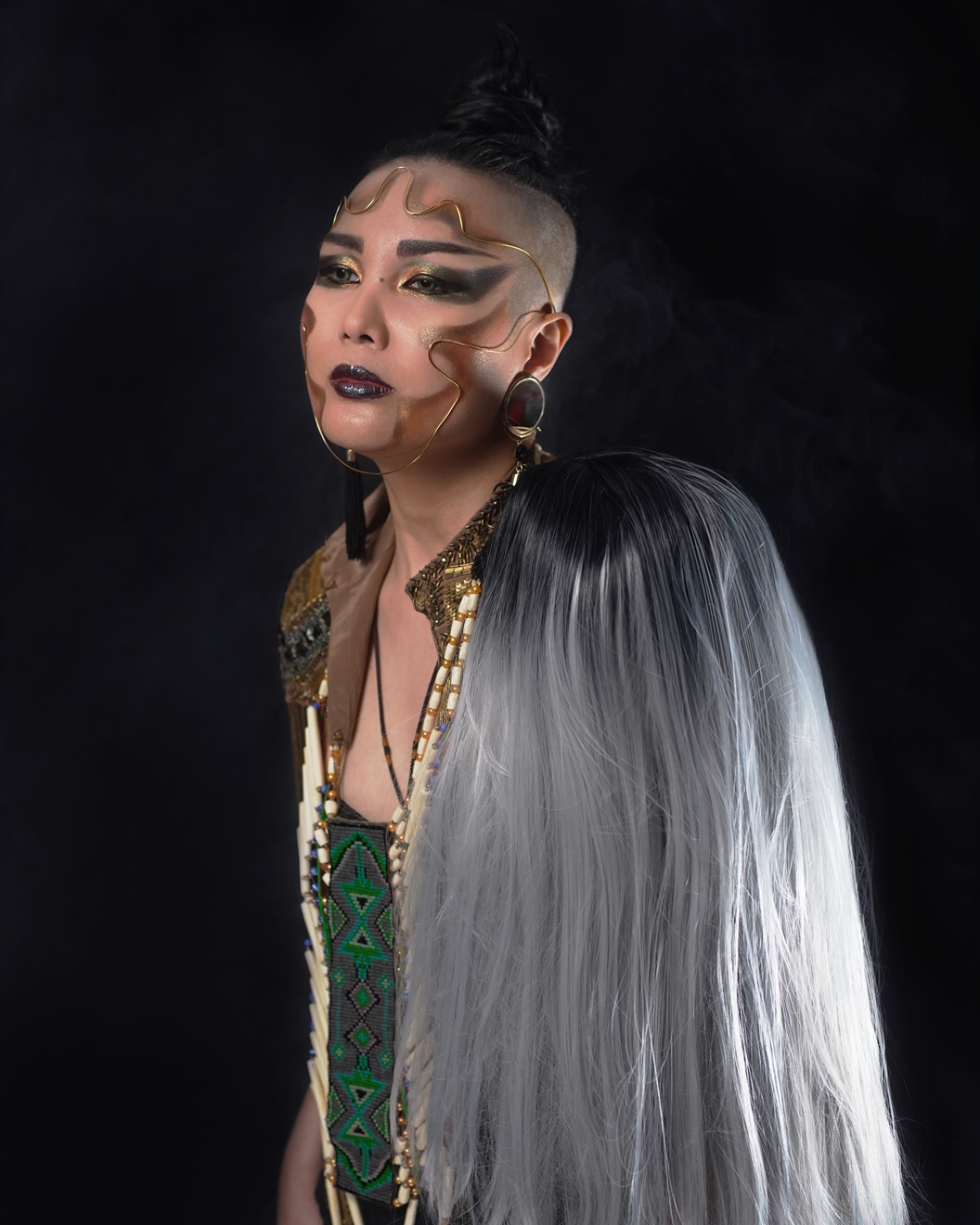 'Arcana' must be like directing your own film? Who do you think this album will appeal to?
A few of us hold on to the philosophy of being our own target market. I didn't think of anyone or anything else outside of what I personally wanted to hear when I was writing these songs. I didn't even think in genres. A few who had already heard it have said 'Arcana' is impossible to categorise or box in a genre. I guess we will find out whom this album resonates with. Most likely people who are looking for more out of music and art. I think it is very exciting to find out, because this record is not trying to be a "bop" or a "banger". It's deep and complex, and a lot more transcendental and holistic in its creation. It takes a few listens to really absorb the music. But each listen, you discover more and more details and secrets hidden in its production.
The visual presentation with photos and videos appears to be very important to CZARINA?
Absolutely part of what I love about what I do. I have a very extensive history of being a fashion designer and creative director and I'm really proud of that track record. I've done a lot more than most folks in the field and that will always live in everything else that I do. I think the combination of articulating your vision and who you are in both sound and visuals is powerful and gives me that creative gratification I always seek for myself.
Does a modern artist have to be more multi-faceted now, like DJing, gaming, providing shopping tips, being a brand ambassador and presenting themselves as more of a social media personality? Does this not ultimately detract from the actual making of music?
I don't think one should try to be everything and anything they're not. One should always focus on all their strengths and use all that they got, and not just do and rely on the barest minimum. I think the point is to find ways of making sure you and your music stand out. I don't think that it pays at all to dive into several disparate endeavours that don't really tie into any cohesive meaning for a project or an artist. There's gotta be some sort of meaning behind every activity you pick up that really helps paint the giant picture.
Speaking for myself. I have had an eclectic and quite an anomalous upbringing that generated this wide spectrum of different abilities. It was a form of survival in a tough city – being able to do a lot of different things and excel at each and everyone of them. So a lot of what I do are true integral parts of who I am as an artist. And each one of them helps in creating the art and music. They're all part of one giant artistic vision. For example, I don't write a song unless I already see what the music video looks like. And I won't make a record unless each of the songs and videos make a bigger, cohesive story.
You recently established a videocast called ABSYNTH, what is the aim of this platform?
ABSYNTH.space is one of the projects I've been wanting to do for a long time. There are a lot of great music blogs (including ELECTRICITYCLUB.CO.UK) and I wanted to create a platform with a video podcast channel that complements what the other platforms do. The way ABSYNTH is growing and evolving is fascinating. Since it is artist-run, the platform tends to focus more on the word of the day within music communities, and the lively discussions and subjects get really avant-garde or super nerdy at times.
It's a smorgasbord and melting pot of ideas. We cover quite a range of musical genres that are adjacent to each other. But at the end of the day, it's just so enjoyable to do it. We're here to have fun, hang with our guests, while remaining hopeful that we are able to help shine the spotlight on emerging acts.
What are you hope and fears as 2022 progresses?
My hope is to be able to play live again and get back on stage. One of my goals this year once after 'Arcana' is released is to continue making the music videos and visual components for the record's entire mythology. But I also want to create the stage and live performance adaptation of the record. I want to make 'Arcana' come alive. With the vast orchestration and dynamics, it would be quite a dream to execute it as a full live, theatrical performance.
In terms of fears, as the virus still looms over all of us, the fears I have are missing out on cool things or someone I hold dearly becomes ill. With everything else, I just try to remain positive and uphold a strong "can-do" and solution-drive attitude.
---
ELECTRICITYCLUB.CO.UK gives its warmest thanks to CZARINA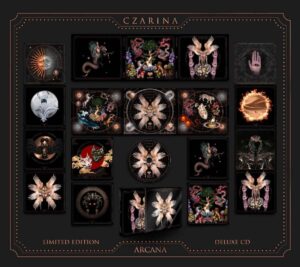 'Arcana' is released by darkTunes Music Group on 22nd February 2022 in CD and digital formats, available from https://czarinaofficial.bandcamp.com/
https://www.czarinaofficial.com/
https://www.facebook.com/czarinanyc
https://twitter.com/CZARINAnyc
https://www.instagram.com/czarinaofficial/
---
Text and Interview by Chi Ming Lai
21st February 2022