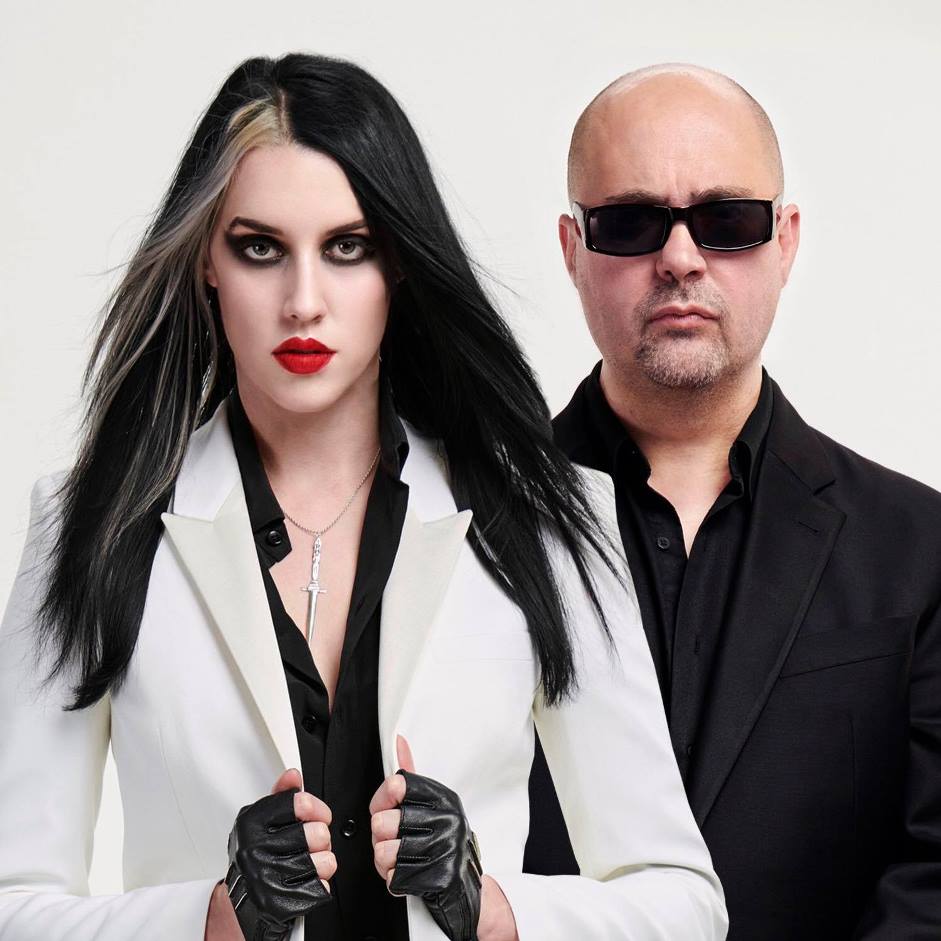 Although NIGHT CLUB's third album 'Die Die Lullaby' was released in 2020, with events making the world stand still, Emily Kavanaugh and Mark Brooks finally get to tour their opus in Spring 2022.
'Die Die Lullaby' was mixed by Brooks with Dave "Rave" Ogilvie, a former member of SKINNY PUPPY known for his work with NINE INCH NAILS and Marilyn Manson.
But crucially, he also mixed Carly Rae Jepsen's 2011 worldwide smash hit 'Call Me Maybe' to provide a typically NIGHT CLUB twist and develop their Britney Spears fronting NINE INCH NAILS template even further.
To launch the tour, with its Giorgio Moroder and Bobby Orlando influences, album opener 'Die In The Disco' has been given a superb animated video treatment; the throbbing HI-NRG disco is offset by the imagery that accompanies the unsettling ghostly pitch-shifted voice which announces: "This is my party and I will die if I want to!"
Of the visualisation for this macabre statement, Mark Brooks told ELECTRICITYCLUB.CO.UK: "Last summer we talked about wanting to make a video for 'Die In The Disco' before our tour starts this Spring. Because of the way we wanted it to look, animation was clearly a cheaper route than live action (since I work in animation). It did take a while; EIGHT MONTHS!"
With so many animated styles available such as anime and even Disney, Brooks opted for the Patrick Nagel inspired aesthetic used on 'Moonbeam City' which NIGHT CLUB did the soundtrack for: "Yeah, I wanted to make a hybrid of 'Metalocalypse' and 'Moonbeam City'. These are two shows that I directed and are my personal favs. Also we thought it would be more unique to do it this way than producing another anime, which is getting oversaturated".
NIGHT CLUB are pumped for going out live again and have no fears of stage rustiness at all: "We are excited to go back on tour! Luckily last year we did some warm-up shows in SF, Denver and Vegas so we don't feel as rusty now. It's been really fun to play the new material live, which we didn't get to do when we released the album in late 2020 and obviously everything was shut down."
As far as what's next for NIGHT CLUB, the duo said "We're currently about to go on our US tour and we're booking a UK tour for the Fall. In between playing all these shows, we're writing and recording our next LP, which will hopefully be out next year."
---
'Die In The Disco' is from the album 'Die Die Lullaby' released by Gato Blanco in CD and download formats, available from http://nightclubband.com/
NIGHT CLUB tour North America in Spring 2022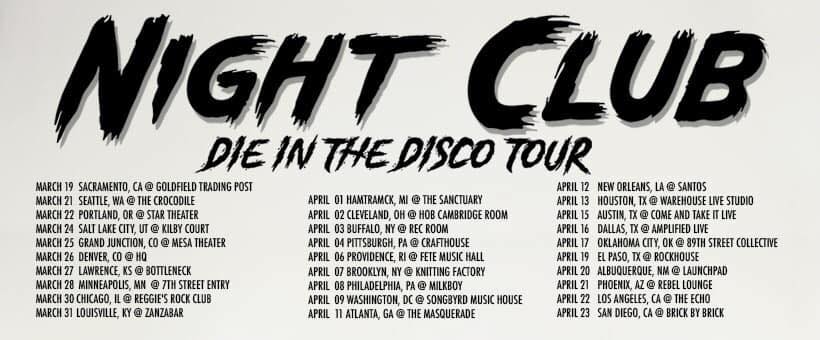 https://www.facebook.com/nightclubband
https://twitter.com/nightclubband
https://www.instagram.com/nightclubband/
https://soundcloud.com/nightclubband
---
Text and Interview by Chi Ming Lai
Photos by Francis George
19th February 2022