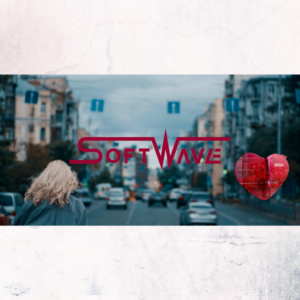 Having reflected tense times with 'System Failure' in Summer 2021, Danish synthpop duo SOFTWAVE are back with a bittersweet superpop number 'Thank You For Breaking My Heart'.
With glistening shades of ERASURE, Catrine Christensen and Jerry Olsen reflect on the positives of a toxic relationship ending, with shackles unlocked and new opportunities beckoning. As a result, this solo Christensen composition declares "Without you there's no dark".
The worldwide pandemic has forced many to re-evaluate their life, career and choices.
'Thank You For Breaking My Heart' will work on many levels as light is able to shine again. The video reflects this through mash-up of images including forlorn individuals staring at cityscapes, couples arguing, youngsters enjoying the nightlife, live footage of SOFTWAVE, dance troupes and a veiled figure walking in the desert.
'Game On' released in 2020 fulfilled the promise that had been evident since 'On & On & On' was issued as a remix by Jerry Olsen in 2017. As a result, the duo came to the attention of OMD who invited them to be the opening act for their Scandinavian tour in early 2020; SOFTWAVE thanked the Wirral electronic pioneers with a cover of 'Souvenir' by way of a tribute a few months later.
While a full length follow-up to their debut album is not yet on the cards, SOFTWAVE are preparing an EP for a release later this year with the next single being 'Supernova'; Catrine Christensen promises "It has a great message and story…"
---
'Thank You for Breaking My Heart' is available digitally on assorted platforms via https://frontl.ink/zbmpxmq
Other SOFTWAVE releases are available from https://softwave.bandcamp.com/
https://www.facebook.com/SoftWaveMusic/
https://twitter.com/SoftWaveMusic
https://www.instagram.com/softwave_music/
---
Text by Chi Ming Lai
17th February 2022