Revolution, you say? DEPECHE MODE fans far and wide have awaited four years to hear their heroes' newest album.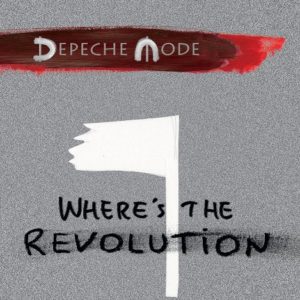 'Delta Machine', which followed 'Sounds Of The Universe' did not bring total joy to weathered lovers of the Basildon boys, and the reasons have been widely discussed on well frequented DM forums and social media alike.
Some said it was the choice of the producer on both those records.
Ben Hillier seemingly did not understand the uniqueness of the synth gods; the results: an overly noisy, non-uniform, at times puzzling approach to songs, which otherwise could be great.
As Gore still remained one of the best writers alive, with his astonishingly grown-up lyricism and quirky use of sound, even the blind could see that the good songwriting was still very much there. Even Gahan's own songs proved to step up a notch, with a few notably good numbers (even though couple of them did not get to feature of the main releases).
The others, and there are a good army of those as it seems, still reminisce the times when Alan Wilder put his heart and soul into the DM productions, giving them depth, texture and lustre second to none, and those fans continue to blame the current line-up for poorer releases, even though Wilder hasn't been in the band for a longer period than what his involvement had been…
If it's true that Wilder will not come back, and it's unlikely he's bound to produce any of the future (if there are any) outings by the trio, why is it that every time Mode air their new stuff, it is immediately compared to the likes of 'Violator' or 'Songs Of Faith & Devotion'?
Like any band with a career spanning over decades, some things have to change, surely? Oh, and they have… keyboards have been nearly retired by Gore who loves his guitars and would rather let Peter Gordeno do his own handiwork live, while many a fan rolls their eyes every time Christian Eigner turns into Animal from 'The Muppets'. And musically a large dose of blues have been introduced over the last three albums.
All that aside, the Devotees eagerly await any news that leaks from the Depeche camp; after all, how many bands could get away with calling a press conference in a chosen European city, just to vaguely describe the upcoming opus and roll out the extensive tour dates, which start selling out pretty soon after, given that the album is not to be aired for months?
James Ford for 'Spirit': a curious choice of producer known for working with FLORENCE & THE MACHINE and MUMFORD & SONS alongside many, but can he grasp what DM are about? Can he bring the long lost magic to the record that historically appears every four years?
Anton Corbijn: the man famously responsible for much of Depeche's artwork, videos, stage plans and a two-time video actor has been utilised again for the album visuals. Indeed his work graces the first single's cover of 'Where's The Revolution'. A simplistic, almost communist notion of red, grey and black, which five sets of marching boots with six flags warns of clear political connotations. Well, the title says that too!
The song / video: 'Where's The Revolution' is clearly a politically charged number, which certainly suits the general feeling of living in the times of real change, what with Brexit and Trump's presidency in the US, which took social media by storm, feeding even those not at all interested in politics, with a large dose of just that every day.
It starts off with a rather gripping rhythm, seeing Gahan playing the role of a dictator speaking to the brainwashed, marching posse. Rather quickly, the promising sounds roll into a tedious bass line with a few droning sounds.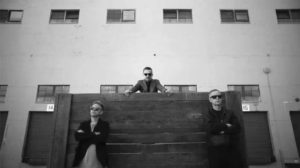 Well, at least the guitar sounds great… and just as you settle into the song, BANG! Here comes the chorus! Literally off the metronome scale and coming back on an off-beat, Gahan wants to know where the Revolution is, while his posse scatters away and the dictator and co move to another spot for a further bit of marching and flag flying.
But that's not all; here comes the middle eight, (or a middle sixteen on the full length version), which if the song wasn't on the poor side already, totally wipes out any hope, both audibly and visually.
Gore, Gahan and Fletch are seen wearing Rabbi-like beards and stood in line, perform choo-choo motions to "the train is coming… the train is coming… get on board", which soon is likely to be adopted by nursery schools far and wide as the newest after nap time activity.
Afterwards, Gahan puts on his live gigging vest and Gore produces his guitar, and Fletch… well Fletch just stands there, but what's new? One more dose of chorus and we are done…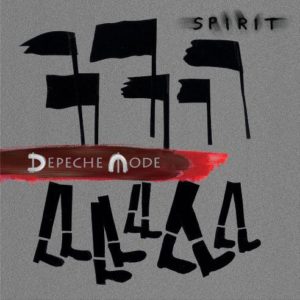 Well, it could be worse. On the tenth or twentieth listen, the song isn't too bad, it even gets one singing the chorus, but is that really the "Revolution" that DEPECHE MODE wanted to bring upon their ever so devoted fans?
The guys have either got lazy, and really don't care what it is that they release as long as the money is coming in, or they simply lost it… even Gore's lyrics on this one smell of naivety, and the whole thing is just a big head scratcher. As for the production, James Ford has brought absolutely nothing new to the table set before by Ben Hillier.
Anton Corbijn has always liked to inject a funny, mocking even, element to his DM videos, but somehow this looks unsophisticated and predictable… almost.
Surely the album is going to be far better than this, "here is a plea"….
---
'Where's The Revolution' is from the new album 'Spirit'
released by Columbia Records in CD, deluxe 2CD, double vinyl LP and download formats on 17th March 2017
DEPECHE MODE play London Stadium on Saturday 3rd June 2017
https://www.facebook.com/depechemode/
---
Text by Monika Izabela Trigwell
13th February 2017