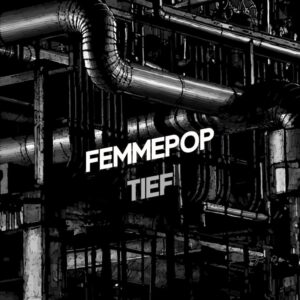 Already with two albums and several EPs to her name, Irish artist and producer Margaret O' Sullivan has been releasing music as FEMMEPOP since 2008.
Her first album 'From A Girl Who Never Sleeps' issued in 2014 was followed up with 'Dancing With Myself' in 2017, the title track of which was a cover of GENERATION X's ode to masturbation. Her portfolio is diverse to say the least, from her own pop songs to collaborations with synthwave stalwarts such as TIMECOP1983, KALAX and Robert Parker. There was also 'Tomodachi', a track with fellow synth femme MECHA MAIKO for the Canadian's 'Mad But Soft' long playing debut.
FEMMEPOP's 2019 'London' EP surprised as an all instrumental affair, while her most recent single was an electronic reworking of the mid-19th Century murder ballad 'Tom Dooley'.
With inspiration from THE FUTURE SOUND OF LONDON and BOARDS OF CANADA, she returns to instrumental-based work with the engaging EDM flavoured 'Tief'; meaning "deep" in German and with prominent arpeggios, it has precision in production and comes with a geometric visual accompaniment that turns her art into a complex dimensional conception.
"During the pandemic I felt the most uninspired I have ever felt throughout my entire life. Normally I release and EP or album every year" Margaret O' Sullivan told ELECTRICITYCLUB.CO.UK, "Ever since the 'CYM' EP I have been more interested in writing electronic soundscapes and instrumentals, rather than using my first instrument which would be my voice, so it sometimes it also feels odd not singing. But this is where I am right now, this is what I want to produce in my studio. It feels more evolved. The writing of this track came very quickly and melodies and beats just seemed to fit together easily".
FEMMEPOP is also currently in the process of writing and producing a new album which will be released on the Scottish independent label Werra Foxma in early 2023. The first new music from FEMMEPOP since 2020, in her own words "It made me want to dance and shout, to get up and enjoy life again".
---
'Tief' is released by Stranger Nights on all digital platforms including https://femmepop.bandcamp.com/
https://www.facebook.com/Femmepop
https://www.instagram.com/femmepop/
---
Text by Chi Ming Lai
15th March 2022