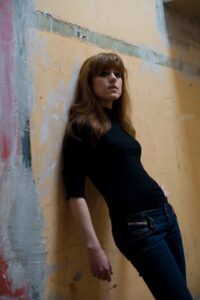 Hannah Peel will be known to synthpop fans as one of the musicians with JOHN FOXX & THE MATHS.
However, she first became known to the synth world via her debut EP 'Re-Box' released on Static Caravan in 2010.
It featured musicbox covers of 'Tainted Love' which was made famous by SOFT CELL, NEW ORDER's 'Blue Monday', OMD's 'Electricity' and COCTEAU TWINS' 'Sugar Hiccup'. An edition of 300 were pressed onto 7 inch vinyl and promptly sold out.
A first class honours graduate from the Liverpool Institute of Performing Arts, Hannah Peel curated The Audio Vision Festival at the 3LD Art and Technology Centre as part of Liverpool's celebrations as European Capital of Culture in 2008.
Later, she worked as a session musician for Nitin Sawhney as well as writing songs for her debut album 'The Broken Wave'. As was usual with the MySpace generation of artists, Hannah streamed her material online. Having been brought to his attention by her cover of 'Electricity', OMD's Andy McCluskey asked to sample her composition 'Organ Song' for a possible album track. The end result was 'Bondage Of Fate', a haunting waltz ballad which featured her vocals and keyboards prominently on the finished recording. It was included on OMD's comeback album 'History Of Modern' in 2010.
Although her own 2011 debut album 'The Broken Wave' was more traditional and influenced by her Irish and Yorkshire roots, it was while she was recording with producer Mike Lindsay at his Play Studios that she met co-owner Ben Edwards aka Benge, synth collector extraordinaire and collaborative partner in the JOHN FOXX & THE MATHS project. As a result, she was invited to become part of the live set-up for the Interplay tour in Benge's artistic vision of a Shoreditch Exploding Plastic Inevitable.
Proficient on both piano and violin, she did her Maths homework and adapted extremely well to the electronic sound of the former ULTRAVOX front man. Handling a Micro-Korg and Roland JX3P while twiddling a pink Ibanez AD80 delay, she authentically recreated a plethora of futuristic sounds that warbled off and on. But it was her eerie bowed embellishments to the 'Metamatic' material that drew her most praise, drawing comparisons with ULTRAVOX's Billy Currie, the godfather of synth playing electric violinists!
ELECTRICITYCLUB.CO.UK met Hannah Peel after the final XOYO show in London and later chatted to her about her burgeoning career and electro-friendly development.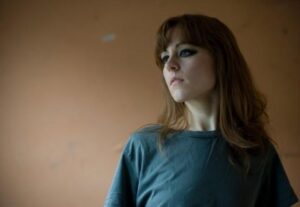 How did the idea for your 'Re-Box' EP come about?
I discovered the programmable music box when scoring some music for a theatre show in Liverpool. It wasn't until afterwards when I thought; this box could work really well with singing.
As a bit of a joke, I made the remix of 'Tainted Love' instantly recognisable and the riff works really well on the box.
I played it live at gig one night for a friend and the reaction was pretty incredible! So I decided to create a few more remixes, put them on a CD and give out to a few people who I knew would like it, calling it 'Re-Box'. The CD made its way into the hands of Geoff Dolman at Static Caravan who then released it as a limited 7 inch vinyl.
What makes the covers attractive, even though they are programmed, is the contrast to the rigid tempos of the original tracks programming. The music box strips away all that as it is hand wound and leaves you with the bare minimal melodies and structures of the songs, which are quite beautiful and classic.
Where did you first hear these synth classics?
I think as an 80s child, 'Blue Monday', 'Tainted Love' and 'Electricity' are without a doubt, ingrained into my brain somewhere. However, it wasn't until I had played with Laura Groves from BLUE ROSES, who noted that I have hiccups everyday, that 'Sugar Hiccup' by COCTEAU TWINS would be a perfect remix.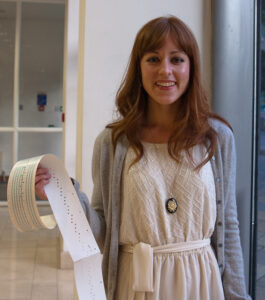 Is using the musicbox a bit like programming an antique sequencer in a way then?
Yes, in that you are using a punch card type of system, resembling early computer techniques when having to give digital instructions. Much like MIDI really.
I'm not sure how they made the card, but for me all the notes on the music box are made using a hole puncher and can take me sometimes a solid 12-18 hours to complete.
I remember OMD's Paul Humphreys enthusing to me about your work. Was your cover of 'Electricity' how they first got to hear about you?
Yes, I sent Andy McCluskey a copy of the CD when I had finished, I lived in Liverpool at the time so knew of his studio there.
How did you feel when they wanted to sample 'Organ Song' for their track 'Bondage Of Fate' on 'History Of Modern'?
Really flattered. I had written a lot of music previously for theatre and short films, but 'Organ Song' at the time was one of the first songs I had embarked on and recorded myself.
What did you think of the end result?
I think it works really well. Mainly because, it works really well in contrast to the others.
It has a more organic, emotional atmosphere around it. But I would say that though wouldn't I!?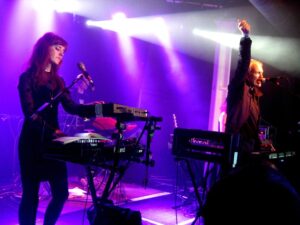 So what's actually happened to 'Organ Song' itself? Will it turn up on your next album?
Well, actually it has been released on my first album 'The Broken Wave' as 'Today Is Not So Far Away'. I took the original to Mike Lindsay the producer, and we re-worked it – so much so, there is now no resemblance to the original!
Your own music and debut long player 'The Broken Wave' appear to be perhaps more from a folk tradition? What is your own musical background and influences?
Although I was born in Ireland, we moved to Yorkshire at an early age… my family are very much into singing, playing and dancing – I was constantly being made to go to folk sessions that I am now glad they did! However, I was also in a competition brass band on the trombone right up until I left for university, so traditional elements have always played a part rather than just folk music.
I listen a lot to film, classical music and a lot of 60s / 70s music, mainly because I love the melodies, arrangements and emotional connections. These are very important for me and I suppose I've been labelled with folk because of this connection to rawness.
I feel like a lot of modern music lacks these elements and is just noise to fill the ever increasing void in modern life, rather than being there for a reason and to say something important.
I won't ever put something in my music, whether it is lyrics, sounds or instruments unless they have a reason to be there.
What got you more involved with synthesizers?
I get a lot of satisfaction from playing analogue synths. They feel real and tangible and enable a sense of control but also experimentation and fun in exploring what you can create but I honestly did not know much about them until I came to London to make my record with Mike Lindsay. His studio was run by Benge, so you can probably guess how much my eyes exploded from finding this completely new world.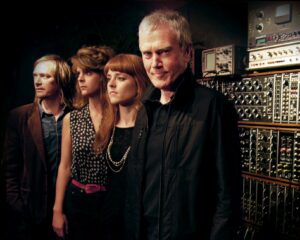 So how did you end up being part of JOHN FOXX & THE MATHS?
John and Benge were making Interplay next door as I was making 'The Broken Wave'. I'd spoken to John a few times, mainly when our paths crossed but Benge had seen me play and knew what I was like musically.
So I suppose when they were looking at putting a band together and needed a singer/keys player and violinist – I fitted the bill.
Benge has got quite synth collection hasn't he? What would be your favourite synths, past and present?
I am in no way an expert on these things! However, yes Benge has got a unique and brilliant collection. I have been in the studio a lot working over the last year and I still don't know half of what is in there, but so far my favourite vintage ones are the ARP synths. The ARP Omni, which we used on tour (played by Serafina Steer) and the Odyssey, which we couldn't take unfortunately as it is just too valuable. I just bought the new Korg MicroTribe which we used on tour for the track 'Interplay', that's very good and analogue too.
What did you think of JOHN FOXX's work when you were first introduced to it because you weren't born when 'Metamatic' or 'The Garden' were released?
It has a clear distinctive sound. One that sets him apart from other acts of his earlier career, and I still feel he maintains and pushes his sound and boundaries even further now. I started playing with him with no preconceptions and fresh ears for the new record, and hopefully that came across in the live performances.
As a trained musician, what things have you observed about JOHN FOXX's compositional and arrangement style?
He approaches his music like a true artist. Parts and sounds seem to be created as if they were from a visual image, placed with a delicate awareness and added to make a picture whole. It's not just about a huge vocal part or a massive synth riff, each instrument and part is there to create the bigger picture. For me, this makes the tracks more interesting and certainly when playing on tour, you never become tired of your part.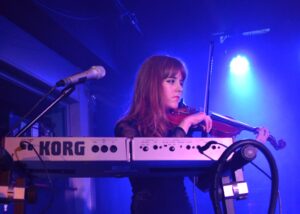 His fans have been particularly positive about your contribution to the live sound, especially with the violin. How did you find adapting to a quite different style of music to your own?
That's very nice indeed! We actually had a very intense rehearsal period. There was a lot to learn and all the tracks had to be adapted with the right synth programming for us three to play behind John's vocals.
You will have noticed Sefa and me playing two completely different parts at once and singing on top. It took a lot of co-ordination and concentration for all 18 songs and so I never had the time to consider the different style of music until we were on stage!
Which of his songs did you particularly enjoy playing live?
Ah there are so many, but the ones featuring the violin felt the most satisfying to play live, mainly because of the effects on the violin pedal board, lots of distortion, delay and extra octaves. To quote Benge, "Like an animal being murdered"!
'Burning Car', 'He's A Liquid' and 'The Shadow Of His Former Self' are all amazing songs and great fun live.
Are there any other Synth Britannia or contemporary electronic acts you would like to work with?
Yes certainly, at the height of the time, I wish I'd been there! So much incredible sounds and acts were allowed to come through into the music industry. But to work alongside someone now, who has retained their open-minded enthusiasm and perspectives and credibility as an artist, I am very happy to be working alongside John.
Current acts, THE KNIFE. I love their live shows and sound, and also Karin Dreijer Andersson's solo project FEVER RAY. I met them once with Benge in Shoreditch for a drink just after I moved from Liverpool to London last year.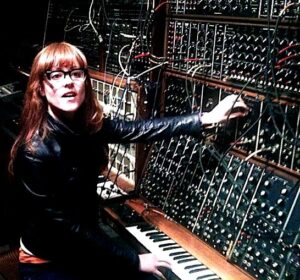 Is further electronic experimentation likely in your future work? Perhaps in a wonky pop folktronica hybrid?
Yes, I've already started work creating new tracks with Benge and John for a different album. I'm very much hooked. Although, for my own songs, I won't intend for them to be pinned as folktronica, that term makes me feel funny somehow. Working with synths certainly brings out the more cinematic side of my writing.
So what's next few you?
THE MAGNETIC NORTH – I've made a record with the singer Erland Cooper (from the psych / folk band ERLAND & THE CARNIVAL) and VERVE / BLUR / GORILLAZ guitarist Simon Tong. Called 'Symphony of The Magnetic North', the album is based on the Orkney Islands and is inspired by a 1930s travelogue journal. It will be out next year and is quite a mix of darkened stories from the Islands with strings / brass / guitars / a local Island choir / port and ship samples and our vocals. Benge has just finished mixing it too!
I'm also working on my next album too, based on the book 'Invisible Cities' by Italo Calvino.
---
ELECTRICTYCLUB.CO.UK gives its warmest thanks to HANNAH PEEL
Special thanks to Colin Wallace
'Re-Box' and 'The Broken Wave' are available now on Static Caravan
---
Text and Interview by Chi Ming Lai
Photos by Alex Wolkowicz, Ed Fielding, Mike Cooper and Richard Price
1st December 2011