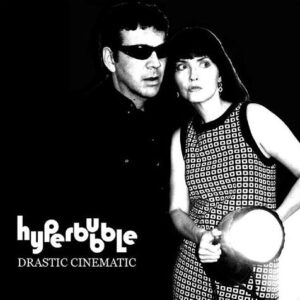 Soundtrack albums to imaginary films are nothing new. Brian Eno did two including 'Music For Films' and 'Original Soundtracks' with PASSENGERS aka U2 while Paul Haig had 'Cinematique'.
But what HYPERBUBBLE have come up with is the Texan equivalent of Barry Adamson's 'Moss Side Story' only it's not actually very American at all. Dedicated to the films of Jean Luc-Goddard, HYPERBUBBLE have forsaken their cartoon bubblepunk as exemplified by their last album 'Candy Apple Daydreams', and recruited a number of willing collaborators including Aidan Casserly of EMPIRE STATE HUMAN and Manda Rin from BIS with her cat Akiko for a journey into the darker side of the Moog.
Saying that though, this isn't witch house or industrial goth; 'Drastic Cinematic' is still very much HYPERBUBBLE. With no conventional lead vocals as such, Jess and Jeff Decuir have paid homage to the electronically derived soundtracks of Giorgio Moroder, Wendy Carlos, Ennio Morricone, Jerry Goldsmith and TANGERINE DREAM to accompany their own widescreen filmic adaptation of 'The Avengers'; Jess as electro's answer to Emma Peel and Jeff playing John Steed as an eccentric synthmeister.
The album does what is says on the tin and is a largely instrumental based celebration of monochromatic audio noir using synths, snippets of dialogue and the odd French horn. Starting moodily with the Middle-Eastern textured 'Vox Noir', the ambience is disrupted by the pulsing spy drama of 'Midnight Cruiser'. The title track features drones of different timbres to a seemingly random beat before the ambient interlude 'Rue Des Dames'. 'Geometry' is perhaps what one would expect as more typical of HYPERBUBBLE's sound, very pop with Manda Rin paraphrasing a singular "Geometry" as a vocal point.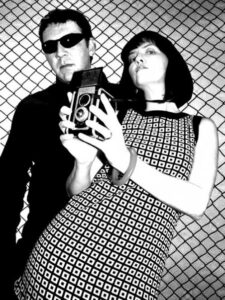 'Blame It On The Bot' is characteristically retro-futuristic Sci-Fi before the more John Carpenter influenced Explosive which could easily be a collaboration with ORBITAL. As 'Quiet On The Set' creepily stutters and claps, the Part 1 album take of 'Welcome to Infinity' is Vince Clarke-styled sequenced magic which then breaks down into Part 2, bookending the esoteric section of 'Drastic Cinematic' with some more textured ambience.
After the abstract first half hour, the three bonus tracks are more conventionally synthpop with remixes by I EUROPEAN, HABERDASHERY and MARKYMIX. As with HYBERBUBBLE's other albums, the collection is short but sweet. However, this departure explores other synthetic depths and can be enjoyed at all levels.
---
'Drastic Cinematic' is released by Bubblegum Records (UK) and Pure Pop For Now People Records (Germany) on 1st July 2011
https://www.facebook.com/hyperbubble
https://twitter.com/Hyperbubble
---
Text by Chi Ming Lai
27th June 2011