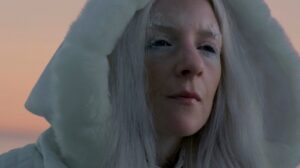 IAMAMIWHOAMI, the electronic multimedia project fronted by Jonna Lee and produced by Claes Björklund are back.
Using a 'Generate' crowdfunding system "for creative purpose only", the duo have continued where they previously left off, progressing with their next audio / visual campaign,
They are showcasing brand new songs with accompanying lushly filmed videos at a rate of one song per month, until it is assumed October 2014 when an as-yet-untitled, full length album and DVD set will be available.
Managed by DEF who also represent renowned electronic artists such as THE KNIFE, ROYKSOPP, MOBY and ROBYN, IAMAMIWHOAMI first come to worldwide attention with a series of viral videos that eventually made up the 'Bounty' EP starting in 2009.
Using a further a track-by-track per month campaign, the first full length album and DVD set 'Kin' was issued in 2012 to much acclaim. The first song previewed in January was 'Fountain', a moody epic of glacial Nordic weirdness with hints of COCTEAU TWINS, and THE KNIFE when they were listenable.
Experimentation is all very well but if there is no accessible melodic hook or aural entry point, how can the listener become entranced? TUBEWAY ARMY's 'Are Friends Electric?' may have been nearly six minutes long and featured a discordant musica diabolis in its structure, but the main synth riff grabbed the ears with something futuristic and accessible. It had an escapist nature about it too, very important in these socially and economically turbulent times. 'Fountain' does all this very well and its accompanying visuals capture the icy, melancholic feeling of the song wonderfully.
Meanwhile as February's offering, 'Hunting For Pearls' ups the tempo with pulsing sequences and trancey atmospheres, coupled with a beautifully rich vocal from Jonna Lee. If KATE BUSH made a modern electronic dance record at Polar Studios, it would sound like this. Again, the visuals do the song justice with enigmatic underwater sequences and otherworldly companions trying to figure out the behaviour of the mysterious falsetto phenomenon. And yes, there's a lot of ice! The air is cold but inside, things are warm.
Based on the evidence of these two trailers for the new long player, the standard of the 'Kin' album and the 'Bounty' opus will at least be maintained if not exceeded. IAMAMIWHOAMI's audio / visual campaign is also a lesson to others who are attempting the concept of video tasters that really, a full length song is required to hold the attention of a potential audience… one minute clips, like with 35 seconds worth of amateur live footage captured on an iPhone and bunged onto YouTube, are rather pointless…
---
'Fountain' and 'Hunting For Pearls' are available via Amazon and iTunes
http://www.youtube.com/user/iamamiwhoami
http://www.towhomitmayconcern.cc/
---
Text by Chi Ming Lai
3rd March 2014