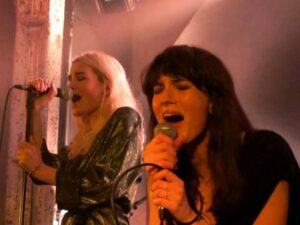 Flitting between Sydney and Stockholm in their younger years, Scandipodean twins SAY LOU LOU have been impressing since their debut single 'Maybe You' came out in 2012 on the prestigious Kitsuné label.
Their brilliant second single 'Julian' led to them being signed by Sony while none other than Richard X has been working with them on their debut album.
Icy blonde Elektra and smouldering brunette Miranda have showbiz in their blood; they are the daughters of Steve Kilbey, lead singer of Oz rockers THE CHURCH who had a huge US hit with 'Under The Milky Way' back in 1988.
With their steady tempos, art house cinematics and stylish presentation, SAY LOU LOU have been described as a female HURTS and even supported them during their 2013 European tour. A recent sojourn with the trendy LONDON GRAMMAR helped their cause further and resulted in this sold out show at London's XOYO.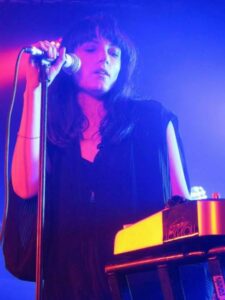 Starting with forthcoming single 'Everything We Touch', this came over like a sophisticated Scandipop take on HEART driven by a togetherness that could only have come from two siblings.
The rousing single 'Better In The Dark' followed with its companion B-side 'Beloved' not long after. Constructed around a mid tempo heartbeat spiced with some dream laden electronics, the two songs are an ideal pairing.
'Beloved' was particularly striking with its pretty Yé-Yé girl styled vocals, not entirely surprising having been co-written with Hannah Robinson and Liam Howe. Meanwhile, 'Peppermint' took things down further but the set wasn't entirely mid-paced. There then came 'Nothing But A Heartbeat' which sounded like one of those semi-sprightly cinematic numbers HURTS used to do before they turned into SIMPLE MINDS. It was a welcome change in mood for the show.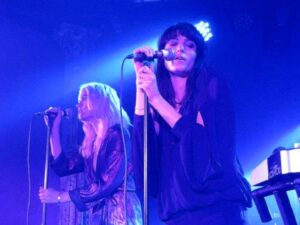 SAY LOU LOU have a duality concept of one dark twin / one light twin which revealed itself on stage… as did Elektra's slight wardrobe malfunction, much to Miranda's amusement. Although Miranda has the dark hair, it was she who was the more animated of the pair, all arms aloft and swaying her hair along with the music while occasionally playing synth. Elektra was much more intense and cooler, holding together the responsibility of primary lead singer.
Despite these roles, collectively the girls were thoroughly enjoying the occasion. Their warmth really exuded when they even took time out to throw stickers into the audience and hand vinyl copies of their second single 'Julian' to those in the front row. And it was 'Julian' was that was the show's standout, even prompting a dash of singalong from the eager crowd. Full of tension and intrigue like a Nordic Noir mini-series compressed into a three minute pop song, don't be surprised if 'Julian' reappears again in single format as part of the new album's promotional campaign.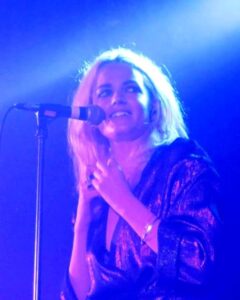 To close the main section, there was the epic 'Skylights', basically how MARSHEAUX would sound if Marianthi and Sophie attempted an AOR ballad.
Thankfully, clichés such as guitar solos were avoided and sweeping keyboards filled the void instead. It rounded things up nicely before an encore with their debut single 'Maybe You'. About a relationship on the edge of failure, with SAY LOU LOU's teenage angst all bottled into their music, the twins really should be performing in black and white like an Ingmar Bergman film.
With Swedish pop nous crossed with a sweaty Aussie pub rock aesthetic, SAY LOU LOU are delivering on their brand of shimmering but accessible escapism.
The steady momentum of their music could do with a kick occasionally but the potential is there. With major label support on their side, whether they will become mega like LANA DEL REY or lost like SUNDAY GIRL remains to be seen.
---
'Everything We Touch' is released on 21st April 2014 with the album due sometime in September
http://www.facebook.com/SayLouLoumusic
https://soundcloud.com/sayloulou
---
Text by Chi Ming Lai
Photos by Richard Price
2nd March 2014