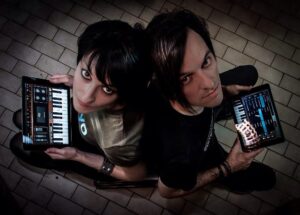 From Monza, home of the Italian Grand Prix, come ELECTROGENIC, a duo who formed in 2014.
Comprising of LaCrisi (vocals / synths) and Stefano Lugo (vocals / synths / programming), they met on domestic underground club scene. Since starting to work together, the pair have developed an unashamedly synthpop sound, as showcased on 'Game Over', the first song they unleashed to the wider public.
Preferring abstract lyrics open to interpretation, the appealing number reflects the classic influences of DEPECHE MODE and DURAN DURAN in a good, disco friendly tune that sits nicely within a dark electronic atmosphere à la LADYTRON. Add in fizzy synths and a wonderfully continental allure from LaCrisi, 'Game Over' is a fine calling card.
ELECTROGENIC's debut album 'Double Exposure' was released earlier in the summer and is an interesting hybrid of contrasts. With an energetic buzzy intro , the new single 'Skills' bursts with robotic tension and a dual vocal attack, while the closely related 'The Deluge' sees Lugo taking lead vocal for a fierce slice of futurepop. However, much lighter in tone, 'Another Day' brings in the influence of Vince Clarke and comes over as something more brightly optimistic.
The more sedate 'Home Again' bases itself around a circulating lead line and pulsating NEW ORDER-ish bass sequences that recall the template of cult Italian synth combo HIDDEN PLACE. Meanhwile, the pace of the more frantic 'Insane' corresponds with the title, while 'Rise Up' adds whistling alongside some doomy drones and Gothic overtures.
With a melodic immediacy, a slice of darkness and a subtle dance factor, ELECTROGENIC have proved that electronic pop music is very much alive and well around Southern Europe. Remember how MARSHEAUX's 'E-Bay Queen' was promising rather earth shattering? But the Athens based synth maidens developed to become one of the best loved independent synth acts in Europe. So with ELECTROGENIC's next set of songs, things could get really interesting.
---
'Double Exposure' is available via Bandcamp at https://electrogenic.bandcamp.com/
https://www.facebook.com/Electrogenicband
---
Text by Chi Ming Lai
18th August 2015