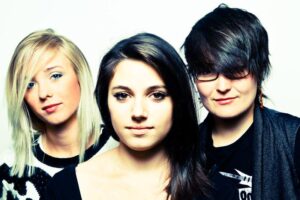 "Les filles, ces trois filles. Ils avaient l'air si doux, si vulnérable, mais ils avaient acier à l'intérieur entre eux, la dureté de la terre elle-même. C'était comme si elles étaient faites …de diamants."
From Norwich, it's the band of the week! …of DIAMONDS are possibly the English countryside's answer to AU REVOIR SIMONE and compriseof three Norfolk girls Vikki Diamond, Natalie Diamond and Kimberley Diamond.
They differ from the Brooklyn threesome in their use of organic instrumentation alongside the synthesized experiments. Augmented by Boy on Drums, they deliver hybrid electronica with three-part harmonies that can be bittersweet but not without some wry humour and fun. Band interests include tea and cake… so they're the real life East Anglian version of HO-KAGO TEA TIME!
Working with producers Sankt & Neudorf, the end result sounds like a kooky musical workshop from a Girl Guide camping weekend… there's tradition but there's also adventure! With a love of KRAFTWERK and BLONDIE, the varied mix of influences which also include STEREOLAB, SUGARCUBES, THE KNIFE, STRAWBERRY SWITCHBLADE and BANANARAMA make for some intriguing music.
Their debut single '…of Diamonds Theme' was an enjoyably bizarre three movement mash-up of KRAFTWERK, JANE BIRKIN, NINE INCH NAILS and AIR. For that alone, the girls deserve an award or a straitjacket or something! Described in their press release as "rural electronic girl-pop weirdos", that may be so but as their previous B-side 'Weirdo' testifies: "If I am a weirdo, then you are much weirder…"
Their new EP 'Two Songs About Love' is their second release and from it, the catchy 'Friends' features a promo video of the girls singing in front of some mock Twitter subtext to illustrate the standpoint of virtual relationships. As the girls themselves say: "Breaking up on Twitter is so hard to do…"
Also on the EP, 'Go Far' is a quirky buzz 'n' bleep laden Magical Mystery Tour via THE CURE's 'In Between Days'. And in a twist to 'Are Friends Electric? and its story of failing robot lovers, 'Buddy' gives a quaint alternate take on the matter…funnily enough, it sounds like a less gothic ROBOTS IN DISGUISE!
"We formed from carbon atoms that came from stars" say Vikki, Natalie and Kimberley; …of DIAMONDS are distinct from many other acts using synths who might prefer industrialised or minimal strains. Delectably charming to the nth degree, having played a handful of gigs in their hometown, the girls hope to bring their live show to the rest of the UK in the Autumn.
---
'Two Songs About Love' EP is released by Norfolk Mining Company on 20th August 2012. It can be purchased via iTunes and Amazon, other digital retailers are available…
http://www.facebook.com/ofdiamonds
---
Text by Chi Ming Lai
4th August 2012