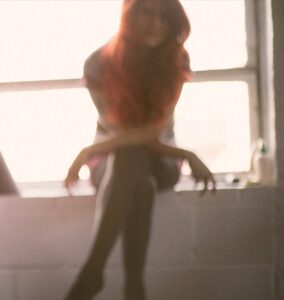 ELECTRICITYCLUB.CO.UK has said it once and will say it again but much of the best new electronic based pop music seems to be coming from North America. Why is that?
Perhaps the territory is so vast that various bubbles of talent are able to develop independently and without spill, unlike in the UK where acts are much closer together and with the nation's inherent synthpop tradition, more likely to take the phrase synth revival a little too literally. Hot on the heels of GRIMES, AUSTRA, SOFT METALS, FEATHERS, TRUST and ELEVEN: ELEVEN is REXXY, the independent music project of musician, singer / songwriter Monica Velasquez.
With dreamy sounds and pentatonic vocal melodies, she comes over a little like GRIMES fronting NEW ORDER or THE CURE. With a mix of synths and moody bass riffs to a contemporary, new wave influenced sound, 'Careless' is a fine example of REXXY's haunting demeanour; her vocals are melancholic yet seductively feline while her self-played four string adds texture to the precise rhythm on top of the eerie synth swoops.
Although her early projects were influenced by disco glam and garage rock, a move to Los Angeles saw her open her horizons. Now based in Brooklyn, her self-titled debut was released by CMI Vibe Records at the end of last year. Opening numbers 'What Makes Us Fade' and 'Glasshead' both possess a tremendous wispy drive. 'Moonshine' follows similar territory and comes over a bit like a more indie take on PAWWS 'Slow Love'.
Meanwhile, the mechanical clatter of 'Just For You' makes things a little bit more club friendly. REXXY has also been experimenting with more dance related collaborations; the first result in partnership with Lif of DUO FOX is 'Mageyez' and brilliantly delightful.
REXXY is not all uptempo though as more mystic, ethereal compositions such as 'Your Eyes' prove. Yes, Velasquez's vocals have a marmite effect, but lovers of J-Pop and K-Pop should have no trouble adapting. Whether you are at the purer end of the electro spectrum or like things toughened with organic instrumentation, REXXY has something for you.
---
With thanks to Darby Kaighin-Shields at Red Tape Productions Inc
'Rexxy' is out now on CMI Vibe Records via iTunes, Amazon and Spotify
https://soundcloud.com/rexxymusic
---
Text by Chi Ming Lai
17th February 2014