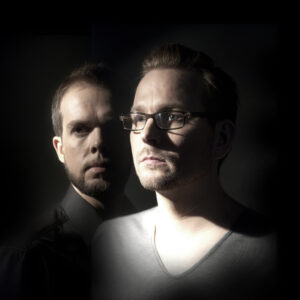 Swedish duo SOCIAL AMBITIONS have been around a while but having been making sine waves lately with their inclusion on one of Rusty Egan's DJ mixes.
Featuring the magnificent track 'Paris', the B-side of their previous single 'Commandments', this was hardly surprising as its solid pulsating bass, sparkling arpeggios, thundering percussion and robotic vocoders probably reminded The Blitz Club legend of his own seminal disco stomper 'R.E.R.B.' SOCIAL AMBITIONS formed in 2005. Based in Stockholm, Anders Karlsson (lead vocals, synthesizers) and Mikael Arborelius (synthesizers, backing vocals) released their debut album 'Almost Gone' in 2010.
The duo have a blend of influences ranging from modern electro and classic synthpop but add an attitude from the rockier end of the new wave spectrum. Most importantly though, their music does possess that Scandinavian knack for melody which has been notably apparent in worldwide selling acts such as ABBA and A-HA.
Their most recent release has been the 'Anticpations' EP. On it, 'Rockers In My Head' is one of these new wave synth tunes, all squelch games and string pads accompanying a catchy chorus like a Eurocentric version of THE STROKES backed by A-HA!
'Angel' with its rousing energy and synthesized declarations of love is possibly the most instantly accessible track of the bunch while 'A Man' also follows along a similar path. But it's not all a HI-NRG styled romp as hints of CAMOUFLAGE sit on the more steadfast 'Rain' which adds some subtle industrialised textures to a Klingklang palette. In conclusion, it's all very European and very electronic!
As the duo themselves have put it: "Analogue synths and stuff"…
---
The 'Anticipation'
EP is released by Electric Fantastic Sound Records
www.facebook.com/socialambitions
---
Text by Chi Ming Lai
19th May 2012