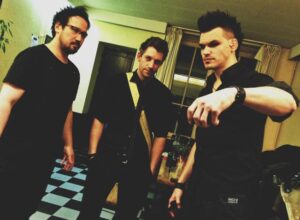 Native to the wonderfully named Ljubljana in Slovenia, Torul Torulsson, a talented songwriter and producer met guitarist and live synth player Borut Dolenec at a party.
A friendship was forged when they both went to see psychedelic experimentalists BELGRADE NOISE SOCIETY.
Torulsson had already established himself within the music industry having recorded a number of successful club tracks since 1995 under several aliases. The debut album by TORUL, appropriately named 'Dark Matters', was released in 2010 and portrayed the demons that Torulsson himself must have overcome to be able to write so eloquently about them.
Torulsson and lead vocalist Jan Jenko came together through a mutual producer friend while Jenko was recording with his other band WORLD::WITHIN. As in the case of so many inspiring collaborations, the pair experienced an instant connection and so work began on recording a new album 'In Whole' in 2011. Single 'Try' was the first to be released and due to the adroit video, it was successfully featured on regional MTV stations.
TORUL's current album – the highly contagious 'Tonight We Dream Fiercely' – was released in Europe in April this year and reached a top three spot on the Deutsche Alternative Charts just behind OMD and DEPECHE MODE no less! Launch single 'Glow' sets the benchmark for a collection of magnificent electronic tracks, each easily a single in their own right. 'I'm Still Here' delights with more than a nod towards electronic stalwarts BLANCMANGE while the dark and menacing 'Wake Up' conjures visions of FAD GADGET although neither of these great acts are quoted by the band themselves as influences.
TORUL have certainly impressed during their very successful 14 date European tour supporting MESH recently with the statuesque Jenko displaying more than his fair share of stage presence. With the band heavily involved in the conception and production of their own videos, they are a steadily growing force in the alternative electro field and deservedly so…
---
'Tonight We Dream Fiercely' is available now on CD and download via Infacted Recordings
http://www.torul-recordings.net/
---
Text by Deb Danahay
7th June 2013