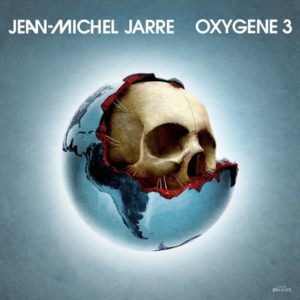 When 'Oxygène' was released on 2nd December 1976, its hearty combination of pop melodies, technological experimentation and classical structures became a landmark in electronic music.
It made JEAN-MICHEL JARRE a household name and 40 years on, the six part synthony still stands up.
A second volume was released in 1997 and several parts captured the essence of the original opus, although like many sequels, it was not entirely successful.
Releasing his third album in the space of 14 months, 'Oxygène 3'
is an addition to a tradition that now expands the series into a trilogy. Composed after his two volume 'Electronica' project, Jarre's aim was "keeping the dogma of embarking listeners on a journey from beginning to end with different chapters, all linked to each other".
While not going as far as using an 8 track tape recorder, he has taken a minimalist approach and restricted each track to 8 instrumental elements. Recreating the restrictions of the era, Jarre challenged himself to record the album over a period of 6 weeks and deliver it by the 40th anniversary of 'Oxygène'.
Sleeved in Michel Granger's 3D reimaging of his iconic ecological warning, the continuation of the 'Oxygène' journey comprises of two distinct moods, a bright and a dark side as with the original. However, it is not an exclusively analogue work with many softsynths amongst all the vintage hardware.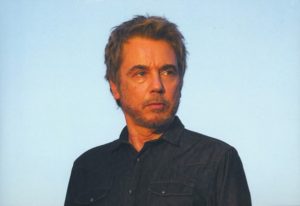 The electric piano laden 'Oxygène Part 14' is an AIR-like introduction to the dark side that pulses away inconsequentially with little relation to the parent concept other than being composed and performed by Jarre; it's a less than auspicious start.
Slightly better though is 'Oxygène Part 15' where the familiar tones of an Eminent 310 and Korg Polyphonic Ensemble penetrate through alongside the snakey rhythmic clicks of a Keio Mini Pops.
With its cocoon of bleeps, it's easy to hear how Jarre was such a big influence on acts such as THE FUTURE SOUND OF LONDON. It all builds towards the more vibrant soundscapes of 'Oxygène Part 16'. Here, the 21st Century spirit of 'Oxygène' really kicks in with beautiful layers of string synths resonating around a palette of hypnotic drum machine enhanced arpeggios; a relative of 'Oxygène Part 8', it is certainly one of the album's highlights as the doom of 'Oxygène Part 3' lingers towards the piece's conclusion.
The brighter side of volume 3 begins with 'Oxygène Part 17' which was premiered on the 'Electronica' tour. Like 'Oxygène Part 4', it adds more prominent melody within the wavey sweeps and uptempo percussive structure, but with references more akin to the second volume of the 'Oxygène' series.
The pretty ambience of 'Oxygène Part 18' paints the picture of a beautiful sunrise and sets an optimistic tone for the planet before 'Oxygène Part 19'. This has a promising start as it aims towards a tuneful but dancefloor friendly trance anthem. Relying purely on bassline programming and gated synths as the basis of its rhythm, this could be FERRY CORSTEN without the beat. But despite Jarre's deep responsive synth tones, it doesn't really take off…
Closing with 'Oxygène Part 20', the organ driven intro plays with some stop/start varispeed tuning before a burst of 'Oxygène Part 6' interrupts the transmission… sadly it's a moment which perhaps highlights what is missing from this third volume.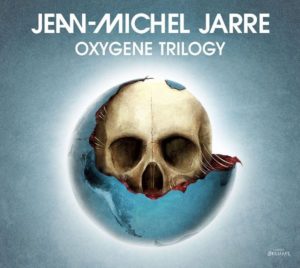 Arthur C Clarke once remarked to Jarre about how any sequel to 'Oxygène' needed a return to earth following the original's fantasy journey into outer space.
And as the mournful MOBY-esquse textures of 'Oxygène Part 20' soundtrack the foreboding drama of re-entry that ultimately burns up, the overall feeling of this album is it is slightly underwhelming and even unfinished. Perhaps there was too much expectation, but 'Oxygène 3' is a disappointment.
Does this matter? At 68 years of age, JEAN-MICHEL JARRE is at the top of his live game with the 'Electronica' concert spectacular and his contribution to electronic music is a huge legacy. He has taken a risk which perhaps hasn't been as artistically successful as he had hoped, but at least he made the move. It's certainly one more risk than say KRAFTWERK have managed in the last decade.
'Oxygène 3' uses the following electronic instruments: Eminent 310, EMS Synthi AKS, EMS VCS3, ARP2600, ARP2500, Electro-Harmonix Small Stone, Electric Mistress, Moog Sub37, Oberheim OB5, Mellotron D4000, Korg Polyphonic Ensemble, Philicorda, Keio Mini Pops, Metasonic S-1000, DigiSequencer, Roland TR8, Teenage Engineering OP1, Teenage Engineering PO12, Teenage Engineering PO24, Suzuki Qchord, Clavia Nord Lead 1, Access Virus, Moog Taurus 1, Animoog, Audiothingies Micromonsta, Synapse Audio Dune, Native Instruments Monark, Hollow Sun Cognosphere, Reveal Sound Spire, Xfer Records Serum
---
'Oxygène 3'
is released by Columbia / Sony Music on CD, vinyl and download. An 'Oxygène Trilogy'
triple pack is also available
https://www.facebook.com/jeanmicheljarre
http://aerojarre.blogspot.co.uk/
---
Text by Chi Ming Lai
5th December 2016