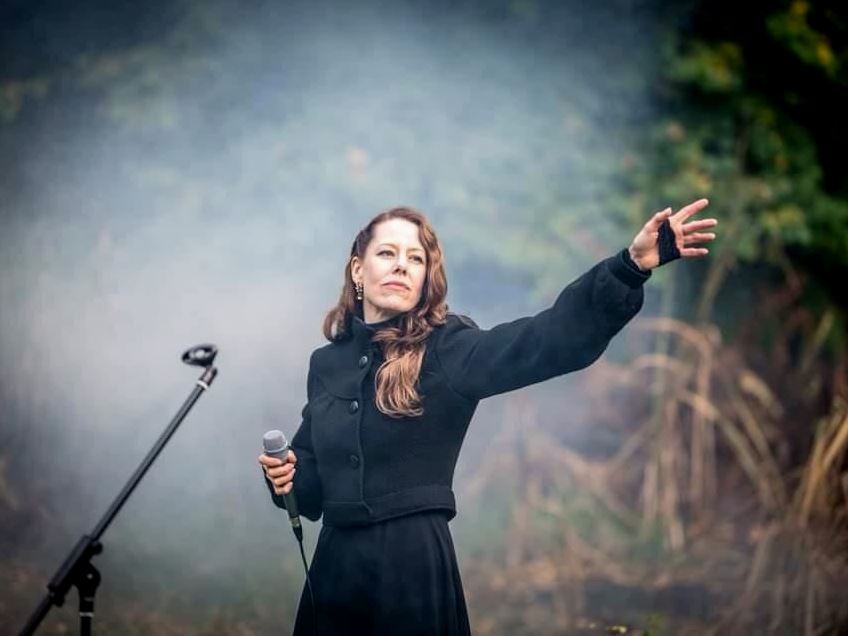 Swedish chanteuse Karin My performed a superbly moving live set a secret forest location near Gothenburg as part of a series of live streams.
An experienced self-taught musician, after more than a decade of doing backing vocals or playing cello for acts such as TWICE A MAN, MACHINISTA, CARBON BASED LIFEFORMS and FAKE MOSS, Karin My has finally stepped out to the front to showcase her traditionally derived electronic songs.
Premiering 'Stray From The Path' and 'Silence Amygdala', a pair of songs from her upcoming debut album, the four song set also included two of her previous singles 'Time To Go' and 'World From Orbit'. Backed on keyboards and harp by D. Kaufeldt, with her folk-laden overtones swathed in beautiful synths and embroiled in wonderful melancholy, the voice of Karin My evokes a forlorn abandonment like a Nordic Mary Hopkin, with the darkening autumnal backdrop providing a magical setting to compliment her captivating music.
"To be performing like this, singing alone out into the darkness and seeing only the sky, the shadows of the trees and the team moving around us carefully" she told ELECTRICITYCLUB.CO.UK, "it slowly allowed me to take one step further into the songs and focus in a way that felt both very special and beautiful"
"When I got the request from Messed!Up Magazine about doing a recorded live session, I also got all the freedom to do what I wished with it, so I wanted to do it in the 'habit' where I so often am, mentally or for real when I'm writing or singing. Under the sky, close to the nature, which always inspires me" she added, "So I choose the place and made the light settings, the rest of it was a lovely team work with the filmers (Richard Bloom, Jimi from Messed!Up and Krichan Wihlborg) and my companion D. Kaufeldt. Also Anna Öberg, Gasleben and Niels Gordon were helpful in different ways".
Karin My's first experience of electronic music came when a friend of her mother gave her the five imperial phase KRAFTWERK albums from 'Autobahn' to 'Computer World'. She then discovered TANGERINE DREAM and DEPECHE MODE, and the synthy snowball effect rolled on to today's acts such as KITE.
---
'Time To Go'
and 'World From Orbit'
are released by Ad Inexplorata and available on most digital platforms
https://www.instagram.com/karinmymusic/
---
Text by Chi Ming Lai
Photo by Richard Bloom
23rd November 2020