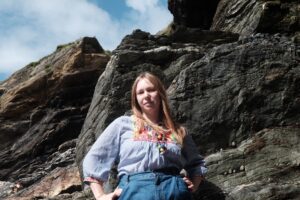 One of ELECTRICITYCLUB.CO.UK's Songs Of 2019 was 'We Are Still Alone' by ALICE HUBBLE and it is now released in its own right as a single by Happy Robots Records.
The solo vehicle of Alice Hubley, best known for fronting ARTHUR & MARTHA and COSINES, her synth earth mother persona embraces the endearing instrumental influence of Delia Derbyshire and Daphne Oram with the forlorn vocal style of Sally Oldfield.
With a lilting bass and elegiac transistorised melody, 'We Are Still Alone'
was the highlight of 'Polarlichter'
, a debut album with an avant pop heart swathed in wonderful musical aurora. With synthetic strings recalling ASHRA and OMD, Hubley is sadly resigned that she "couldn't find the way to make me better". Although originally released in 2019, in the context of 2020, 'We Are Still Alone' now reflects the fears and anxiety of isolation prevalent in the minds of many.
The suitably complementary video accompaniment, directed by Alicia Britt and edited by Hubley herself, beautifully uses stark shadow puppetry techniques. It was inventively realised at Britt's home using a white bed sheet and two spotlights attached to wardrobe doors to create a shadow studio.
In keeping with the aura of varying colour and complexity hinted at by its title, over eight tracks, 'Polarlichter' was a soundscape of pastoral solace. "The whole ALICE HUBBLE process has been a dream, being solo means you can work at your own pace and can be quick at making decisions" said Hubley, "It can get lonely at times, but I make a point of working with people I enjoy being around and try to have fun with it."
The five track download bundle includes two sub-50 second 'Theme' reworkings of 'We Are Still Alone' by Happy Robots Records label mate Roman Angelos whose album 'Spacetronic Lunchbox' was released earlier in the year and a remix by PYE CORNER AUDIO.
---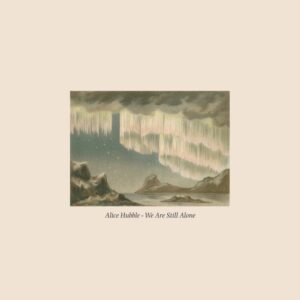 'We Are Still Alone'
is released by Happy Robots Records as a download bundle on 27th November 2020, available direct from https://happyrobotsrecords.bandcamp.com/album/we-are-still-alone
'Polarlichter'
is available as a vinyl LP, CD and download from https://happyrobotsrecords.bandcamp.com/album/polarlichter
https://www.happyrobots.co.uk/alice-hubble
https://www.facebook.com/alicehubblemusic/
https://twitter.com/alice_hubble
https://www.instagram.com/alice_hubble/
---
Text by Chi Ming Lai
25th November 2020