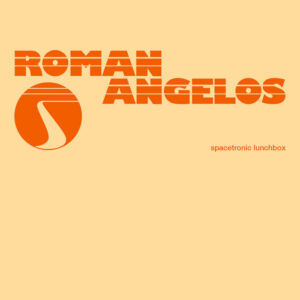 Roman Angelos is the moniker of Brooklyn-based producer, composer and multi-instrumentalist Rich Bennett.
Specialising in library electronica for this particular vehicle, Bennett has also spread his wings diverse group of musical projects including proto-punk band THE SHAGGS, dream-poppers MAHOGANY, and Brazilian funk group LIMONCELLO.
Released by Happy Robots Records, 'Spacetronic Lunchbox' is rather like a KPM library album.
It all harks back to the days when a temporary fault would interrupt a VHF TV broadcast and an announcement was made that there would be "some music" until it was all fixed. Rather like the 'Spitting Image' sketch on theme tune composer Ronnie Hazlehurst who was portrayed as someone that couldn't write a tune longer than 20 seconds, 'Spacetronic Lunchbox' whizzes though 11 songs in 10 minutes for a spacey tea break exuding cheery sonic nostalgia.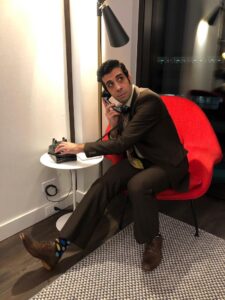 Paying tribute to early electronica, muzak and video game music, 'Spacetronic Lunchbox' beginning with the longue bossa nova of 'Please Hold The Elevator', the portamento on the synthline being a particular delight. Moving on, the brilliantly titled 'Himalayan Cats With AK47s' swiftly captures some synths and vibes.
The quirky 'I'm In Love With The Family Robot' could be the label's theme tune while the jazz swing of 'Secret Secret' is something of a toy pop jingle. With glorious synths and noise percussion, 'Farewell To Love' has the makings of a longer funkier romp while 'The Clock Winder' recalls the theme tune to 'Robin's Nest'.
'Fall Off' is far gloomier though with an element of dystopian Sci-Fi but this is offset by the wonderful synthpop overtones of 'The Undercroft' which comes over like a swift ULTRAVOX demo with hints of BLONDIE's 'Call Me' as well! With tempo changes, 'Highway Chase' utilises a brilliantly tight synth bass pattern that varies to suit the pace, but the quite lo-fi 'Electric Zone' fades into oblivion before it really gets going.
The best comes last with the longest track at just under two minutes; 'Why Am I Old' has elements of electronic citypop and the air of YELLOW MAGIC ORCHESTRA but its potential is cut painfully short.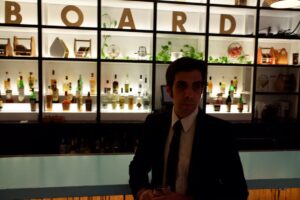 While Roman Angelos is a platform for Rich Bennett to explore his fascination with vintage library recordings, there is frustration in the listening process.
However, this is a fun escapist collection of music which might go well with a latte or cappuccino in the café of the Design Museum during a visit to the new Terence Conran exhibition.
---
'Spacetronic Lunchbox' is released on 13th March 2020 by Happy Robots Records, the limited edition lathe cut 12" clear vinyl limited to just 30 handmade copies, pre-order from their Botshop at https://www.happyrobots.co.uk/product-page/roman-angelos-spacetronic-lunchbox-bot19 or Bandcamp at https://happyrobotsrecords.bandcamp.com/
The album will be released digitally worldwide by Cargo Distribution via the usual platforms
https://www.happyrobots.co.uk/roman-angelos
https://twitter.com/acmehallrich
https://instagram.com/acmehallrich
---
Text by Chi Ming Lai
12th February 2020