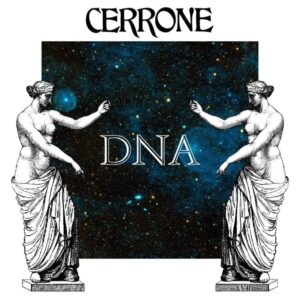 Marc Cerrone is best known for 'Supernature', a Top10 UK hit in 1978 which subsequently gained longevity thanks to its use as incidental music during the first series of 'The Kenny Everett Video Show'.
Featuring lyrics by an uncredited Lene Lovich containing a warning about environmental catastrophe, 'Supernature'
with its transfixing hook put Cerrone up with Giorgio Moroder in the European electronic disco stakes.
The iconic tune was subsequently covered by ERASURE and inspired the title of the fourth GOLDFRAPP album.
Having influenced the likes of DAFT PUNK and remixed THE HUMAN LEAGUE, the diminutive French maestro returns with a new album 'DNA'
, his seventeenth. Made primarily using Arturia VSTs of the MiniMoog, ARP 2600, Prophet 5 and Solina, one hardware instrument that appears is a Behringer Odyssey copy, alongside a kit of Roland V-Drums.
Harking back to the theme of 'Supernature', the opening 'DNA' track 'The Impact' looks at the spectre of global warming 43 years on; it's a epic start with sparkling arpeggios and deep synthbass before building to a thudding metronomic beat and a throbbing backbone equal of Moroder.
But before getting carried too away with the mood of the dance, an excerpt of a speech by the well-known primatologist and anthropologist Jane Goodall announces "Every single day we make some impact on the planet. We haven't inherited this planet from our parents. We've borrowed it from our children. If we get together, then we can start to heal some of the scars that we've inflicted" to outline just how grave the earth's situation is.
With the marvellously optimistic 'Resolution', Cerrone presents what that many have always wanted, a Jean-Michel Jarre disco track. With layers of string machine and pulsing electronics, the mechanical feel is offset by various live drum rolls, a trademark of Cerrone's having begun his career as a sticksman.
'Air Dreaming' gives the disco a breather, being more in the vein of Vangelis at its start, but it picks up the rhythm with a great brassy spacey theme to offer as well. Meanwhile, the 'DNA' title track tips a hat to PINK FLOYD's 'Shine On You Crazy Diamond' and in particular, Richard Wright's memorable keyboard passages.
With some great hooks, 'I've Got A Rocket' feels it is about to launch into 'I Feel Love' but is much less rigid and adds some complimentary vocoder, while 'Let Me Feel' actually could be mistaken for Moroder with its groovier stance recalling aspects of 'E=MC2'.
But after a run of great retro-futuristic disco numbers, 'DNA' loses momentum; 'Close To The Sky' sounds like a theme to a cruise ship documentary but 'Experience' is slightly better, being more dramatic and Sci-Fi led. However, with the proggy overtones of the closer 'Prediction', the album sadly runs out of puff altogether.
For its first six tracks, 'DNA' is an enjoyable uptempo electronic instrumental record. So it's perhaps no coincidence that back in the day, the classic Cerrone albums had even less on them than that.
While many of the approaches are familiar, at its highs, 'DNA' is much better than Giorgio Moroder's 'Deja-Vu' or Jean-Michel-Jarre's recent 'Oxygène' and Equinoxe' reboots.
---
'DNA'
is released in CD, vinyl LP and digital formats by Because Music
https://www.facebook.com/cerronemarc/
https://www.instagram.com/cerroneofficial/
---
Text by Chi Ming Lai
10th February 2020