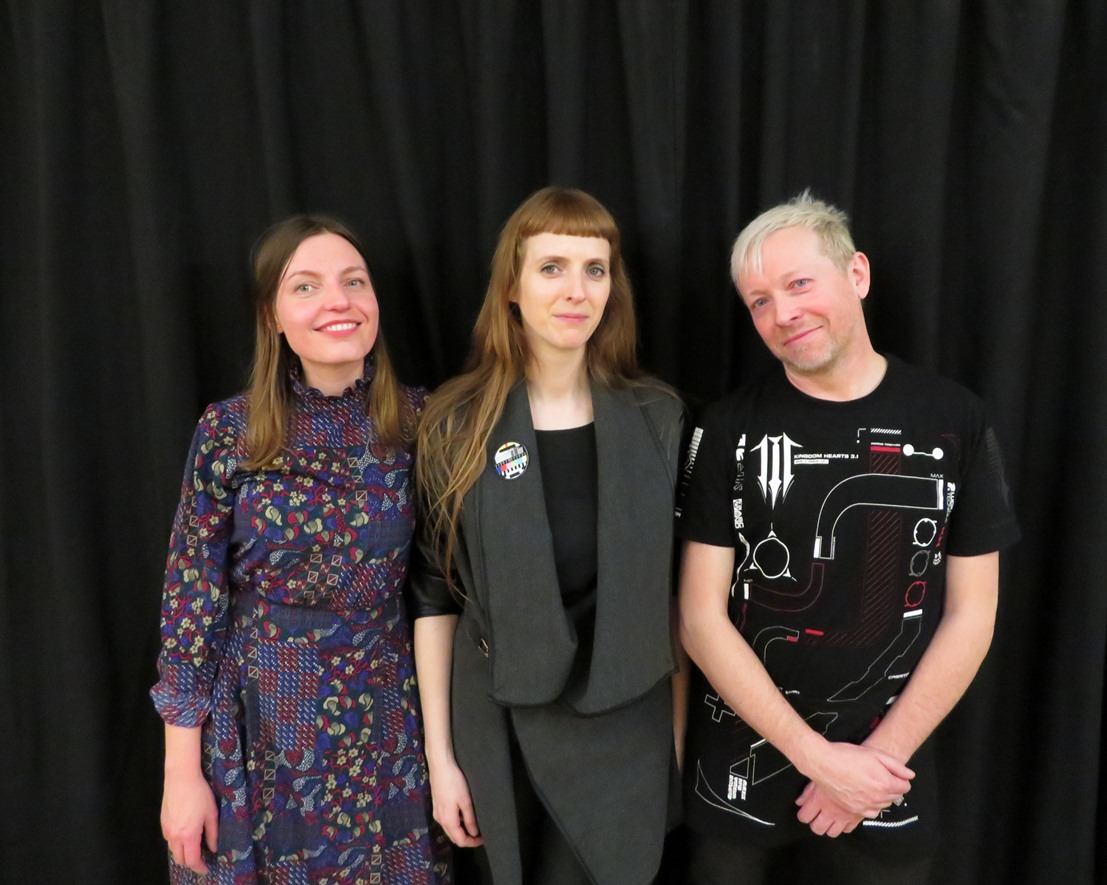 Considered very much as the spiritual home of English traditional music, the Cecil Sharp House was named after the founding father of the folk song revival who gathered thousands of tunes from rural England to archive for future generations.
It might have been an unusual place for the synth friendly Cold War Night Life to host an event to explore the potential of the modular synthesizer, but then this wasn't just any old electronic gig.
As doors opened, ELECTRICITYCLUB.CO.UK began proceedings by curating a DJ set wholly comprising of interpretations of silence from the likes of NEW ORDER, DEPECHE MODE, GOLDFRAPP and ERASURE, all from Mute Records' 'Stumm 433' boxed set celebrating composer John Cage and his celebrated minimal work.
Even Jonathan Barnbrook, the man who placed a white square over the cover of Bowie's 'Heroes' to produce the artwork for 'The Next Day' raised his eyebrow in amusement at the concept. Meanwhile, there was an overheard discussion about how Andy Fletcher had now finally made an equal musical contribution to a DEPECHE MODE recording.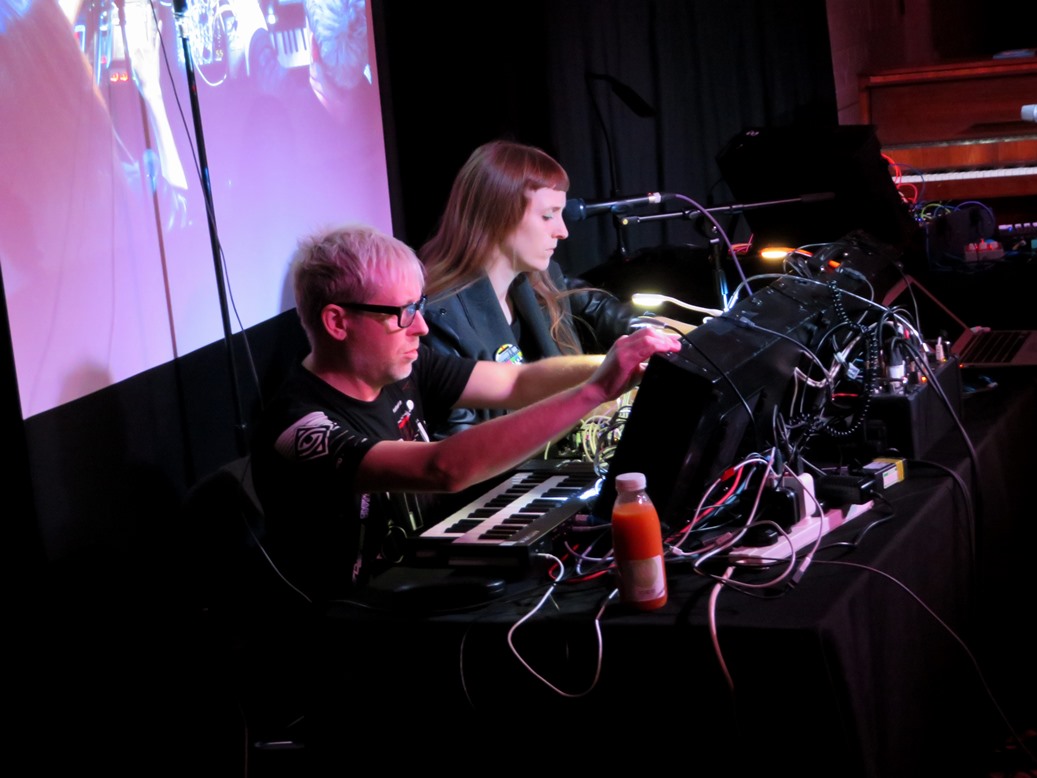 For VILE ELECTRODES, this was their first UK gig since 2017 but for this event, they set themselves a challenge. Using an all-modular set up, there were no memories or presets, no drum machines, no sequencers, no backing tracks… it was "Just a pattern generator working on mathematical principles using Euclidean geometry if you're interested – thanks for the great module VPME!" as the duo told ELECTRICITYCLUB.CO.UK afterwards.
Using two mini-keyboards for controlling the voltages flying around, everything Anais Neon and Martin Swan played had to be decided upon and constructed live. Beginning with a slightly weird improvisational overture, they headed straight into the rarely performed unsettling tone poem 'Love Song for A Pylon'. Using a projection filming them from behind, this was a terrifically thought out visual that illustrated just how busy the pair were amongst all the wires and controllers.
On a stripped down 'Into Great Silence' from 'In The Shadow Of Monuments' and new composition 'We Are A Prism', Anais Neon demonstrated the use of two Korg Kaoss Pads to sample and layer up her vocals to create unusual drones and harmonies, while also live sampling vocal fragments into a Mutable Instruments Clouds module to eerie effect.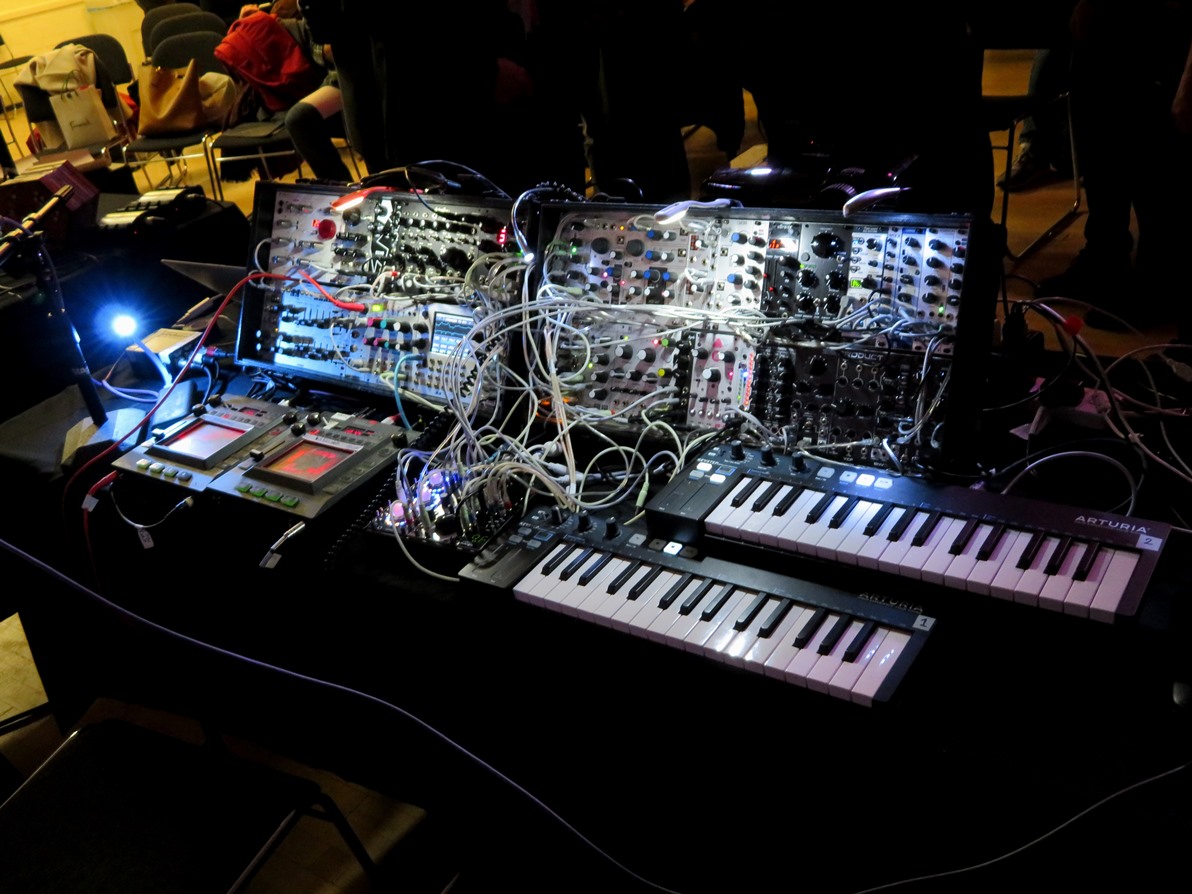 'Future Ballad' was suitably dystopian while a minimal downtempo take on the haunting 'Stranger To Myself' (also from 'In The Shadow Of Monuments') closed a captivating set.
Unlike other independent UK acts, a new release from VILE ELECTRODES is eagerly anticipated and tonight showcased an evolvement in sound that may well blossom further on their long-awaited still-to-be-released and yet-to-be-titled third album.
LAU NAU is the stage persona of Laura Naukkarinen, one of the most respected and compelling artists in Finland. Although already a veteran of six studio albums, she has earned an international reputation for her work in film, with her soundtrack for the recently released documentary film 'Land Without God' gaining critical acclaim.
An keen exponent of combining the electronic with the acoustic, Naukkarinen opened with her environmental plea 'We Were The Kids' from the 'Land Without God' soundtrack using her portable self-assembled suitcase modular system and a squeeze box to provide an airy organic quality to the room.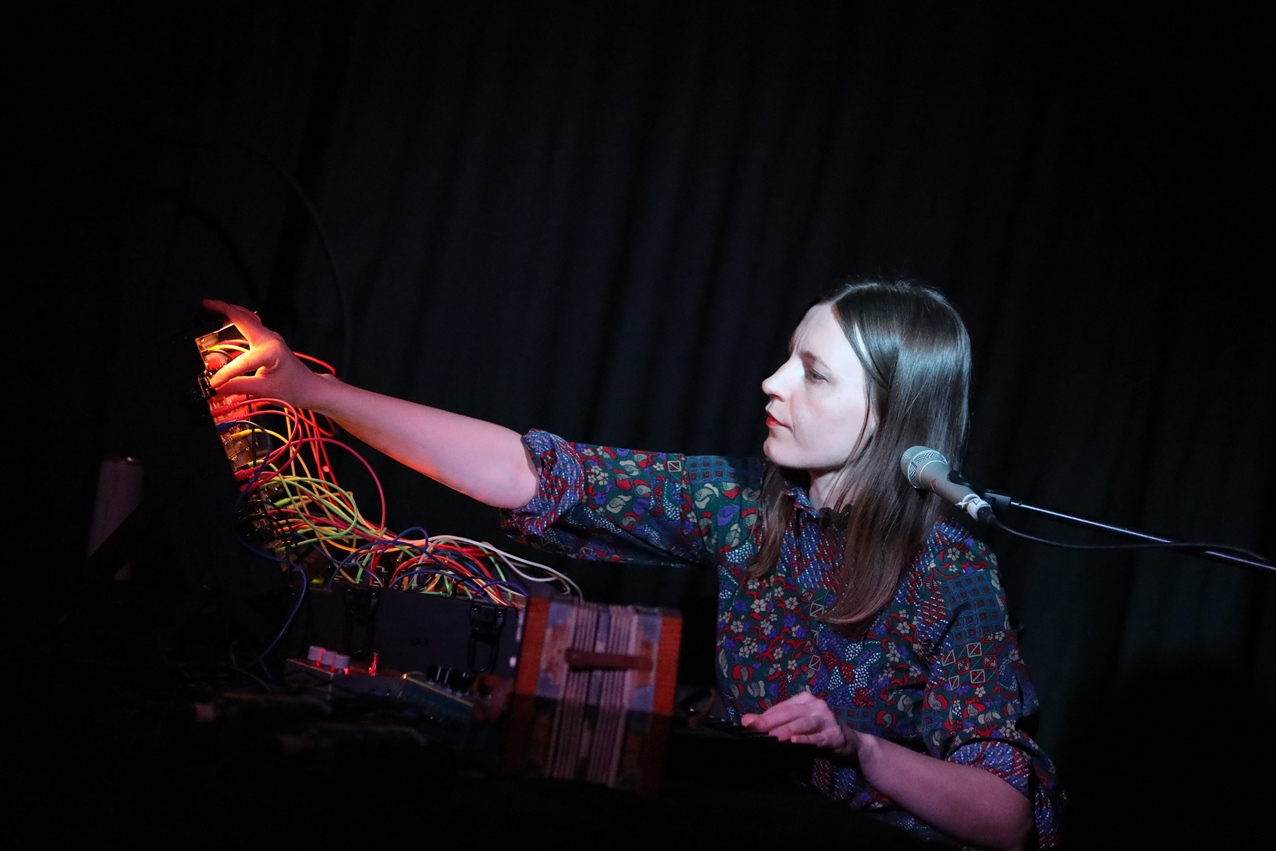 From the aural nautical adventure of the 'Poseidon' album, 'Unessa' captured the misty mood of the Baltic sea with some gently idiosyncratic vocals, as did 'Sorbuspuun Alla' although with a more solemn demeanour.
The newly composed 'Adria' kept the fragile otherness strong, while 'The Saints' offered another look into a 'Land Without God' vai its elegiac string sweeps played on Roland Boutique JU-06.
For 'Nukahtamislaulu', Naukkarinen brought out a spinning wand LED toy with a contact microphone attached to capture a strangely understated motorised ambience. And with that, the Finn said her goodbyes, happy to have held a curious audience's undivided attention for three quarters of an hour.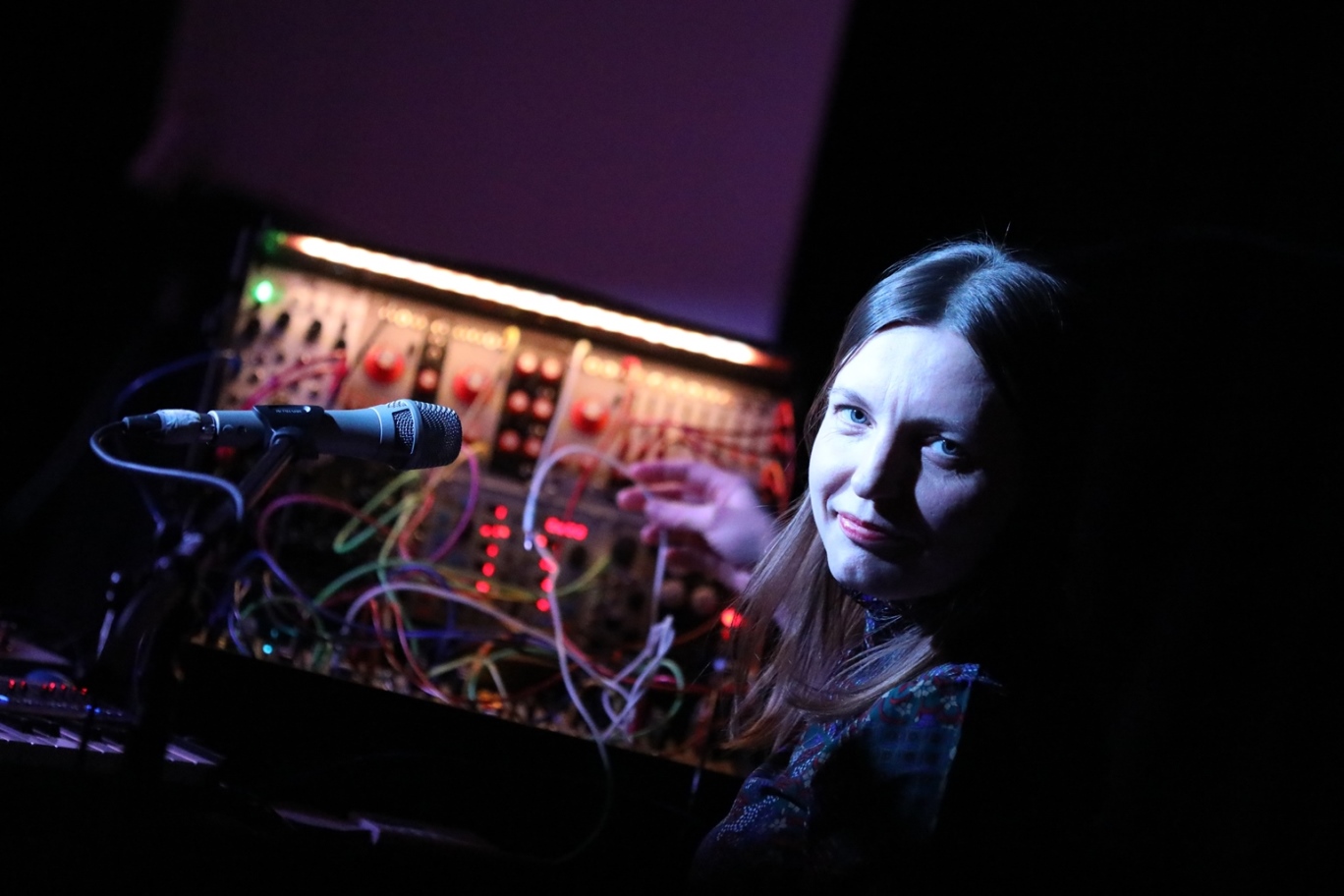 KRAFTWERK were often considered "Industrielle Volksmusik for the 21st Century" while the Cecil Sharp House is best known for its links to the centuries old folk form.
LAU NAU and VILE ELECTRODES both showed that on this cold winter's evening in Primrose Hill, their own cultural processes can be considered part of a tradition that could easily transcend its perceived lifespan.
---
LAU NAU 'Land Without God' is released by Fonal Records, available on most digital platforms
https://www.facebook.com/launau/
https://www.instagram.com/launaulaunau/
https://open.spotify.com/artist/2oXfE2cVZxbX7OGVldazev
VILE ELECTRODES 'In The Shadow Of Monuments' along with other releases from their back catalogue are available as downloads from https://vileelectrodes.bandcamp.com/
http://www.vileelectrodes.com/
https://www.facebook.com/vileelectrodes/
https://twitter.com/vileelectrodes
https://www.instagram.com/vileelectrodes/
https://open.spotify.com/artist/1ExmE2uBb95cbaBeLrEk0N
---
Text by Chi Ming Lai with thanks to Jane Caley
Photos by Chi Ming Lai and Simon Helm
8th February 2020