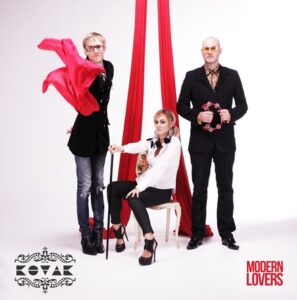 The second album from Brighton based pop combo KOVAK, 'Modern Lovers' has been a long time coming.
'Killer Boots', the first single from the revamped KOVAK line-up emerged in 2012 and coincided with some well received support slots with TOYAH. Other singles 'Living The Dream' and 'Radiate' came along and got BBC Radio2 airplay.
But a combination of record company politics and the birth of singer Annelies Van de Velde's first child put things on hold, until now.
Finishing the album with noted studio hand Andy Gray contributing synths, the Bray brothers Karl and Darran have crafted an immediate new wave disco record that recalls BLONDIE and GIORGIO MORODER. Released independently, titles like 'I Love The Dance Floor' and 'International Dance Party' only go to signify the uptempo escapist intent of 'Modern Lovers'.
Produced by Dom Beken, it all begins with the pleasant steadfast title track with Annelies' rich optimistic vocal over choppy rhythm guitar and pulsing synth. But the bouncy Eurodisco of their past few singles makes its presence felt on the effervescent 'Catchy Monkey', a fine tune that nicely crosses over into the New Romantic tradition.
Beginning with sequencers, 'I Love The Dancefloor' turns slightly into FRANZ FERDINAND while Annelies waxes lyrical about the joys of a good old fashioned night out. 'International Dance Party' amusingly features a rap by Karl Bray over a syncopated backing track that would make DURAN DURAN proud with some rock inflected disco. Continuing the rock disco fusion, with the thumping drums and and whirring synth on 'Just Another Man', Annelies' sexy allure comes over like Debbie Harry with a nod towards 'Atomic' as a fitting in-joke reference.
On 'Who Is She?', Annelies' jealously runs deep but conversely, the following 'Radiate' is more celebratory. Driven by a tingling metallic sequence and sweetened by her angelic vocals, 'Radiate' does what it says on the tin. It's very SAINT ETIENNE Goes To Munich and still stand-outs as a classic song that blends a dreamy hook with crisp production and a danceable beat.
A bit of glitterball stomp enters the equation with 'Swing Song' coming over like Chrissie Hynde fronting DEEP PURPLE, while the funkier 'Little Bit Of Luck' takes on the album's most soulful stance. The neo-acoustic ballad 'Tower Blocks' makes an apt closer, and provides some sonic variation to showcase KOVAK's diversity that covers many bases without losing the band's core ident.
Missing from the album though are the previous singles 'Killer Boots' and 'Living The Dream'. While this is a shame, it doesn't detract from the fact that this collection is a good pop record. While 'Modern Lovers' may party like it's 1979, the modern discothèque sheen only enhances the album's fun and classic approach.
---
With thanks to Andy Hollis at 74 Promotions
'Modern Lovers'is released by 74 Music on 7th September 2015 as a download and numbered CD. Please visit https://www.kovak.co.uk for more information
https://www.facebook.com/OfficialKovak
---
Text by Chi Ming Lai
31st August 2015