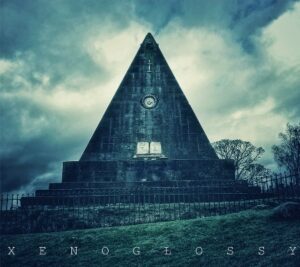 Sweden's MACHINISTA's debut album 'Xenoglossy' delivers on the promise the duo have already shown with their first EP 'Arizona Lights' and appearance at 'An Evening With The Swedish Synth' earlier this year.
While the pairing of John Lindqwister (ex-CAT RAPES DOG) and Richard Flow (ex-VISION TALK) have a rock'n'roll edge with in particular, Lindqwister's fly-kicks and sub-Idol sneers a key part of their energetic stage act, MACHINISTA are synthpop with a capital 'S'. Like THE CURE gone electronic, or ALPHAVILLE crossed with SUICIDE, 'Xenoglossy' is both catchy and danceable.
The 'Arizona Lights' EP acted as a fine taster before this main course and while three of its four original songs also appear on 'Xenoglossy', the eight new songs have much to offer. 'Take Comfort In Being Sad' is a great opener that sets the tone for the album.
The standard is highly consistent with the marvellously uptempo trio of 'Arizona Lights', 'Molecules and Carbon' and 'Salvation' combining the best elements of both ALPHAVILLE and THE CURE into an enjoyably well produced template of anthemic electro. One key highlight is the brilliant 'Wasted', a boy / girl duet featuring Toril Lindqvist of ALICE IN VIDEOLAND that combines the best of darkwave and Scandipop.
Despite this being pop music, this is not fluffy stuff. The haunting 'Love And Hate Song' for example takes on the spectre of THE CURE's 'Love Song' under the guise of KRAFTWERK but steered by The Brothers Grimm. Then, there's 'The Blues And The Reds' which exposes some ghostly overtones.
But best of all is the schaffel propelled 'Pushing The Angels Astray', supreme synthpop that discusses the spectre of immortality with a marvellous melodic line and fabulous chorus. Once again, the Nordic region is showing how electronic music is done and many could do a lot worse than to observe how MACHINISTA go about their craft.
'Xenoglossy' is not all uptempo and in-yer-face either; 'Crash' takes the pace down while 'Summersault' is a superb electronic Brechtian drama that could soundtrack a modern day adaptation of 'Baal'. Of course David Bowie played the title role in 'Baal' for the BBC's 1982 dramatisation and MACHINISTA's cover of 'Heroes' will have tongues wagging.
Recorded originally as the duo's calling card when they first formed, the synth pads recall those used on FURNITURE's 'Brilliant Mind' while the electronic pulses combined with assorted textures amalgamate with Lindqwister's spirited vocal for a respectable and yes, good reinterpretation to close the album.
In all, MACHINISTA's 'Xenoglossy' is certainly a very impressive collection and could stand up as one of the best electronic debut albums of 2014. It's funny to think after the outstanding nature of 2013, ELECTRICITYCLUB.CO.UK thought it was going to have a quiet year!
---
'Xenoglossy' is released on 20th May 2014
http://www.machinistamusic.com/
https://www.facebook.com/machinistamusic
https://twitter.com/machinistamusic
---
Text by Chi Ming Lai
Photo by Daniel Roos
29th April 2014