LADYTRON's Helen Marnie has finally released her long awaited debut solo album 'Crystal World'. Going under the moniker MARNIE, the project has, like recent releases by IAMX and KELLI ALI, been crowd funded by Pledge Music.
A new music business model which allows an artist complete independence, it also enables fans to become involved in the process with opportunities to purchase exclusive memorabilia but most importantly, hear the new material before anyone else.
MARNIE told her Pledgers: "I am humbled that so many of you had faith in me and were patient when the project was dogged by delays… I am proud of what we have achieved. This is just a small example of the power people have when they come together."
Recorded in Iceland, 'Crystal World'
captures the island's beautifully relaxed but volatile atmosphere… after all, volcanoes look serene when dormant but when they erupt! With Daniel Hunt in the co-producer's helm alongside Icelandic musician Barði Jóhannsson, 'Crystal World' will inevitably draw comparisons with LADYTRON as half the band are involved in its making. But the first thing to be noticed is how much lighter and brighter this album is than anything the quartet have ever done.
The high density brooding and gothic tensions of 'Velocifero' and 'Witching Hour' are largely absent, indicating that the darker perspectives of LADYTRON come from Mira Aroyo and Reuben Wu. While this album is not quite SAINT ETIENNE, the thunderstorm that was occasionally LADYTRON has cleared for now, allowing for some fresh air to enter and a warm front to move in.
Certainly classic pop tendencies are apparent with ABBA and MAMA CASS being the obvious influences while MARNIE's love of contemporary synthpop act and fellow Weegies CHVRCHES has also played its part. Opening track 'The Hunter' is a tremendous calling card for 'Crystal World', the vibrant electropop single that LADYTRON never quite got round to releasing. It is simply gorgeous and delectably glacial.
'We Are The Sea' takes to a steadier tempo and pulses along like one of CHVRCHES' recent offerings. It hits with a magical chorus that is almost like THE HOLLIES as whirring synths do battle while the closing string machine recalls Dindisc-era OMD.
More vintage string machine layers colour 'Hearts On Fire', its structure possibly a cousin to atmospheric songs such as 'White Elephant' and 'Ace Of Hz' from 'Gravity The Seducer', an album that saw MARNIE assert her stamp vocally more than any other LADYTRON album.
But with her distinctive voice, even on 'Violet Affair' which is musically as far from LADYTRON as one can possibly go with its soulful Summer Of Love feel, thoughts hark back to the last LADYTRON album although her pristine MAMAS & THE PAPAS harmonies do make it more Kópavogur Dreaming than 'Destroy Everything You Touch'.
Electronic bass propels 'The Wind Breezes On' and could be MARNIE's 'Love Is A Stranger' but her higher register larynx keeps it distinct.
'Sugarland' is percussively dominant and perhaps the closest 'Crystal World' veers to the dark side as it ventures towards windier, more chilling climes with some infinite guitar textures adding some menace. It lightens up again as some marvellous Scandipop makes its presence felt on the wonderful 'High Road' before the neo-acappella 'Laura'.
Using a variety of voice effects, MARNIE switches octaves on this lush centrepiece reminiscent of GOLDFRAPP circa 'Felt Mountain' before a detuned sequential passage interrupts for the coda. It's back to pop on the extended drama of 'Submariner' before the climax of 'Gold'. This closing track could be HURTS 'The Water' re-written from a female perspective as some lonely piano chords set the tone before an epic orchestration augmented by guitars and drums steadily kicks in.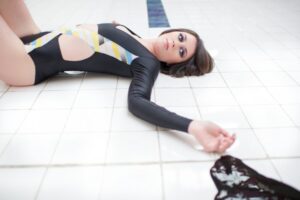 'Crystal World' achieves MARNIE's objective "to create an electronic album with more of a pop element and pristine vocals" but it is more than that. Like MARNIE herself, this album is pretty. Vocally and musically expansive, it is like a dreamy Arctic escapist fantasy.
The final word on 'Crystal World' must go to the lady herself: "For now, I am going to rest my ears, but my advice to you would be to play it loud and proud!!!! I owe you. Love Marnie xxxx"
---
'Crystal World'
is released available as a download via Amazon and iTunes or CD via Les Disques Du Crépuscule
http://www.pledgemusic.com/projects/marnie
http://www.facebook.com/helen.marnie.official
http://lesdisquesducrepuscule.com/marnie.html
---
Text by Chi Ming Lai
16th June 2013, updated 25th June 2013