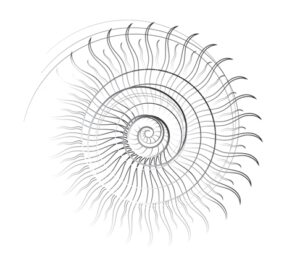 It truly is amazing when one producer can cut his teeth into so many projects at the same time and turn out superb gems at the highest level.
John Fryer has gone and done just that.
If it wasn't enough that earlier this year we were treated to his first EP under the MURICIDAE umbrella with LA based Louise Fraser, floatingly titled 'Tales From A Silent Ocean', which has been highly critically acclaimed upon its release in April; Fryer comes back and provides the hungry listener with a production easily knocking anything else back from the pedestal.
Having treated his audiences to the 'Soft Landing' LP with Pinky Turzo as SILVER GHOST SHIMMER not that long ago and which has easily topped any recent release, the genius plates up 'Tears Are Stronger Than Waves' only three months after its predecessor.
Well known for having worked with the likes of COCTEAU TWINS, FAD GADGET, DEPECHE MODE and NINE INCH NAILS, Fryer isn't a stranger to great sounding tunes, his own projects however, are as proficient as they get. His production techniques are right up with the Alan Wilders of this world, and paired with a competent vocalist, he brings the listener measured gifts of "oceanic auralgasms" in abundance.
Track one, 'Strange' opens with scarce synth elements providing the perfect canvas for the most angelic voice of Fraser, evolving into a glass-like shimmering sunshine reflection on the ocean waves. With Fryer's production mirroring RECOIL's 'Drifting', it gives the impression of an unknown threat and mystery, something Wilder used to excel in on DEPECHE MODE creations.
The mood is sharply changed with the harsh guitar riffs announcing the introduction of 'Morphine', like pure grunge meets glam electro. Sweet, yet menacing and in your face, drugging up the receiver into begging for a shot of some more! Oh how soothing the addiction is!
'Home' brings back the soft, synth droplets of perfection. With OMD inspired elements eloquently performed with JULEE CRUISE-like vocals, it is the kind of tune which Badalamenti would beg for. With a further dose of uncertain melody, it is chillingly calming and fearfully relaxing. Fryer is a self-confessed 'Twin Peaks' fan and that fact truly shows in this magnificent tune.
The familiar notes of 'Should I Stay' form the fourth number. Having appeared in a slightly different format on the first EP, this superb production shows off the sweetly haunting vocal intertwined within the remarkable concoction of orchestral sounds skilfully assembled by Fryer. 'Going Under' concludes the production with its unusually irregular structure. An admirably gentle start with scarce strings and gentle vocal elements, bursting into an immense case of serious guitar, synth and drum mixture, twinkling over the waves of the ocean, which is "calling to me".
John Fryer has to stop this… the overload of the good stuff is surely not healthy, or is it just what the doctor ordered? Another slinky, über elegant, yet atomic piece, bursting out at the seams of greatness, a must have for all top drawer music lovers, irrespective of the genre. John, a well-deserved holiday for you perhaps?
---
'Tears Are Stronger Than Waves' is available now as a download EP
https://www.facebook.com/muricidaemusic/
https://www.facebook.com/John.Fryer.Official
---
Text by Monika Izabela Goss
1st July 2015