Work all of my days for this kind of praise…
MARSHEAUX first revealed they were covering the entire of DEPECHE MODE's 'A Broken Frame' in an interview with ELECTRICTYCLUB.CO.UK in January 2014.
They had previously covered 'New Life' for the 'Around The World & Back: A Greek Tribute To Depeche Mode' album released on Undo Records and met through the local Hysterika DM fan club, so the project was not entirely a surprise. Very much a transitional record, 'A Broken Frame' contained a number of songs that were to become fan favourites such as 'My Secret Garden', 'The Sun & The Rainfall', and 'Shouldn't Have Done That'.
The album's opening gambit 'Leave In Silence' even made a return to the DEPECHE MODE live set during 2006's 'Touring The Angel', albeit in stripped down piano form with Martin Gore on lead vocals. A worthy re-assessment of 'A Broken Frame' has been long overdue and as the DM album closest to the MARSHEAUX aesthetic, Marianthi Melitsi and Sophie Sarigiannidou have certainly given its songs some interesting arrangements. 'See You' in particular has had a radical rhythmical overhaul yet still retains its teenage innocence, while a beefed up 'Nothing To Fear' comes over as an optimistic Hellectro statement.
The reworking's pivotal track 'Monument' takes on a starker twist though, with a bassline borrowed from latter day DEPECHE MODE B-side 'Painkiller'. It adds a sombre sonic undercurrent that compliments the girls' wispily resigned vocals. Even the lyrics have now taken on a new resonance and could be viewed as a passing commentary on the economic situation in Greece. A new cinematic visual accompaniment for 'Monument' has just been unveiled. Filmed on the outskirts of Athens, the video enigmatically conveys the emotional tension of the new arrangement.
The original 1982 long player was the first recorded by DEPECHE MODE without their then main songwriter Vince Clarke, who had left to form YAZOO with Alison Moyet. Martin Gore took over writing duties but while several of the songs such as 'Meaning Of Love' and 'A Photograph Of You' were naïve, a dark realism started to permeate in the music. MARSHEAUX's respectful and intuitive approach towards reimagining DEPECHE MODE's most under rated album has been well received among electronic music fans and Devotees alike.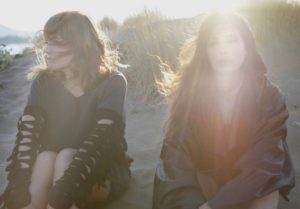 Writing for ELECTRICITYCLUB.CO.UK, Monika Izabela Goss said: "Expressive, innovative and full of character, they denote exactly what this cover album is".
Meanwhile, Numan friendly blog I Die: You Die said: "…if even a doubter like myself can get excited by the new life Marsheaux breathe into these tunes, then the devout for whom all things DM are sacred should find even more to love".
'A Broken Frame' is now available as a double CD set with bonus B-sides 'Oberkorn' and 'Now This Is Fun' featuring MIRRORS' James New, plus a special extended version of 'A Broken Frame'.
---
The various formats of 'A Broken Frame' and the 'Monument' CD single can be ordered from the Undo Records online shop at http://undorecords.bigcartel.com/products
MARSHEAUX play Electronic Summer in Gothenburg on Saturday 29th August 2015, more details at http://www.electronicsummer.se/
https://www.facebook.com/marsheaux
---
Text by Chi Ming Lai
Photo by George Katsanakis
5th July 2015