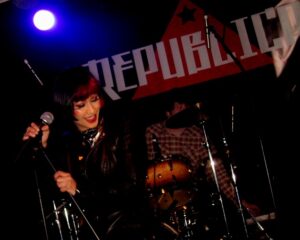 Since reforming with the original nucleus of Saffron, Tim Dorney and Jonny Glue back in 2009, REPUBLICA have been steadily rebuilding their profile with live shows and have been working on new material.
The first fruit of their labours 'Christiana Obey' has just been released as an EP and has recaptured the feisty techno-rock aesthetic that was first showcased worldwide with the massive hit 'Ready To Go'. Certainly, Saffron was looking forward to being out on the road again said "If you don't have fun being in a band, there's no point doing it!"
As REPUBLICA took to The Garage stage, they got a rapturous welcome but just as 'Bloke' got started, there was a power failure. Saffron grinned thorough the commotion and bantered with the crowd but as soon as the sequences fired up, it was back to business with Saffron's feisty persona.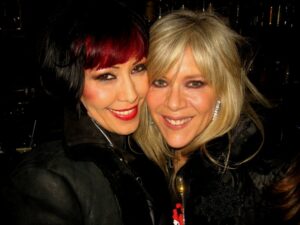 'From Rush Hour To Love' followed and considering Saffron only had a knee operation a few months before, she was happily bouncing away and engaging the audience. Like two parts Toyah: one part Siouxsie at a warehouse party, Saffron provided the focus while Dorney and Glue acted as complimentary foil to recreate the punchy REPUBLICA sound.
Mention must be made of the band's new young 20 year old drummer Conor Lawrence who did very well syncopating along to the trademark sequences and basslines.
While 'Drop Dead Gorgeous' obviously tore the house down, new songs such as 'Suck Baby Suck' and 'Christiana Obey' showed that REPUBLICA still have plenty of spark and vitality in them. Certainly Saffron's friend, model and singer Samantha Fox and her pals thought so as they bopped away at the front with everyone else. The more sedate 'Picture Me' allowed Saffron to take a breather so that the show wasn't entirely in-yer-face.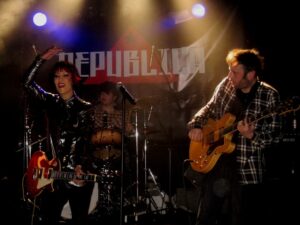 And 'Ready To Go' was saved until the penultimate number of the evening, still retaining the zest and power that took it to the sports stadia of the world.
But Saffron wasn't done yet and returning for the encore 'Pub Pusher', she even strapped on a guitar to finish.
Full of fun and sounding good for the new 'Millennium', REPUBLICA are back with a vengeance.
---
'Christina Obey' EP is released as download on 22nd April 2013 but is available as a CD at the remaining dates of REPUBLICA's 2013 UK tour which include:
Leeds Brudenell Social Club (Tuesday 19th March), Glasgow Classic Grand (Wednesday 20th March), Nottingham Bodega Social Club (Thursday 21st March), Bristol Thekla (Friday 22nd March), Winchester Railway Inn (Saturday 23rd March)
http://www.republicamusic.co.uk/
http://www.facebook.com/officialrepublica
---
Text and Photos by Chi Ming Lai
17th March 2013