Dress Code – Red Shirt, Black Tie… You're History
It's been ten years since Karl Bartos' last album 'Communication'.
Released almost at the same time as his former colleagues' rather pedestrian cycling travelogue 'Tour De France Soundtracks', his effort was far more impressive and rhythmically dynamic.
On leaving KRAFTWERK in 1990, he worked with British musicians such as Andy McCluskey, Bernard Sumner and Johnny Marr. As a result, 'Communication' was a much more song based, lyrically expansive record that was still electronically pleasing.
The collaborative influence certainly made its presence felt, with 'Life' in particular sounding like one of NEW ORDER's more instrumentally conventional tunes reprogrammed by Kling Klang while 'The Camera' and 'I'm The Message' were meatier developments of the template that Bartos was best known for.
1998's guitar based excursion 'Electric Music' aside, Bartos has remained the beacon of hope for KRAFTWERK enthusiasts frustrated by the drought of fresh, new material since 1986's 'Electric Cafe'. After all, Bartos co-wrote 'The Model', 'The Robots', 'Neon Lights', 'Numbers' and 'Computer Love'. If people can still hold enough regard for a version of the Düsseldorf quartett featuring just Ralf Hütter to crash the websites of the world's art spaces, then Kark Bartos should at least be accorded some kind of equal status.
Since 'Communication', there has been the move towards download culture and smart technology.  But Herr Bartos said: "The change in music culture had no influence in the making of this album. It is true: the music industry has lost its business model but that did not change the power of music". 
Utilising musical sketches gathered during his period with KRAFTWERK, his post-KW project ELEKTRIC MUSIC and ELECTRONIC, 'Off The Record' is a fully realised collection with trademark robotics and warm melodics at its heart, driven by solid Minimoog basslines and snappy beats.
The frenzied first single 'Atomium' opens the album with orchestra stabs, frequency wobbles and the familiar tones first heard on 'Computer World' which have now become Bartos' signature. Re-exploring themes first touched on with the 'Radio-Activity' album, it uses the giant model erected for the 1958 World's Fair in Brussels to symbolise "the rise and fall of the atomic age".
'Nachtfahrt' (or 'Night Ride') is nicely classic European synthpop with origins dating back to before 'Computer World'. Meanwhile 'International Velvet' is OMD-like, a pretty melody fused to that romantic Retro-Futurist blueprint which KRAFTWERK pioneered… the flutey textures actually recall the Phillips-era prior to Bartos joining. There are also hints of 'Kissing The Machine', Bartos' co-write with Andy McCluskey for the 'Esperanto' album.
Indeed, such is the sound of 'International Velvet' that if McCluskey had added his voice as on 'Kissing The Machine', it could be mistaken for a song on the new OMD album 'English Electric'. The brilliant 'Without A Trace Of Emotion' sees Bartos conversing with his showroom dummy Herr Karl and confronting his demons as a member of the world's most iconic electronic group.
As the most straightforward pop song on 'Off The Record', its autobiographical resignation is not unlike 'Life' from 'Communication'. And whereas his former colleague Wolfgang Flür vented his spleen in book form with 'I Was A Robot', Bartos takes a more ironic musical approach with the line "I wish I could remix my life to another beat" being a wry reference to 'The Mix' project which drove him to madness and out of Kling Klang!
The blippy sonic cluster of 'The Binary Code' acts as an interlude before leading into 'Musica Ex Machina'. A collaboration with Bernard Sumner and Johnny Marr, it is heavily based on the ELECTRONIC B-side 'Imitation Of Life', the inherent mechanical nature now enhanced with the replacement of the looser percussion arrangement in the original. Despite its co-writer credentials, it again does not quite realise its potential. In fact 'Musica Ex Machina' starts a strange mid-album lull…
'The Tuning Of The World' is reminsicent of AIR and an attempt at the 'Neon Lights' staccato piano dressed with a softer 'Moon Safari' style of voice manipulation. Meanwhile 'Instant Bayreuth' could be a vintage science-fiction theme, the sweeps and steadfast tempo will polarise… it will be either seen as genius or retro-pastiche.
It all gets back on track in the final third though. 'Vox Humana' and its primitive organ rhythm box intro recalls Jarre's 'The Last Rumba'. With electronic drips providing an abstract backdrop, it then mutates into a more trip-hoppy outline and concludes with some spacey avant weirdness and schizophrenic voices. The percussive 'Rhythmus' revisits 'Numbers and 'Computer World 2' complete with synth chorals and Votrax chants before some 'Silence', an amusing John Cage styled skit.
The best is saved until last and it all ends charmingly with the wonderful 'Hausmusik', its klanking core driven by the type of Farfisa Rhythm 10 backbeat heard on the 'Autobahn' and 'Radio-Activity' albums. With a lovely toyish lead line, it recalls its near namesake 'Tanzmusik' from 'Ralf & Florian'. This, along with several other tracks on 'Off The Record' create a fantasy world of what KRAFTWERK might have sounded like had Bartos joined in 1973 instead of 1975.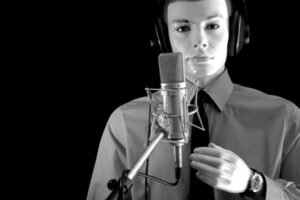 'Off The Record' will have something for anyone who remotely likes electronic music. Bartos is known for his strong aversion towards the death by 4/4 pounding of modern dance music so there is plenty of melody and variation plus only one song exceeds five minutes.
While there are assorted tougher techno elements to keep it contemporary, there are enough traditional elements to please KRAFTWERK aficionados and synthpop fans alike.
Even using ideas from prior to 1996, Karl Bartos has produced a classic but modern electronic album… it makes you wonder what KRAFTWERK might have achieved if the RFWK team had not lost its way post-'Computer World' and stayed together.
---
'Off The Record'
is released by Bureau B on CD, vinyl LP and download
http://www.bureau-b.com/karlbartos.ph
---
Text by Chi Ming Lai
18th March 2013