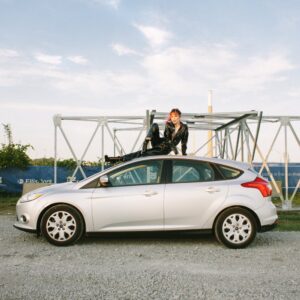 A purveyor of neo-classical piano and synth, Robin Hatch is a composer from Toronto.
Primarily known as a classical virtuoso and a touring keyboardist for Canadian alternative rock band OUR LADY PEACE, she effectively leads a triple life. She had experimented with synths previously on 2019's Wendy Carlos influenced 'Hatch' which featured improvised instrumentals using a Jupiter 8, Prophet 12 and Malekko Industries Manther. It was all very different from her debut solo album 'Works For Solo Piano' which also came out earlier that year and an eponymous piano only follow-up that came at the end of a prolific 12 month period.
Recorded at home during the lockdown, 'Noise'
is unlike her three previous works as an avant synth record that incorporates vocals and drum machine. It is also presented with some rather raunchy imagery, although this amusingly offset by the wry use of a Ford Focus! By way of an 'Introduction', the opening track of 'Noise' does not deviate too far from the experimentation of 'Hatch' although it contains more pulsing rhythmic elements.
'Trophy' though brings in vocals although this is far from a conventional format of song, with Hatch expressing herself poetically over a sparse backdrop of drones, ring modulation and minimal machine percussion. Meanwhile 'Hivemind' is instrumental avant pop with hints of Berlin based Nordic duo ULTRAFLEX and their 'Olympic Sweat'. The incessant synth bass, sweetened with the flute of Alia O'Brien, provides a tune with a marvellous cosmic groove.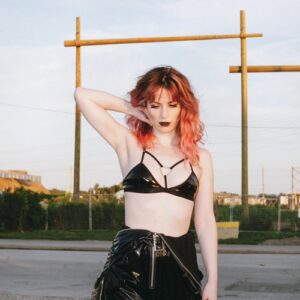 Slightly more gothic overtones make their presence felt on 'Heatstroke' in the shape of baroque vocals in the manner of a deeper AUSTRA crossed with BAT FOR LASHES; the percolating drum machine pattern is reminiscent a more minimal 'Pearl's Dream' and compliments the bed of bubbling electronics.
The excellent hypnotic instrumental 'Lake Water' swoops like a sci-fi odyssey driven using an understated rhythmic passage, while the delightfully odd 'Planetarium' chills hauntingly over a metronome beat. But then over eight minutes comes the mysterious sound sculpture of 'The Mirror' before 'Tie A Bow' closes proceedings.
Structured around rumbling drones, some exquisite synth tones are displayed as well as an honest weary vocal for Hatch to provide a superb introspective set piece of 'Twin Peaks' proportions. Despite its disconcerting title, 'Noise' is an intriguing esoteric adventure that showcases an inherent musicality and documents the beginning of a journey into more accessible climes.
Across eight tracks, it develops Robin Hatch's avant garde inclinations into pop, not unlike the Ana Klimova character in the wonderful independent French film 'Le Choc Du Futur' that celebrates female synth musicians.
---
'Noise'
is available as a download album from https://robinhatch.bandcamp.com/album/noise
https://www.patreon.com/robinhatch
https://twitter.com/robinhatch
https://www.instagram.com/robin__hatch/
https://soundcloud.com/robinhatch/sets/noise
https://open.spotify.com/album/1HQQsS2yoihiHyyu6Jiwhb
---
Text by Chi Ming Lai
11th January 2021