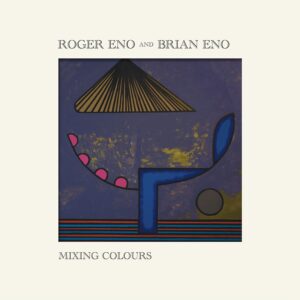 Roger Eno and Brian Eno explore the nation of sound and colour in their first ever duo album 'Mixing Colours' released on the prestigious classical label Deutsche Grammophon.
The brothers have worked together before, but never to write and construct an entire album. Notably with Daniel Lanois, the three-way partnership collaborated on a number of tracks like 'Deep Blue Day' for 1983's 'Apollo: Atmospheres & Soundtracks'
and then to celebrate the 50th Anniversary of the first manned moon landing, its 2019 follow-up 'For All Mankind'.
And on Roger Eno's debut 1985 long player 'Voices'
, Brian Eno added his distinctive sonic enhancements to the largely piano-based palette, although production was left to Daniel Lanois.
The earliest sketches for 'Mixing Colours'
began in 2005 and continued like a back-and-forth musical conversation through the exchange of files over a period of 15 years. It saw the more intuitively musical Roger improvising on a MIDI keyboard while inclined towards sonic architecture, Brian applied treatments as he saw fit using electronics to create colours and timbres not possible within a straight acoustic environment, metaphorically adding a tie to his younger brother's suit.
"It's something that neither of us could have arrived at alone" said Roger Eno, while his older sibling added "With classical instruments, the clarinet represents a little island of sound, the viola another and the grand piano yet another. Each instrument is a finite set of sonic possibilities, one island in the limitless ocean of all the possible sounds that you could make. What's happened with electronics is that all the spaces in between those islands are being explored, yielding new sounds that have never previously existed. It has been a huge pleasure for me to explore that ocean with Roger's unique compositions."
Opening with 'Spring Frost', the piece sets the scene to coincide with the mornings getting lighter and warmer, highlighting the albums aural visual imagination. Meanwhile 'Burnt Umber' plays with ring modulated sound design for a mood of chime with bell-like overtones dominating, although in an appropriately understated manner.
'Celeste' recalls the two albums Brian Eno made with Harold Budd, 'The Plateaux Of Mirror'
and 'The Pearl'
, the otherworldly electronics applied to the keyboard base providing a shiny escapist atmosphere. 'Wintergreen' paints an image as suggested by its title, with the interludes of its silence as important as its notes.
Although 'Obsidian' utilises the tones of a church organ, both 'Blond' and 'Dark Sienna' take a contemplative Franz Schubert influence into proceedings. The measured and vibey 'Rose' is very sparse yet cinematic, a track that could potentially be orchestrated.
Most of the closing seven tracks are reminiscent of 'Voices'
, with the misleadingly titled 'Quick' opening this suite with Roger's solo piano placed in Brian's reverberant cocoon. In fact with its synthesized sustain treatments on the ivories, 'Ultra' wouldn't have sounded out of place at all on 'Voices'. The same could be said for 'Deep', a piece that uses an almost infinite reverb to hypnotic effect.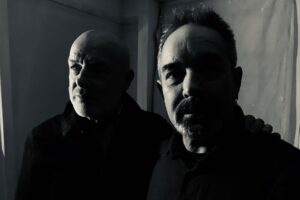 From the colour family of 'Burnt Umber', 'Cinna' adopts its ring modulations. 'Cerul' acts as a kind of spacey music box lullaby that could have fitted into the more sparse sections of the 'Blade Runner' soundtrack while fittingly, 'Slow' closes 'Mixing Colours' in a similar manner to 'Grey Promenade' on 'Voices', the two pieces being obvious second cousins with gentle virtual strings adding a subtle dressing to the soundscape.
'Mixing Colours' is a beautiful album with wonderfully meditative qualities, perfect as a Sunday morning relaxant. It is an immersive experience that will satisfy the minds and motivations of any ambient or modern classical music enthusiast, one that will help induce calm during an unparalleled period of stress and anxiety.
---
'Mixing Colours'
is released in 20th March 2020 by Deutsche Grammophon as a CD, double vinyl LP and download
https://www.deutschegrammophon.com/gb/artist/eno/
---
Text by Chi Ming Lai
19th March 2020