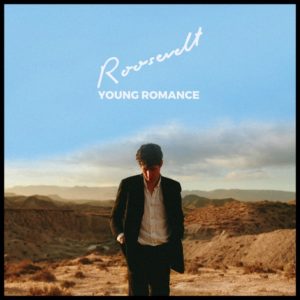 'Young Romance' is the follow-up to ROOSEVELT's first opus and it promises new levels of modern aesthetic euphoria based on the use of vintage synths and a step away from the dance directions previously enjoyed.
The work of Marius Lauber, this time around he wants it more synthpoppy with lighter, sunnier textures. Perhaps taking it from his brand new home studio in Cologne to the sunny skies of LA, and having it mixed by none other than Chris Coady finishes off the cycle ROOSEVELT embarked upon with his newest project.
Like any evolving artist, Lauber channels his confidence and re-lives past events in order to become clean: "I ended up processing a lot of emotions that I felt during my youth" he says, "faded relationships that haunted me for years, being on the road for what seemed like forever and the constant search of a place to call home."
Having indeed toured North America for most of last year, the artist "covers the trials and tribulations of falling in love, finding 'home', going on tour and losing touch" all of which push him towards the great unknown.
'Take Me Back' which opens the album, only shares the title with the eponymous track heralding ERASURE's glorious 'I Say, I Say, I Say'. It's more MORRISSEY meets TEARS FOR FEARS, in a light, enchanting way with its nostalgic elements weaved in effortlessly.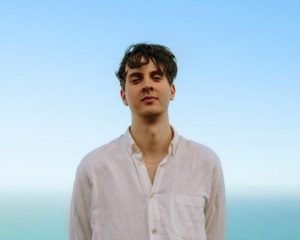 Sun filled nostalgia shines through the perfect chill out single 'Under The Sun'. Eloquently produced, this track marries the melancholic voice approach with summer disco beats. In the style of the über popular DISCIPLES, this hits the spot beautifully before being transported into the world of 'Yr Love'. With personal lyrics, simplified vocals and summer melody, we are served another little musical gem, this time polished to perfection, while still being an uncomplicated club anthem.
'Illusions' while having been finished last, is certainly not an afterthought. ROOSEVELT is playing with his new toys here, in the form of eBay bought vintage guitar pedals, psychedelic sounds and filter sweeps. He does the same on 'Lucia' and 'Losing Touch'. "Losing Touch is about being on tour and losing perspective" he explains. "I spent an entire day recording guitar feedback through 5 different amps and the whole process was really therapeutic."
The more subdued 'Pangea' shares its rhythmic footprint with the ballad-like 'Better Days', full of sentimental hooks and wistful, dreamy catches. Full pop on blues, with cleverly entwined guitar and nostalgic elements, this is like watching clouds roll by while resting on a canopy of leaves, dreaming away.
'Shadows' and 'Last To Know' continue the feeling of weightlessness, while 'Forgive' shows off ROOSEVELT's international influences. This collaboration with WASHED OUT works wonders. "I saw Ernest followed me on Instagram and I was so happy to find out he was a fan. He has always been a massive influence and this track was written around the vocal stems he sent back within days – a real collaborative effort."
The closing 'Getaway' is synthylicious and inspired, the perfect chill out tune after the San Antonio experience meets disco pop.
Considering that 'Young Romance' only took six months to finish, this follow up opus to ROOSEVELT's debut is truly a hit.
With plenty of full bodied club tracks, produced with a mellow, near melancholic twist and some perfect chilled out Ibiza tunes, this album is a perfect end of summer treat.
---
'Young Romance'
is released by Greco-Roman on 28th September 2018 in CD, vinyl LP and digital formats pre-order from https://iamroosevelt.bandcamp.com/album/young-romance
https://www.facebook.com/iamroosevelt/
https://twitter.com/iamroosevelt__
https://www.instagram.com/roosevelt_music/
---
Text by Monika Izabela Trigwell
Photo by David J East
15th September 2018