SARAH P. has been described as "an electropop goddess" and the video to her new single 'Mneme' more than reinforces that very image.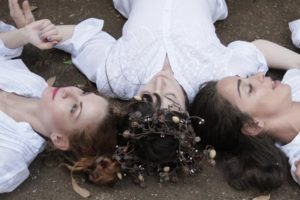 It is inspired by the three original ancient Greek muses, Aoide (the muse of voice and song), Melete (the muse of thought and meditation) and Mneme (the muse of memory).
The exquisite video filmed by George Geranios and conceived by SARAH P. herself sees the daughters of Zeus and Mnemosyne  come together as the inspiration for poetic and musical creation.
Starring the Berlin-based songstress as Mneme, the visual accompaniment also features dancer Clio 'Lil Cli' Arvaniti as Aoide and actress Dora Pantazopoulou as Melete; the key themes explored are playfulness and sisterhood in commemoration of more carefree times, all under the glorious Athenian sun.
Meanwhile, the 'Mneme' song itself is laced with a wispy angelic quality, afflicted but endearing as both atmospheric guitars and synthesized strings linger.
With the muse giving her name to the word meaning "the ability to retain memory" and also a retrograde irregular moon orbiting Jupiter, Mneme in its plural context also represents "units of knowledge gained by repetition".
'Mneme' is the first single from the new SARAH P. EP 'Maenads' and her first new material since the acclaimed 2017 debut long player 'Who Am I', the CD of which was released by Amour Records earlier this year.
---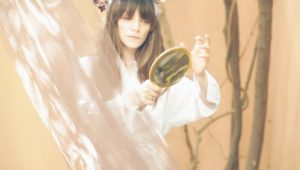 'Mneme' is from the upcoming EP 'Maenads' released on 14th December 2018 by EraseRestart Records
https://www.facebook.com/sarahpofficial/
https://twitter.com/sarahpofficial
https://www.instagram.com/sarahpofficial/
https://sarahpofficial.bandcamp.com/
https://www.amour-records.com/sarah-p
---
Text by Chi Ming Lai with thanks to Robert Helbig
Photos by George Geranios
1st November 2018