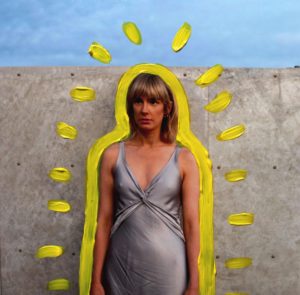 ANI GLASS is back with a new single 'Peirianwaith Perffaith', an enticing trailer for her forthcoming as-yet-untitled debut album.
Translated as 'Perfect Machinery', with the vibe of Autumnal discontent, the haunting detuned backdrop is perfect for her socially conscious Welsh expressionism.
With a wonderfully swirling leadline and a suitably penetrating bass pulse, the Cardiff-based synth songstress says the song is about how the "search for identity in a moving city and society insists on a sense of stillness often found in the shadows of progress".
The still image visual accompaniment filmed and directed by Jon Pountney with artistic direction by ANI GLASS begins with stark industrial views before drifting into suburbia and a journey into the countryside in time for twilight.
An experienced hand who has previously worked with Andy McCluskey and the late Martin Rushent, ANI GLASS released her acclaimed first EP 'Ffrwydrad Tawel' in Spring 2017. Having recently completed a Masters Degree, the songstress is now fully focussed on finishing her self-produced debut long player.
She said to ELECTRICITYCLUB.CO.UK in January: "I'm really excited about curating the presentation of this album; conceptually and visually. I have a lot of ideas about how I might involve and engage with people who may not be instinctively interested in Welsh electronic music. It's quite an exciting time to be making music in Wales – something is afoot; I couldn't tell you what it is but I think it's going to be exciting and I really want to be a part of it."
---
'Peirianwaith Perffaith' is released by Recordiau Neb, available on iTunes and Spotify
ANI GLASS' previous releases are available direct from https://aniglass.bandcamp.com/
https://www.facebook.com/aniglasscymru/
https://www.instagram.com/ani_glass/
https://soundcloud.com/aniglass
---
Text by Chi Ming Lai
31st October 2018