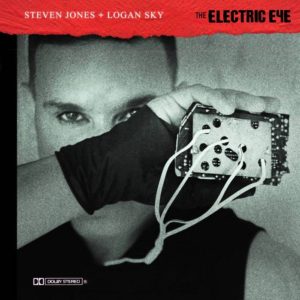 The duo of Steven Jones and Logan Sky have been a busy twosome this year.
January saw their unusual offering of 'Hans Und Lieselotte' with some peculiar sounding tunes. And now it's followed this annum by opus number two 'The Electric Eye'.
Jones met Sky through Steve Strange, both having been associated with the late star. Sky established himself within the electronica circles thanks to his synth skills for VISAGE and working with Nick Rhodes while Jones has been around, sharing his love of yoga and singing.
The pair worked together on various EPs and the long player 'Corrupt State', which featured Strange before his untimely passing. While 'Hans Und Lieselotte' was filled with more experimental offerings, 'The Electric Eye' is deliciously musical and very electronic.
What 'Violet Alert' opens with, is exactly what Sky is superb at; the correlation between being a classically trained pianist who turned into a synth wizard, and sees himself as an "inventor".
PET SHOP BOYS with a twist is what 'Voltage' is, a little bit of vintage, tangled, untangled, mixed and remixed: a perfect synth track. The title song could have been VISAGE meets SOFT CELL, oh it's scrumptious, if simplistically delivered, but who needs unnecessary dilutions?
'Time Paths' rejects the norm, vintage style, a notion that prevails into the synthylicious 'No Way Out' with a minimalistic approach, where old is mixed with new. It's almost as if Daniel Miller redid THE HUMAN LEAGUE's 'Travelogue'.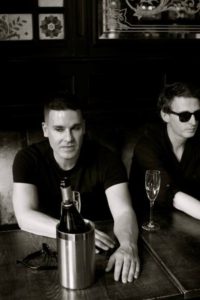 The ominous 'Black Clouds' gather over to witness the super gritty 'Okan's Run', while the dazzling beauty of 'Solid Crystal Core' cannot be denied. 'Carousel' brings certain demureness into the mix, leading into 'Christmas In The Machine'.
With just a simple beautiful piano, devoid of pretty much any other instrumentation except for an occasional synth, it's a classic in itself. The sampled heartbeat could suggest DEPECHE MODE's 'Somebody' connotations, and that's where the twosome excel.
The best is clearly left for last with the immensely powerful 'Blood Moon', with its lush dirty synth and sci-fi plug-ins; a truly vintage piece.
Who'd have thought Steven Jones and Logan Sky would return this quickly and with such a little gem. The love and knowhow of electronica shines through each and single track and the two keep the vintage new and fresh. If you're looking into a superb way to end this musical year, than look no further.
---
'The Electric Eye'
is available as a CD or download direct from https://etrangersmusique.bandcamp.com/album/the-electric-eye
https://www.etrangersmusique.com
https://www.facebook.com/etrangersmusique/
---
Text by Monika Izabela Trigwell
30th October 2018