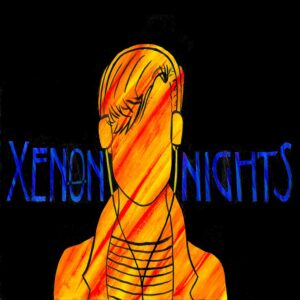 With an album named after a lyric from ROXY MUSIC's 'True To Life' off 'Avalon' and describing her music as "New Wave. New Romantic. Art Rock. Escapism.", Suffolk based Sophie Mahon undoubtedly wishes she was in another time, another place.
Before DEPECHE MODE, SOFT CELL and the programmable technology revolution, bands who used synths like VISAGE, ULTRAVOX, JAPAN, SIMPLE MINDS and DURAN DURAN had conventional rhythm sections and it was this juxtaposition of electronics with inventive approaches to more rockist forms that created an accessible retro-futuristic sound which dominated mainstream music between 1979-82.
As with the clientele at The Blitz Club, stylish movie stars Humphrey Bogart, Cary Grant, Fred Astaire, Gene Kelly, Sean Connery and Roger Moore are also a key influence for Mahon. So it's unsurprising that 'Xenon Nights' opener 'Black Tie' is a winner; a sophisticated slice of art pop, it glistens with synths alongside conventional backing while Mahon showcases her fine contralto voice with the occasional Ferry-ism to outline her manifesto.
No doubt borrowing the title from the DURAN DURAN instrumental which was itself influenced by the William Blake poem, 'Tiger Tiger' uses the first "burning bright" line from that very prose and parties like it's 1972; with its bursts of piano and sax, it could be subtitled '2RM'.
Despite a gloriously swooping synth in the intro, 'Poster Boy Smile' nods more towards the new wave power pop like BLONDIE and TALKING HEADS. Perhaps paying tribute to 'The Man Who Fell To Earth', the mid-paced funk of 'Mr Newton' takes a diversion and is centred around an almost jazzy offbeat bass and drum jam.
Meanwhile, 'Blue Eyes' is punctuated by a big treated snare; a 'Re-Make/Re-Model' for today, it was inspired by Mahon's unrequited childhood crush on a Simon Le Bon lookalike! But 'The Beautiful & The Damned' is rockier with dominant guitar and organ stabs; it actually comes over like TEXAS if the Glaswegians had been regulars at The Blitz Club.
Moving from dusk till dawn, a ballad in the shape of 'Carousel' recalls Roxy's 'A Really Good Time' while over a shimmering bed of synths, the sparse 'Night Circus' offers greater air time for Mahon's accomplished voice as the song itself moves away from the Roxy template towards the rosy prairie of TEXAS, but without the Ry Cooder aesthetics and using electronic squelches instead.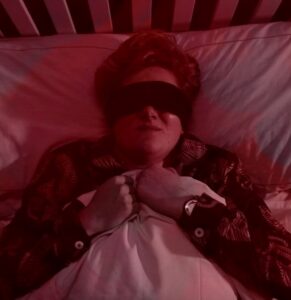 This latter phase of the 'Xenon Nights' sees Mahon in more like a conventional singer-songwriter territory and despite the use of synths, 'Angel Of Stone' does come over like a TEXAS album track in their 'Rick's Road' phase, while the album closer 'Splendid Isolation' could be mistaken for Tanita Tikaram or Jacqui Abbott.
Sophie Mahon takes a flesh and blood approach to her influences and while some veteran fans of the New Romantic era may only find the first handful of tracks on 'Xenon Nights' to their liking, what cannot be denied is that she has a musical talent that has potential to shine outside of any niche.
---
'Xenon Nights' is available as a download album from https://sophiemahon.bandcamp.com/album/xenon-nights
https://www.facebook.com/sophiemahonmusic/
https://twitter.com/Sophthemahon
https://www.instagram.com/sophiemahonmusic/
https://soundcloud.com/sophie-mahon
https://open.spotify.com/album/2Ld32FJo7sXJcSYwh7b9cR
---
Text by Chi Ming Lai
23rd January 2021