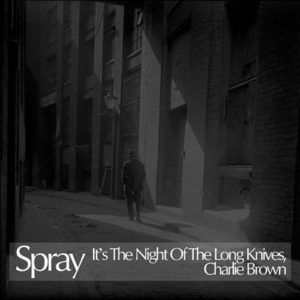 "Always get behind people" so the saying goes, but that's because it's the best position to stab those very people in the back… 😉
From their recently released album 'Enforced Fun', the new SPRAY single reflects on this current political climate.
The mischievous Lancashire duo of Jenny McLaren and Ricardo Autobahn are best known for being behind THE CUBAN BOYS, whose 'Cognoscenti Vs. Intelligentsia' topped John Peel's end of year 'Festive 50' in 1999.
"We're rarely this obtuse in songs – we prefer to state clearly a thing that is happening, make fun of it, then repeat to fade" says Autobahn, "But we've long since been irritated by the childishness and low-brow infantilisation of politics, and that irritation became 'It's The Night Of The Long Knives, Charlie Brown'". The song has now been honoured with a promo video directed and edited by Louise Lee.
While there are references to the cartoon character created by Charles M Schulz, there are also points of inspiration closer to home: "Having read our grandparents old 'Giles' annuals from the 50s and 60s, SPRAY are aware it's not a new thing… but the 'Boris'-isation of personality politicos, the pre-scripted jibes and the laser-guided aiming of *all* conversations to a specified soundbite is starting to grate".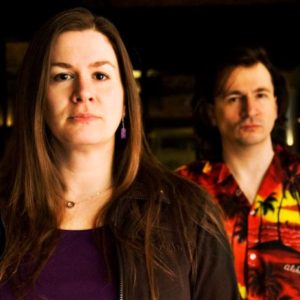 Whether it's politics, media, TV or music, dumbing down to the lowest common denominator appears to be a sad fabric of this they who shout loudest world.
"Stuff isn't getting done, people are hurting because our elected representatives are too busy cracking wise on Twitter." reflects Autobahn, "We hate the sneering, the posturing, the points-scoring. So much energy and time is wasted. The line from our song, 'Turn mistakes into a scandal – an error to conspiracy', sums up our feelings about the misdirected one-upmanship of Organised Politics these days."
While this is valid social commentary, it is also tinged with humour because otherwise, if you don't laugh, you'll cry! The uplifting club flavoured vibes of 'It's The Night Of The Long Knives, Charlie Brown' help set that tone. In many ways, this could be a story from The Daily Mash with electronic accompaniment.
Autobahn concludes: "The song essentially, broadly and vaguely is sung from the perspective of a jaded spin doctor who, like SPRAY, knows nothing can be done to change anything, ever. It's also a lot of silly pop nonsense, but we've been surprised by how prescient a couple of the lines have been. 'Wait for everybody to fall' could have been May's campaign slogan, and could be Corbyn's as well. It's a miracle there's progress at all."
---
ELECTRICITYCLUB.CO.UK gives its warmest thanks to SPRAY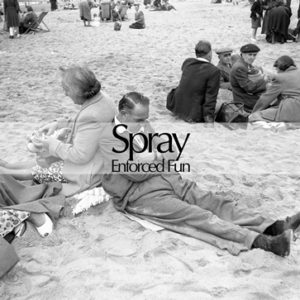 'It's The Night Of The Long Knives, Charlie Brown' is released as a download bundle with a selection of remixes via Banoffeesound; the Bandcamp version features an exclusive bonus B-side
The album 'Enforced Fun' is available as a CD and download
https://www.facebook.com/spraynet/
https://twitter.com/spraypopmusic
---
Text by Chi Ming Lai
23rd July 2016