SQUAREPUSHER is the musical vehicle for the Chelmsford-born producer Tom Jenkinson, noted for his drum n bass, breakbeat and jazz techno work.
Signing to Warp Records in 1995, his prolific run of albums have led him to become one of the most acclaimed IDM artists in the UK.
His most recent long playing release being 'Be Up A Hello' was described by Uncut magazine as "An impressively wide ranging fusion of twisted synth melodies, knotty beats and sense-rupturing speed-jazz".
Amongst the speedy tracks on 'Be Up A Hello' like 'Oberlove' and 'Nervelevers' was a more melodic ambient piece entitled 'Detroit People Mover'. On this new 'Lamental' EP, Jenkinson focusses on that lesser-known contemplative side to SQUAREPUSHER.
'Detroit People Mover' was a number seeded from a Jean-Michel Jarre aesthetic with glorious synthy swoops and bursts of spacey string machine. But with the 'Lamental' opener 'The Paris Track', a squelchy accelerated rework of 'Detroit People Mover' is presented which despite the frantic building of techno beats, remains gloriously filmic and melodic.
'Les Mains Dansent' springs a total surprise as a rather solemn acoustic guitar interlude, but following it is Jenkinson's own 'Avec Batterie' rework of 'MIDI Sans Frontieres' which was written in 2016 as a marvellously melancholic response to the EU referendum in the vein of William Orbit. Here, he explores a type of ambient breakbeat which is strangely compelling, with the two styles unexpectedly complimenting one another.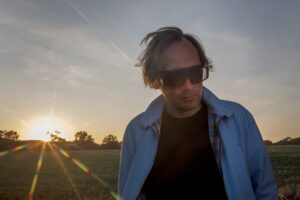 Unlikely to alienate Jenkinson's loyal fanbase, the reworkings featured on 'Lamental' are beat laden but they are also unobtrusive, allowing the cinematic synth aspects to glow.
With great crossover potential, SQUAREPUSHER is likely to draw in previously disinterested parties to listen to his music with this release.
---
'Lamental'
is released by Warp Records as a 12 inch vinyl EP and download
SQUAREPUSHER 2020 live dates include:
Brighton Concorde 2 (19th October), Leeds Brundenell (21st October), Nottingham Metronome (22nd October), London Roundhouse (23rd October)
https://www.facebook.com/squarepusher/
https://twitter.com/SQUAREPUSHER
---
Text by Chi Ming Lai
11th April 2020