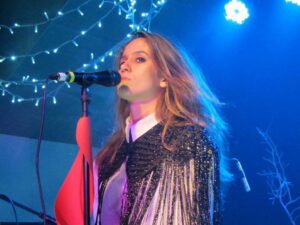 ELECTRICITYCLUB.CO.UK admits it didn't find the music of SUNDAY GIRL immediately appealing.
Her first couple of pleasant offerings appeared to showcase her out as a model with ambitions to become the next ELLIE GOULDING.
But her new single 'Stop Hey!' and songs from her album sampler sent out to music journalists revealed her to be a darker, more interesting proposition altogether… like a 21st Century DOT ALLISON with touches of BAT FOR LASHES and EMILIE SIMON.
More recently, she's also added DJ-ing to her talents and impressively reworked EVERYTHING EVERYTHING's 'Photoshop Handsome' into her own stark synthetic style. As for her fashion aspirations, these are really no less part of her than say MIRRORS' own sartorial instincts based on Gilbert & George. For SUNDAY GIRL, it's Coco Chanel and Andy Warhol's muse Edie Sedgwick. Meanwhile, her modelling contract with River Island has transpired to be a way of supporting her music career while following her other passions. At the end of the day, art, music and fashion all link.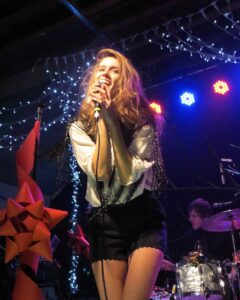 SUNDAY GIRL is Jade Williams, a once shy young lady from the leafy suburb of Broxbourne, Hertfordshire who suffered so much from stage fright that her mother took her to a hypnotist. She was studying for an art degree before deciding to pursue musical ambitions. Inspired by acts such as GOLDFRAPP, her songs have an angsty edge covered in a layered wall of sound with some simple but rousing choruses.
And tonight at her final show of 2010 following a successful support stint with ELLIE GOULDING, she exudes the talent and engaging down-to-earth charm that brought her to the attention of Geffen Records earlier in the year. The stage is covered in fairy lights and ribbons but it's the dense post-punk of '24 Hours' which starts proceedings.
Jade's raspy but breathy voice is what singles her out from her contemporaries and it adds an almost Parisian feel to her songs which when added with some eerie synth, provide a distinctive sneery chill.
Her folktronica tinged debut single 'Four Floors' follows next and in a live context, this possesses some gritty power not apparent on the original. New songs 'Human Love' and 'Brixton' are also aired with the moodiness of the latter having cinematic potential in a David Lynch film.
Her most impressive number is the magnificent 'All The Songs'. Percussively punchy, it takes on a more conventional frame tonight away from the squelchy electro of the recorded version. But this doesn't distract from the quality of her baby. Working with producers such as Jim Eliot and Diplo (who between them can namedrop KYLIE MINOGUE, LADYHAWKE and ROBYN in their CVs), Jade is in good hands as far as the studio is concerned and things look promising for her as yet untitled album due out in March 2011.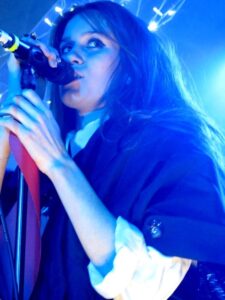 Her cover of Italo-disco classic 'Self Control' goes down a storm and even provokes a laugh from Jade as some of the crowd come in too early for the "Woah-ooh-oooh" refrain. "Not yet…" she shouts, slightly putting her off cue! Ending with the superb 'Stop Hey!' she gives her all in this full-on avant pop tune that mixes the huge rhythm section from MGMT's 'Time To Pretend' with the chorus synthline of MIRRORS' 'Broken By Silence'.
Combining the harshness of new wave and electro with the prettiness of pop, the show is a fabulous live presentation that brings out the smiles from Jade and the cheers from the audience. She is a fine, natural live performer, probably more confident and comfortable than either LA ROUX or LITTLE BOOTS at the same stage in their career.
Her non-inclusion in the BBC Sound Of 2011 long list remains a mystery but perhaps, this will be a blessing in disguise. Maybe this will allow SUNDAY GIRL valuable time to develop her obvious potential and carve out a niche for herself as an artist who has the ability to bridge into several spheres simultaneously.
---
'Stop Hey!' is released by Geffen Records on 16th January 2011
www.myspace.com/wearesundaygirl
---
Text by Chi Ming Lai
Photos by Richard Price
19th December 2010