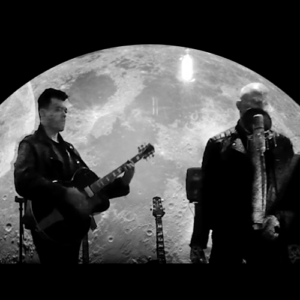 Comprising of vocalist Aidan Casserly and musician Mike Wilson, SILVER MOON captured a musical journey in synth, indie and pop about love and life on their first album 'Empty Rooms' released at the end of 2020.
Aidan Casserly is best known as the man behind EMPIRE STATE HUMAN while Mike Wilson heads up Ditto TV and Playworks TV who produced the 2016 documentary film 'You Keep Me Running Round & Round' which looked back at the life of Irish electronic music enthusiasts as they gathered to attend the first concert in Dublin by BLANCMANGE.
Esoteric and challenging the minds of potential listeners, an eclectic range of styles sees SILVER MOON explore anything from opera to country & western for their own technologically constructed falsetto tinged art rock.
Not content with sitting on their laurels following 'Empty Rooms', the Irish duo now have a new EP 'All The Stars' with five completely new compositions with their own distinct air of poetry and theatre ready to unleash onto the public. The Irish duo chatted to ELECTRICITYCLUB.CO.UK about their considered artistic ethos…
How would you describe the concept of SILVER MOON and how has it differed from your previous musical outings?
Aidan: Firstly, thank you for this opportunity to chat with you. It's a great honour. I've written and produced about 40 albums since signing EMPIRE STATE HUMAN to Ninthwave records. Being an artist is my living dream, and one I always wanted to do since I was about 6. Staying creative is a major part of this lifestyle and I do something creative every day of my life. It's a natural state of mind.
Working with Mike on SILVER MOON since July 2020, has been a joyous and natural experience. The way we work with him doing the music and me doing vocals/lyrics helps define the sound and gives it great gravitas and individuality, from my previous bands and releases as I now release under the name of SEBASTIAN & THE DREAM, with 4 albums coming over the next 12 months.
Electronic pop / acoustic / intimate and reflective piano and voice; this difference is essential, as a big part of the growing into oneself as an artist, is visualisation of an end point. I see SILVER MOON as much as I can hear it.
Mike: The concept behind SILVER MOON is really great songs created with a theatrical, maybe even an avant-garde twist with a strong identity. We've been exploring bold black and white imagery revisiting some of the pioneers of early film in our videos.
Two things differ from other projects: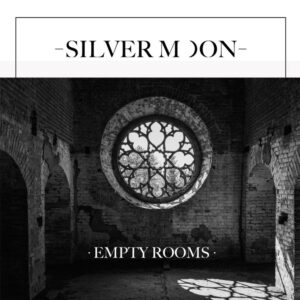 1) 'Freedom': I work fulltime in the creative industry. With SILVER MOON, I am not composing, producing or responding to a client brief. It's all 'ours' with no commercial pressure. That's hugely liberating.
2) 'Teamwork': We are a creative team, Aidan words and vocals, while I compose and produce.
But the SILVER MOON concept is more than music, it's cinematic. We are joined with JessB, JessM, Abbey and Oscar on the visual and digital side of the work. That visual presentation of the work is a huge part of what we are creating, and how our audience engages with us.
With being involved in several different projects, are there times when ideas blur?
Aidan: No not really. We're both very focussed and professional in outlook and work ethic. I think the best creative people I've met are that way. Bluffers in this game get found out. So that important characteristic of doing rather than just talking about doing it, is such a confidence boost when collaborating.
Mike: When producing ideas do blur across things – from a new instrument, to a new piece of software – it's like a new toy – you want to bring it out to play with everyone! Every day at work we are constantly moving from production to production – from making a pop video, to producing a show. That keeps everything fresh and on track to a deadline.
Your press release A-Z shows the breadth of your influences, is this a reaction to modern music becoming far too compartmentalised with stupid sub-genre designations like Tropical House and Footwork?
Aidan: I always felt genres were stifling and the holding on to them a really negative trait. I have released a wide range of styles and albums, as it's what my own musical tastes are. I'm eclectic. I've composed films scores ('Amityville Toybox'), written poetry books and recorded spoken albums. Yet I love electronic pop, and that particular medium has given such immense pride to me. Working with Wolfgang Flür or having a number one in the US iTunes dance charts with a cover of John Carpenter's 'Halloween', mean a lot to me, as they break through barriers and genres. I always look forward and never backwards as a rule. It's a shark mentality I guess.
Mike: Hahaha! I had to Google 'Tropical House' and 'Footwork'! Growing up with my Mum and Dad's records it was T-REX, next to Johnny Cash, alongside ABBA – with THE CHIEFTAINS in there too! And always The Beatles. My collection today is similar – I'll stick on THE MURDER CAPITAL alongside SAULT. So, you are probably right, that it is some form of genre rejection – or at least calling it out. A huge part of the attraction is the variety of our influences.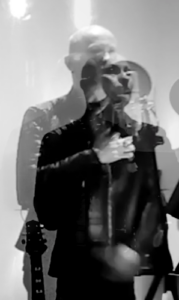 You recorded much of your debut album 'Empty Rooms' during the pandemic, how was it having that spectre looming and did it affect the way the music was constructed?
Aidan: Funnily enough, the backdrop of the pandemic never features in any theme or lyric, so the only impact in reflection is that the use of lockdown time, was to stay creative and positive. Construction of the music came directly from Mike. At times we would discuss a type of song or indeed a lyrical theme in advance. As a guide or just to whet the appetite.
Mike: The pandemic had an impact in an unexpected way. Aidan and I never meet, or even speak – we text each other! It's all very 'Gen Z'! I send a backing track with basic instrumentation and scoring of a demo.
Aidan sends back the vocals, and I set about writing, arranging and producing. I rarely if ever comment on the vocals or lyrics, and similarly Aidan rarely comments on the music. We are not a conventional band. I think the pandemic and lockdown had some sort of influence on that approach.
The closing track 'Ode To The Lost' was inspired by an iconic piece of music… now tell the truth, did you hear this melody via Elvis Presley's 'GI Blues' movie or watching the Offenbach opera 'The Tales Of Hoffmann'?
Aidan: Truthfully, I was only aware of the classical piece. It's a wondrous and almost essential composition. I wasn't aware of that Elvis version. Lyrically, I wanted to create a David Lynch ambiance in words. Like you were peering over the shoulder of the writer / singer, into their most intimate moments. When Mike brought up the idea of writing a contemporary lyric to it, I was at first intimidated but soon after I felt it was a real challenge to take in both hands. Lyrically it's one of my favourites from the debut album 'Empty Rooms'.
Mike: Elvis of course! I love classical music, and it's a bit of theme for our ditto TV shows to end on a big number – 'Conte Te Partiro' – with confetti canons! I felt a classical twist at the end of the album would round off the listening. Aidan's original lyrics alongside those synths. Wow! On Elvis… 'A Pocket Full Of Rainbows' and 'Blue Moon' are fabulous songs, a big influence.
For your first single 'Flames', you mentioned NEW ORDER and Country & Western in the same breath, but that's not as weird as it sounds as the Mancunians' did 'Love Vigilantes'?
Aidan: Yes it's an odd marriage. But like the Odd Couple, its differences offer its charm. I was more aware of the musical drive in the demo Mike sent me. It was something raw and unforgiving. The flame metaphor was something that came quite quickly.
Mike: It's back to my folks records again – Ennio Morricone sitting alongside Jean-Michel Jarre!
Which have been your own favourite songs on 'Empty Rooms'?
Aidan: For me when I complete an album, I rarely listen back. It's always the journey to completion that excites me. When I listen back now, I hear moments and memories. 'Winter on Earth', for its almost Scott Walker/Billy Mackenzie depth is a highlight. As is 'I Dance' which I wrote lyrically about Louise Brooks. 'Shadows' has a Billie Holiday impact for me. Ethereal and sad. Finally, 'Luminous' has the foot tapper radio hit appeal.
Mike: The title track 'Empty Rooms' – the first thing we wrote. It's dramatic and contains many influences. Spanish guitar, 80s clashing drums and a bubbly acid house bass! We enjoyed the process so much we said – let's make an album! And hey presto!
You seem to have been on a roll because you have a new EP 'All The Stars' of five completely new songs, were these originally intended for 'Empty Rooms'?
Aidan: None where intended for 'Empty Rooms', all were written fresh. We decided to go straight into writing and recording a new EP, on the back of our live streaming event in December. It's gave us great impetus and motivation to grab the challenge of a new EP so soon after a full album. I really think songs like 'Gin Song', 'A Soldier's House' and 'Sides' are so moving and memorable. We were patient and focused and I think this approach works wonders on a song like 'Kiss them awake'.
Mike: All new songs, with an all new composing and production approach. I wanted to really push the sound forward. For sure electronics, but there is added live basses, yet more guitars, banjo, harmonica – there is even an accordion in there!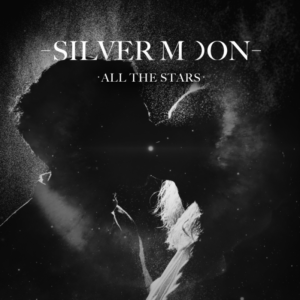 There appears to be much more of an Americana influence on this new EP and maybe some Roy Orbison creeping in?
Aidan: I absolutely love The Big O. What an angelic and iconic singer. Where Johnny Cash wore black for the disenfranchised and disconnected, Roy Orbison sung to the human condition of melancholy. I take any references as a great, great compliment. Thank you.
I totally agree with the Americana reference. We talked about this and it's again new territory, as I've always seen myself as a European style artist, so it's been very appealing for me to add something else.
Mike: I hear that too, that's the banjo and Gretsch! I've been listening to lots of Marc & The Mambas and Nick Cave too. It certainly has that feel. Musically the EP is much more coherent than the first album, the songs sit together really well.
You named yourselves after the David Sylvian song from 'Gone To Earth'? Which is your favourite body of work involving him?
Aidan: Apart from his JAPAN catalogue I love David's 'Brilliant Trees' album. The depth to which he can take the listening is inspirational and when the mood is right, he can often be otherworldly. I recently covered 'Forbidden Colours' for SEBASTIAN & THE DREAM, and I kept it simple, just piano and voice, and I was floored by the lyrics. Almost beyond poetry and I am a big, big lover of Petey. Neruda, Lorca, Sylvia Plath and Lord Byron are some of my favourites.
Mike: 'Secrets Of The Beehive' (and 'Orpheus' in particular). It's a production reference point for me. David Sylvian has an uncompromising high quality bar in his creative output. Something I greatly admire. If you are going to do something make it as good as you possibly can.
How do you see the future of releasing music and how the financial aspects might develop?
Aidan: Generally for full time musicians, I think the pandemic is ripping up the rule book. It's been a great leveller and it doesn't care if you a million seller or a twenty seller, as music as a business is now changed forever. It's forcing bands, record labels, promoters and venues rethink their models and many will not return to pre Covid-19 days. Once you take away the fear, you are left with resilience, and that human strength could very well save us.
Mike: A great question. I think it's a hugely challenging and also weirdly an exciting time for artists. Live will come back. But I think releasing music and media will blur. More Bandcamp, SoundCloud, non-label supported releases. Patronage and subscription models. NFTs. There is so much innovation. Artists will stretch across media – music, film, visuals, digital. This is a transitional time. Selling music and gigging will not be a primary source of income for many artists, or indeed only how audiences will want to engage.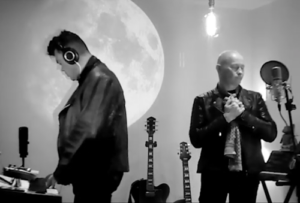 Who do you hope SILVER MOON might appeal to? What's the future for you?
Aidan: Finding an audience is tough for any act, and having a great album doesn't guarantee one. You can plug a song to death and you can approach DJs, Bloggers and music sites until you're blue in the face. No guarantees. No definite results are offered. Once you get past hard work, focus and talent, good old fashioned good luck and right time / right place are so important.
SILVER MOON has the potential to appeal to those who like pop music to think by. Romance with a touch of melancholy and poetry. If you want some beauty and warmth then come to us. We'll gladly offer you some.
Mike: Opportunities like this interview are really great to share our story and raise awareness, it's really appreciated. I hope SILVER MOON appeals to folk who like thought out, well produced music, made with a sense of theatre. The singles have a pop sensibility, while the album tracks give a different flavour.
For the future… more music, more videos… I would love us to present the project in a live cinematic setting, that would be very cool.
---
ELECTRICITYCLUB.CO.UK gives its sincerest thanks to SILVER MOON
'All The Stars' EP is released early April 2021, the album 'Empty Rooms' is available now direct from https://thesilvermoon.bandcamp.com/
https://www.facebook.com/SilverMoonMusic
https://twitter.com/SilverMoonMusi1
https://www.instagram.com/silvermoon_music/
---
Text and Interview by Chi Ming Lai
24th March 2021