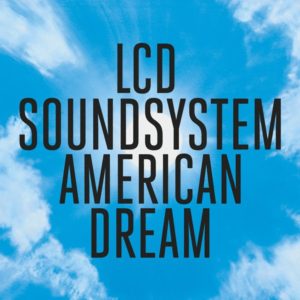 James Murphy has never been afraid to wear his influences on his sleeve.
In the past, DAVID BOWIE, BRIAN ENO, TALKING HEADS, JOY DIVISION, KRAFTWERK and DAFT PUNK have been mined for LCD SOUNDSYSTEM.
Seven years after the acclaimed album 'This Is Happening' which featured the wonderful ERASURE meets ECHO & THE BUNNYMEN electronic pop of 'I Can Change', the Brooklyn new romantic with an industrial edge continues his magpie ways with a new long player 'American Dream'.
The title song previewed earlier this year is possibly a musical statement reflecting on the political situation in the US. But Murphy also glances across the Atlantic and back to the Winter Of Discontent and this widescreen 3/4 synth laden tune that has more than a passing resemblance to THE HUMAN LEAGUE's 'Circus Of Death'.
So did 'The Clown' referred to in that song remind Murphy of someone in particular? Older viewers will be half expecting London Weekend Television's Peter Lewis to quip in with his "In just a few moments, we're off to Hawaii to join Steve McGarrett and the team for tonight's adventure…" introduction.
After a long gestation period and questions as to whether LCD SOUNDSYSTEM were actually out of hiatus, the fourth studio album is finally out with Murphy's desire for the it to be available on vinyl on the same day as the digital format being one of the reasons stated for this delay. He said: "I insist that there is vinyl on the day it's released (because… well… because I'm an old person)"
It's this aged anxiety and a fraught midlife headspace that colours this whole album; "I promise you this; you're getting older" he exclaims on 'Tonite' over a squiggly bassline laden tune that mixes NEW ORDER with JOHN GRANT, before adding "You've lost your internet and we've lost our memory".
But it all begins with 'Oh Baby', a dreamy blip and buzz fest to an obscure offbeat and pretty synth shades, with echoes of Ian McCulloch in Murphy's vocal phrasing before the album's first highlight.
'Other Voices' borrows heavily from TALKING HEADS 'Remain In Light' opus as Murphy acts like a preacher chanting "You're still like a baby" over some hypnotic rhythmic backing modulating around a single chord. With some brilliant infinite guitar soloing along for the ride, Nancy Whang counterpoints with an assured rap to finish this superb slice of cerebral art funk. Meanwhile 'Change Yr Mind' has as much talk as it does head although at a much steadier pace, with some choppy guitar as well as the spectre of Eno's 'No-One Receiving' looming.
Taking things in a more post-punk direction, 'I Used To' is in the vein of THE CURE with the scratchy minimal guitar and resonant bass cocoon penetrated by lashings of icy synth. This mood continues via the 9 minute Gothic gloom of 'How Do You Sleep?'; shaped by a brooding percussive mantra and aggressive synth wobbles, it explodes with a live drum track as the claustrophobic grandeur of PUBLIC IMAGE LIMITED makes its presence felt with Murphy shouting to a newly crowned foe: "I remember when we were friends, I remember calling you friend…"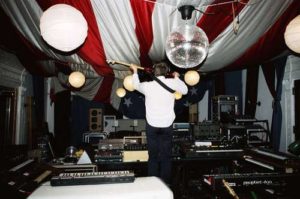 'Call The Police' also looks towards post-punk and although more guitar oriented, comes over like the lost NEW ORDER single 'Procession' gone Motorik.
The frantic 'Emotional Haircut' is the most live of the all tracks, with full band thrash out JOY DIVISION style, complimented by some impressive drumming by Pat Mahoney.
Concluding with the very long and grief ridden 'Black Screen', it is almost like OMD with its detuned abstract melodies and mournful harmonic air of Eno. Murphy's musical farewell to Bowie, he turned down the production role for 'Blackstar' and his sadness is expressed with a forlorn declaration that "I had fear in the room, so I stopped turning up but I should have tried more" – it beautifully progresses into a treated piano section reminiscent of appropriately 'Lebwohl' by NEU! to end on a solemn note.
Like OMD's 'The Punishment Of Luxury', 'American Dream' is LCD SOUNDSYSTEM's most electronic album yet. It will surprise some and disappoint others, but after the mixed promises of 'Sound Of Silver' and 'This Is Happening', James Murphy and his ensemble have finally delivered on that 'synth heavy' album that many have been longing for.
---
'American Dream'
is released by Columbia Records / Sony Music in vinyl, CD and digital formats
LCD SOUNDSYSTEM UK 2017 live dates include:
Manchester Warehouse Project (16th-17th September), Glasgow Barrowland Ballroom (19th-20th September), London Alexandra Palace (22nd-23rd September)
https://www.facebook.com/lcdsoundsystem/
https://twitter.com/lcdsoundsystem
---
Text by Chi Ming Lai
2nd September 2017