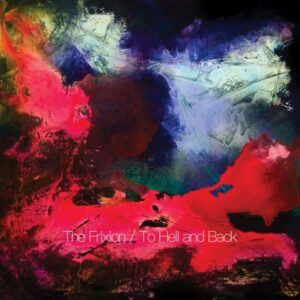 A debut album is an opportunity to relaunch and reach a wider audience, but with the kudos that the long playing format accords.
'To Hell & Back' sees THE FRIXION include the best material from their first 2017 EP 'If U Ever Wonder' plus some of the singles that have emerged since.
Reworking them with the assistance of Tim Dorney from REPUBLICA on selected tracks to hone a refreshed body of work, it has all been achieved without detracting from the essence of the originals, with the red vinyl version in particular, coming over as a sharp eight song collection.
For the duo of Gene Serene and Lloyd Price, life has been tearfully traumatic personally in the past few years, but from sadness and loss often comes great art. 'To Hell and Back' is a solemn if driving disco statement, but it comes with hope and a fightback. 'Deceive a Believer' displays an unashamed musicality with a brooding futuristic mood that will satisfy the ears of pop and Synth Britannia connoisseurs alike. 'We Walk A Line' gothically swings like a mighty electro-COCTEAU TWINS, a magical track that is actually about magic.
Taking on a more fierce gothic stance, 'I Cannot Play These Games' sees Serene move on from all the dramas while featuring Roi Robertson from MECHANICAL CABARET in the middle eight to compliment the silky tones of Gene Serene, the emotive 'Cry, Cry, Cry' touches on the theme of separation. The brilliant 'We Should Be Dancing' throws an optimistic curveball and showcases the duo's love of Prince and yes, it's robo-funky and even throws in a synthetic brass section!
It goes all dramatically moody with 'From Dusk 'Til Dawn', Lloyd Price's wobbling bass synth and minor key mode lifted by a great chorus, coming over like Kylie Minogue if she had taken her Nick Cave phase to the next level.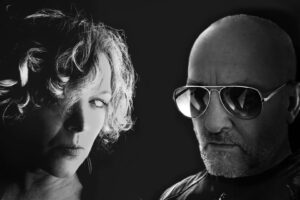 The neo-orchestrated 'What We Gonna Do?' asks that important question and with an almost funereal pace, makes the closing statement while leaving an open book. So what will happen next?
Featuring a variety of tempo and signature settings, 'To Hell & Back' combines classic retro-futuristic backing with vintage Weimer cabaret overtones and ultimately what LITTLE BOOTS could have sounded like but never actually did.
Going along with the current trend for eight track albums, the red vinyl version achieves its objective to make as direct an impact as possible in the manner of Bowie's 'Let's Dance' or SIMPLE MINDS 'Once Upon A Time'. But for those who like extras, the double CD package adds 'Magic', 'If U Ever Wonder' and a new zingy makeover of 'Heartbroke Disco' as well as previously issued covers of Prince's 'Under The Cherry Moon' and Howard Jones' 'What Is Love?'. However, the remixes detract from the prime statement of focussing on THE FRIXION, adding little value to the overall package when a single CD of songs might have been better advised.
While the vinyl tracklisting is a fine 40 minute statement that outlines THE FRIXION's strengths, the expanded 11 track version of the main act plus the two covers present a considered musicality both vocally and instrumentally that sets the duo apart from many British independent acts.
---
'To Hell & Back' is released on 25th June 2021, available as a double CD or download from https://thefrixion.bandcamp.com/album/to-hell-and-back-2
The red vinyl LP can be ordered from https://qrates.com/projects/23630-to-hell-and-back
https://www.facebook.com/TheFrixion/
https://twitter.com/TheFrixionBand
https://www.instagram.com/thefrixion/
---
Text by Chi Ming Lai
19th June 2021