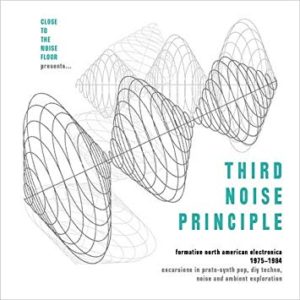 'Third Noise Principle' is the latest instalment of the 'Close To The Noise Floor' compilations and follows the two previous Cherry Red releases, which rather wonderfully rounded up collections of rare, formative and experimental electronic music from both the UK and Europe.
Helpfully described as "Part primitive rave, part synthesiser porn, part history lesson", this time round sees the location moving across the Atlantic to explore the North American and Canadian electronic music scene.
As with the past two releases the album has well-known artists like SUICIDE, THE RESIDENTS, PHILIP GLASS, MINISTRY, PSYCHE and RATIONAL YOUTH rubbing shoulders with some acts who (for a variety of reasons) didn't quite gain the same amount of exposure and musical notoriety.
Kickstarting CD1 is short-lived Arizona synth duo TONE SET with 'The Devil Makes The Loudest Noise'; almost a leftfield lo-fi cousin of LIPPS INC's 'Funky Town' with a sample recording from a religious radio phone-in over some multi-layered synth bass. The second half of the track goes on a more funky excursion of improvised synth and a completely new progression, but the aforementioned sample ties everything together.
'Creators' by DATA-BANK-A is an unashamedly Foxx / League-inspired instrumental combining an Oberheim TVS-1 synth, primitive Maestro Rhythm King beatbox and overlaid synth percussion. Wonderfully quirky and melodic, this is certainly one of the gems of CD1 and the guy behind it, Andrew Szava-Kovats, is still recording under the DATA-BANK-A moniker, having released three albums last year on Bandcamp.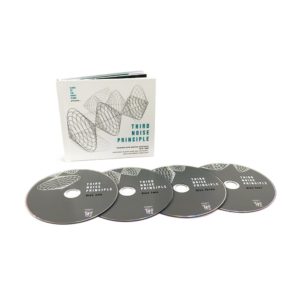 Atlanta's RICHARD BONE is arguably a little better known over this side of the pond, having signed to the UK's Survival Records; 'Mambopolis' is full of sharp as a knife hi-hats and another funky synth bass and vocal which recalls that man Foxx again.
Things start to wind their way down the rabbit hole with 'Logarithms' by GEOFFREY LANDERS; full of stop-start Roland CR78 and junkyard percussion, the track seemingly takes its cues from the pioneering work of tape-loop innovators like DELIA DERBYSHIRE with its found-sound overlays.
After working with Brian Eno, Robin Crutchfield formed DARK BOY and their featured track on 'Third Noise Principle' is 'The Metal Benders'; a glorious hybrid of the original 'Being Boiled' and ULTRAVOX's 'Mr X', this is another absolute proto-synth gem.
SUICIDE's 'Rocket USA' is one of the better known tracks here; featured on their classic eponymous 1977 album which was recorded in four days, it helped set the template for their sound with Martin Rev's minimalist electronics, scratchy organ and drum machine attached to Alan Vega's classic rock 'n' roll-inspired vocal delivery.
Of all of the tracks on CD1, CRAIG LEON's wonderfully titled 'Donkeys Bearing Cups' is comfortably the most contemporary sounding one here. Whereas most of the works on this compilation are easily dateable via their drum machine and synth sounds, this one certainly isn't. It's the kind of track you could imagine The Quietus going bonkers for if it was released this year by somebody like AUTECHRE or APHEX TWIN; incredibly ahead of its time and another superb find.
The second CD of Third Noise Principle' is arguably more eclectic. 'Ange Des Orages' by PHILIP GLASS (which originally appeared on the 1977 album 'North Star') features his signature hypnotic hand-played arpeggios with Farfisa / Yamaha / Hammond organ textures which spiral up and down and get progressively more dense throughout the track.
PATRICK COWLEY (who is best known for his pioneering HI-NRG disco work) features next with one of his earlier more experimental works; 'Primordial Landscape' (which was released on the album 'School Daze') is an intriguing piece, almost TANGERINE DREAM-like in places, slowly evolving with white noise shot percussion and a clavinet bass part. For those familiar with his later work including his remix of Donna Summer's seminal 'I Feel Love', the musical aesthetic of this piece will come as a quite pleasant surprise!
Mute Records artist NON (which was a collaboration between Boyd Rice and Robert Turman) make an appearance with their track 'Modes of Infection'; owners of the 'Mute Audio Documents' compilation will recognise this piece which takes a four note synth riff and hammers it out for the entirety of the track over a simplistic hi-hat pattern.In terms of production values and melodic content, 'Oreo Strut' by MARC BARRECA is head shoulders above most of the pieces on CD2; the synth programming and sequencer work here is certainly ahead of its time. Barreca continues to produce now and has some of his work included in the collection of The British Library.
LAURIE SPIEGEL is now rightly acknowledged as one of the pioneers of female electronic music; 'Drums' (which ironically doesn't actually feature any percussion) is one of the tracks she created using early interactive computer systems. Put together using a Bell Labs GROOVE ("Generating Realtime Operations On Voltage-controlled Equipment") computer system, which in Spiegel's words "… was used to make sudden sharp electrical transients, simply the sound of individual bits being turned on and off, which were wired out to pulse high-Q resonant filters". The end result is a hypnotic, polyrhythmic piece; although lacking in much in the way of melody, 'Drums' is a fascinating polyrhythmic work which could be seen as sowing the seeds of the Minimal Techno genre.
The tracks which make up most of CD3 are (depending upon preference) either works of leftfield genius or the kind you'd pigeonhole as CABARET VOLTAIRE-style B-sides or experiments, to be listened to once and then never again. The artists which fall under this category include the pieces by GIRLS ON FIRE, XX COMMITTEE, DOG AS MASTER, CONTROLLED BLEEDING and SMERSH.
Moving onto CD4 and an early highlight is 'Geomancy' by JOEL GRAHAM, recorded live on primarily Korg gear including an MS10, MS20, VC10, SQ sequencer and an SH101. Once you get past the slow build minimal 2 minute intro, the track bursts into life with a chordal synth part and what you have is a piece which pre-dates ORBITAL by several years that is brilliant stuff…
'Thirty Years' by EXECUTIVE SLACKS is another gem, one of the few works on the compilation to feature vocals, this song is almost EBM-like or a combo of DAF with added guitars. In the accompanying album booklet, there is a rather wonderful recounting of some the band's early live performances, including ones which were more art project than actual gig. This including hosting a cheese and wine house party, putting the refreshments in the corner and then subjecting the audience to a pathway of noise experiments before they got to their food and refreshments.
In terms of the more higher profile artists here, TUXEDOMOON feature with their lo-fi twisted cover of Cole Porter's 'Night & Day' whilst Canadian trailblazers RATIONAL YOUTH are represented with a demo of their KRAFTWERK-inspired 'Dancing On The Berlin Wall'. The latter's album 'Cold War Night Life' deservedly went onto become one of Canada's best-selling independent albums of the era with support opening for OMD to follow.
When NASH THE SLASH toured the UK supporting Gary Numan, he was exposed to THE WOMBLES animated kids TV series and wrote 'Womble' as a result. Although it is hard to see the connection between the track, which is a dark industrial piece, and the furry animal featuring TV show, NASH THE SLASH remains an underappreciated and influential artist who never really got the acclaim he deserved.
STEVE ROACH's 'Worlds' takes things back to TANGERINE DREAM-style ambience; beautifully produced with interlocking Berlin School style sequencers, this 1983 track has hardly dated one iota. YOUNG SCIENTIST continues on in the same vein with 'Ice Flow', a collaboration between artists featured elsewhere on this compilation and channels the sound of TD's 'Rubycon' yet still sounds original…
This sixty track compilation deserves to be held in the same kind of reverence as the 'Mute Audio Documents' one; it pulls together a superb mixture of hard to find tracks and more established tracks from the US synth scene and does it exceptionally well.
If you are looking for an album which helps reinforce and define the importance of the US on electronic music, then this is definitely the one.
---
With thanks to Matt Ingham at Cherry Record Records
'Third Noise Principle'
is released by Cherry Red Records on 25th January 2019, pre-order from https://www.cherryred.co.uk/product/third-noise-principle-formative-north-american-electronica-1975-1984-various-artists-4cd-48pp-bookpack/
https://www.facebook.com/closetothenoisefloor/
https://twitter.com/CherryRedGroup
---
Text by Paul Boddy
14th January 2019