While GARY NUMAN has a much publicised new album 'Savage' in the works funded via Pledge Music, a number of collaborations with key figures like JOHN FOXX and JEAN-MICHEL JARRE were unleashed in 2016.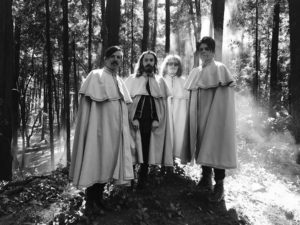 But one of the best was with Mexican electro rockers TITÁN. The resultant track 'Dark Rain'
was a brilliant slice of electronically assisted Gothic disco.
Propelled by a superb syncopated bassline and thunderous drums while layered with classic vox humana lines, interestingly the guitars on appear about two thirds of the way through before a magnificent burst of foreboding synth into the final chorus!
Numan himself is in good form, with calls that he's "waking like wings upon your shoulder". A new video directed by Gabriel Govela featuring all parties has been made and suitably rings the doom laden nature of the title, with Numan and friends bearing witness to the unsettling exorcism of a possessed woman.
'Dark Rain' comes from TITÁN's well-received fourth album 'Dama', their first in a decade. As well as Numan, the album also features Siobhan Fahey of SHAKESPEAR'S SISTER and BANANARAMA fame on a number entitled 'Hell.A' which comes over a bit like a vampire themed variation of GINA X PERFORMANCE's 'Nice Mover'.
Meanwhile, songs with working titles of 'If I Said', 'Mercy', 'I Heard A Voice', 'Bed Of Thorns' and 'My Name Is Ruin' have been taking shape on GARY NUMAN's new album, which is due out in Autumn 2017 on BMG and supported by a tour. He also recently received the Ivor Novello Inspiration Award for songwriting.
---
'Dark Rain'
is from TITÁN's album 'Dama'
released by ATP Recordings
Details of GARY NUMAN's Pledge Music campaign for 'Savage' can be found at http://www.pledgemusic.com/projects/garynuman
GARY NUMAN 2017 'Savage' tour includes: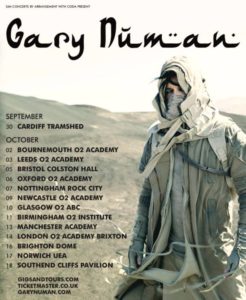 Cardiff Tramshed (30th September), Bournemouth O2 Academy (2nd October), Leeds O2 Academy (3rd October), Bristol Colston Hall (5th October), Oxford O2 Academy (6th October), Nottingham Rock City (7th October), Newcastle O2 Academy (9th October), Glasgow O2 ABC (10th October), Birmingham O2 Institute (11th October), Manchester Academy (13th October), Brixton O2 Academy (14th October), Brighton Dome (16th October), Norwich Nick Rayns LCR (17th October), Southend Cliffs Pavilion (18th October), Leuven Het Depot (19th October), Paris Le Trabendo (20th October), Amsterdam Paradiso (21st October), Bratislava Majestic (24th October), Cologne Essigfabrik (25th October), Berlin Columbia Theater (26th October), Lodz Klub Wytwornia (27th October)
https://www.facebook.com/titantitanmx/
https://www.facebook.com/GaryNumanOfficial/
---
Text by Chi Ming Lai
1st June 2017