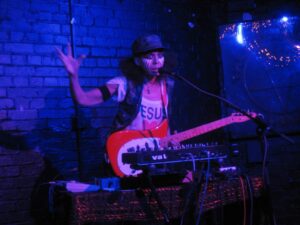 Paris, London and now Berlin, performance artist Valerie Renay has worn many hats and not just the ones on stage.
Incorporating theatre, music, dance, acting, film, photography and much more, Renay first found fame in NOBLESSE OBLIGE, an abstract Weimer cabaret tinged duo with German producer Sebastian Lee Philipp.
The pair opened for IAMX in 2011 on the 'Volatile Times' tour.
Their last album 'Affair Of The Heart' in 2013 played with dark electro Chanson, featuring a musical tribute to Mata Hari and a lengthy funereal deadpan cover of THE EAGLES' 'Hotel California' which highlighted the chilling subtext of the lyrics to its macabre conclusion!
Exuding flamboyance, Renay has since released a solo record 'Your Own Shadow' that was an amazingly fluid and harmonious adventure in a departure from her work with NOBLESSE OBLIGE. From it, the exhilarating 'Speed Of Blue' was co-written with Ian Pickering whose notable musical contributions have included '6 Underground' and 'Spin Spin Sugar' with SNEAKER PIMPS.
Presenting a palette of guitars, synths, vintage drum machines and her effervescent personality, Valerie Renay is a captivating live performer where literally anything can happen including invites to join her onstage!
With a new video for her song 'Melancholia' from 'Your Own Shadow' now public, Valerie Renay kindly chatted from Berlin about her solo career to date and more.
What inspired you to become a performer?
I like to create my own world. My world has a soundtrack, an aesthetic, everyday poetry, everyday fantasy, a choreography, a smell, a taste. As a performer you are able to share your world, it's a great privilege!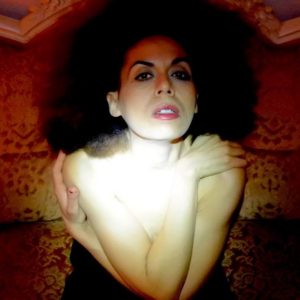 Do you dream in French, German or English?
I mostly dream in English because I mostly think in English, after more than 10 years living in Berlin, I still don't speak much German, I start thinking and dreaming in French when I read more French books or watch French films.
I have now lived outside of France longer than in France, I don't feel I have roots in a particular country but I surely left my heart in London.
You released your first solo single 'Living In Germany' in 2016…
'Living In Germany' was an ironic take on life in Berlin. It started as a drunken challenge with a friend. I said I could write a Punk song without really knowing how to play any instruments, when I left the bar at 4am, I went home and wrote this song in 5 minutes.
It gave me a taste for writing solo and exploring new territories. I started developing my production skills further, and taught myself how to play instruments better at the same time as I was writing songs. Everything had to happen simultaneously, I had no time to waste.
Your debut solo album 'Your Own Shadow' developed organically by being road tested in front of live audiences around the world, that is an interesting approach…
I'm impatient. I come up with a new idea for a song and before it's finished, I already want to share it with an audience. I often play early versions of songs, unfinished, sometimes lyrics are missing or half the chorus, it doesn't matter. I'm excited to share something new and try it live. I often find new parts for songs while playing them live. This is how the album was written. For me, songs are never finished, they're evolving constantly with a life of their own.
Despite the daunting prospect of creating solo, you retain your sense of humour and outgoing personality, has this been an important quality to complete the task?
I'm in love with life. I take every opportunity to dance and jump around my flat (mostly naked) listening to loud music. You can't take yourself too seriously. The whole point of life is finding pleasure in each moment. Making music solo is challenging, empowering and really exciting! An intense face to face with yourself.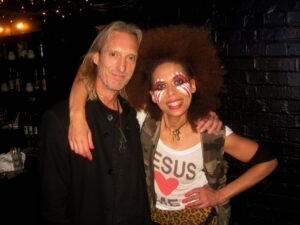 Which are your own favourite tracks on 'Your Own Shadow' and why?
The album is a journey, just like a concert. Each song is like a piece in a jigsaw puzzle, it makes sense in the context of the album.
But each song is also an individual moment in time, like a slice of life. 'Speed Of Blue' is special because it was the first track I wrote.
I posted the demo as an instrumental and on my Soundcloud page, when Ian Pickering heard it. He offered to write lyrics and a vocal melody for it. It's the only collaboration on the album and feels very strong.
At your recent London solo show, you confessed that you are still learning, what did you mean by that? 😉
You never stop learning, it's part of the creative process. As an artist, you have endless possibilities to explore. I am very curious by nature and get really excited to learn new instruments and understand new technology. I can spend a whole week, night and day, reading the manual of a vintage drum machine. It's very rewarding!
You continue to act and appeared in the DAF video for 'Die Sprache Der Liebe', how was the experience?
Acting is my first love! I love the thrill of performing live more than anything in the world. It represents the essence of 'Here & Now'! Being fully present! Being fully in the moment!
The exchange of energy you experience with a live audience could never be recorded and can never be twice the same. Being on stage is like an intensified version of life. Pure adrenaline.
It was great fun to appear in the DAF video, sadly I didn't get to meet the band as our shooting dates were different. Obviously playing a Dominatrix in a DAF video is a job to kill for and I'm very happy they offered me the part!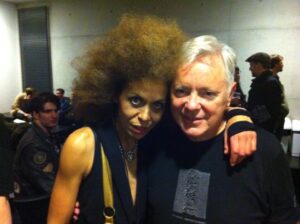 You have an interesting story about how you met Bernard Sumner for the first time in London?
Ahaha yes, it was a long time ago and a bit too personal to share here. It was a beautiful chance meeting which I will never forget, somewhere near Tottenham Court Road. We ended up in the club Heaven, definitely a night to remember.
What are you own career highlights so far, whether solo or with NOBLESSE OBLIGE?
My solo career is still young but playing in South Africa was an incredible experience, the crowd was so beautiful and loving. Pop Kultur Festival in Berlin was very rewarding too. More recently my concert at Stockholm Museum of Modern Art was very special.
Sebastian and I made music and performed live around the world for about 13 years. We released four full length studio albums (about 50 songs), many remixes and cover songs as well. Our creative process was very personal and intimate, we never worked with a producer.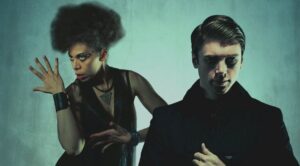 It was just the two of us. It is only natural that at some point, we felt like trying something different.
The highlights of NOBLESSE OBLIGE probably are receiving the Steppenwolf (Journalists' Choice Awards) in Moscow from Artemy Troitsky (the Russian John Peel) and the concerts we played in Brazil.
Sebastian and I remain very supportive of each other's work. We are scheduled to play a double bill concert with DIE WILDE JAGD (his new project) and myself solo at HAU2 Hebbel Am Ufer Berlin as soon as the Coronavirus bans are lifted.
We have also been booked for a NOBLESSE OBLIGE concert in Portugal in the autumn. Future live dates are uncertain at the moment due to the restrictions, but I'm hopeful we'll get through this crisis soon, stronger and wiser.
So what are your future plans in music?
I am happy to release a new video for my song 'Melancholia'. The style of it is very different to my other videos. It's a hand held camera, one take, no editing, video. It creates a dreamy, almost surreal quality which adds to the ethereal atmosphere of the track sung in French.
---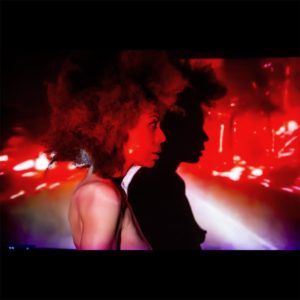 ELECTRICITYCLUB.CO.UK gives its warmest thanks to Valerie Renay
'Your Own Shadow' is available as a download direct from https://valerierenay.bandcamp.com/
https://www.facebook.com/valerierenaysolo/
https://twitter.com/FemmeFacade
https://www.instagram.com/val_renay/
https://soundcloud.com/valerie_renay
http://www.noblesseoblige.co.uk/
https://open.spotify.com/artist/7bCF8RjdQJbYc8jHDTSTkU
---
Text and Interview by Chi Ming Lai
23rd March 2020