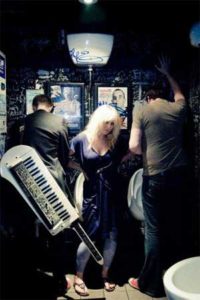 Originally a duo consisting of David Woods and Russell Harris, THE VANITY CLAUSE were in various rock bands until the chance acquisition of various vintage synths, courtesy of an emigrating pal.
One of these included the Moog Liberation, a beast so huge that David admitted it was probably heavier than him! Having gigged to anyone who would listen, the Essex duo soon developed a synth sound that was heavily influenced by early ULTRAVOX, LADYTRON, Some Bizarre and Mute Records.
Their material, which included futuristic titles such as 'Fluotexine' and a cover of FAD GADGET's 'Back To Nature', was promising with the emphasis on big 'played' synths sitting on top of sequences and urgent rhythm construction.
However, THE VANITY CLAUSE were open to new directions so recruited vocalist and synth girl Louisa Strachan to augment the line-up. The result? Songs that combined their original systematic edge with a romantic warmth… a system of romance if you will!
So with the brilliant 'Lifeline', David takes the lead in a blistering burst of energetics on a slice of alt-pop reminiscent of SOFT CELL's 'Forever The Same'. Louisa compliments David's Marc Almond-like mannerisms with an appropriate (if you recall the Wigan Casino roots of 'Tainted Love') Northern Soul tone. The stuttering video captures that rabid tension between boy and girl, human and machine.
On 'No',  a raw sequencer opens, followed by busy percussion heavy backing. Menacing 'Martin-esque' string bursts and analogue riffage accompanied by Louisa's echoey lead vocals go well with David's counterpoints. Her confident delivery is also a reminder of that under rated cult new wave band FATAL CHARM who supported ULTRAVOX and OMD in their time.
Meanwhile, their new single 'Time' is a natural development of 'Lifeline' and 'No'. There's electro potential there in THE VANITY CLAUSE and a marvellous combination of the current female fronted electro pop revolution with the style of the classic synthesizer duo.
THE VANITY CLAUSE say "We've been compared to John Foxx-era Ultravox, described as 'Pet Shop Boys-esque' and told we're 'Nothing like those popular jangly guitar bands, not one little bit'. We think we sound like a pair of blokes with too many old keyboards knocking around". Actually, they now sound like a pair of blokes and a girl with too many old keyboards knocking around!!
---
'Time' is now available to download now from Amazon while their debut album 'Fractured' is expected later this year.
www.myspace.com/thevanityclause
---
Text by Chi Ming Lai
6th April 2010