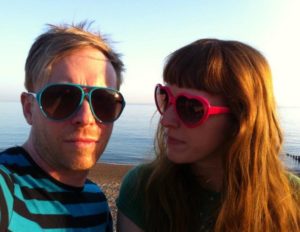 VILE ELECTRODES have been confirmed as OMD's support for the German leg of the 'English Electric' tour.
The striking duo of Anais Neon and Martin Swan could be described as sounding like THE SMITHS reincarnated as CLIENT, a template best heard on 'Play With Fire', the lead track of their self titled EP. Just recently, they released the electro-waltz drama of 'The Last Time'.
But one of their finest moments is the still to be formally issued 'Deep Red', a gorgeous seven and a half minute synth ballad that recalls the sweeping emotive overtones of OMD standards such as 'Statues', 'Stanlow' and 'The Romance Of The Telescope'.
The band are currently in the process of finishing their debut album but announced via their Facebook: "We've just been confirmed as the support band for OMD's tour of Germany in May. I don't really have the right words to describe how overwhelmed we are". Synthesist Martin Swan added: "It's so beyond exciting. There was once a teenage boy whose first ever gig was watching OMD playing at the Hammersmith Odeon on 'The Pacific Age' tour – His life changed that day, and it changed for this moment…"
By pure coincidence, OMD's Andy McCluskey spoke to ELECTRICITYCLUB.CO.UK a few days ago and said: "I enjoy your website and I've discovered some very interesting bands actually… one of them is going to support us in Germany!".
Vocalist Anais Neon herself was still in shock at the news and said: "I'm flabbergasted. We basically had an email last Thursday from their tour management team asking us to do it. I almost fainted"! Without the lovely folk that champion us, I doubt we'd be in this position, so thank you for all you do spreading the Vile word".
VILE ELECTRODES continue a tradition of acts championed by ELECTRICITYCLUB.CO.UK such as MARSHEAUX, VILLA NAH and MIRRORS who have all now opened for OMD.
Anais had one more thing to say to ELECTRICITYCLUB.CO.UK though before getting dressed up to see KRAFTWERK at Tate Modern: "Just off to have a little cry now… I might be drunk later x". It was quite a day!
---
ELECTRICITYCLUB.CO.UK gives its congratulations and best wishes to VILE ELECTRODES
OMD's 2013 German tour with special guests VILE ELECTRODES includes:
Hamburg Docks (21 May), Bielefeld Ringlokschuppen (22 May), Berlin Tempodrom (24 May), Leipzig Haus Auensee (25 May), Kӧln E-Werk (27 May) – please visit www.omd.uk.com for further details
http://www.facebook.com/vileelectrodes/
http://vileelectrodes.blogspot.co.uk/
https://soundcloud.com/vile-electrodes
---
Text by Chi Ming Lai
6th February 2013