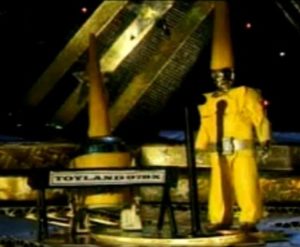 'The Adam and Joe Show' was a Channel 4 comedy programme, written and presented by Adam Buxton and Joe Cornish which ran for four series between 1996 and 2001 featuring a variety of school boy minded antics and sketches.
Most weeks, Adam and Joe would re-create a popular film or TV show using cuddly toys and cardboard sets. Their memorable spoofs included of 'Toytanic', 'The Toy Patient', 'Toytrainspotting', 'Saving Private Lion', Fur-riends' and 'Stuff This Life'.
In a variation to the theme, Adam and Joe also used 'Star Wars' action figures to parody mainstream British TV shows. One of the best was 'Star Wars In Their Eyes', a send-up of pre-X Factor karaoke talent show 'Stars In Their Eyes'. With host Chewbacca as Matt-Chew Kelly, characters such as Hammerhead and Darth Vader impersonate their favourite pop stars, but best of all are R2-D2 and C-3PO who rather amusingly and appropriately appear as the PET SHOP DROIDS!!
Several other programmes such as 'Big Brother' and 'Who Wants To Be A Millionaire' were parodied, all with Obi-Wan Kenobi amusingly portrayed as a drunken vagrant!
Among the other regular musical segments to the series were 'Vinyl Justice' and 'Baaad Dad' featuring Adam Buxton's father Nigel reviewing music videos of pop groups that he obviously didn't know anything about (best quote: "if this is 'Song 2', let's hope they never get to 'Song 3!'"), recording with rappers and memorably visiting Tribal Gathering!
---
'The Adam and Joe DVD'
is released by Video Collection International
---
Text by Chi Ming Lai
11th February 2013